In today's automotive industry, driver assistance features are a key differentiator. From the luxury market to the mass market, functions that enable safe, fuel-efficient, and comfortable driving are becoming standard and paving the way to autonomous driving. Innovations in those technologies mark the automotive leaders.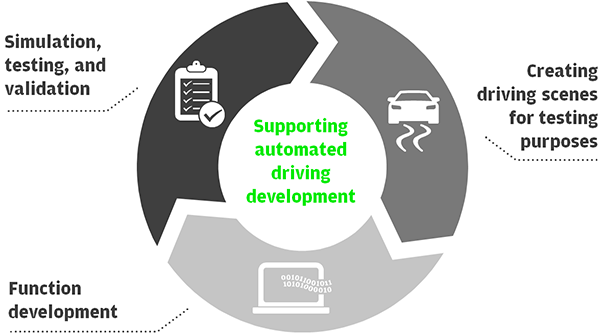 Increasing software complexity
The growing number of driver assistance functions and safety systems, as well as the trend towards self-driving vehicles, present challenges for carmakers and suppliers. Car2X communication, immediate environment detection, and rapid growth in the variety of sensors and technologies are increasing software complexity.
More than 90% of innovations in vehicles today are software-driven. Developing and implementing new features requires expertise in automotive software engineering.
Mastering the challenges
With more than two decades of embedded software engineering experience, EB delivers high-quality driver assistance applications. EB's team of software developers, architects, and project managers uses the latest software development tools and methods, from traditional to agile. Our professional skills and the extensive knowledge acquired from completing multiple driver assistance projects allow us to produce valuable results for our customers.
EB's driver assistance experts support car manufacturers and suppliers, and will assume responsibility for the complete software life cycle – everything from pre-development to series development projects. We excel at series-model-based and conventional software development.
Innovative engineering methods, sophisticated processes, proven standards
As a forward-looking and proactive software partner, EB developed the concept of the "EB Software Factory". This engineering method implements recurring work processes to create a production line for software. That means that integration and validation steps can be reproduced and traced at any time in AUTOSAR-compliant or ISO 26262-compliant projects and also in conventional projects.
Customers trust our methods for industrialized integration and validation of driver assistance software for series production.
Read more in the "Daimler success story."
Learn more about the concept of the "Software Factory."
EB follows the standards and processes of Lean Development, allowing us to bring automotive software development to the next stage by simplifying processes and approaches and fulfilling requirements at the same time – always as appropriate for our customers.
EB also ensures quality through the use of various international standards, such as ISO 9001, Automotive SPICE®, and ISO 26262 ("Road Vehicles – Functional Safety").
To improve and simplify cooperative automotive software development, our tools, services, and experts follow industry standards such as MATLAB/Simulink®, Targetlink®, UML, etc.
Services
Driver assistance engineering services support you in various locations worldwide.  Our team of experts covers:
Requirement management
Change management
Configuration management
Test management
Safety management
Quality management
Project management
Implementation, integration, and testing
As an independent software supplier, EB has a proven track record of developing automotive-grade software for driver assistance.
EB won the Best Telematics Safety and Security Technology Award in 2014 for its driver assistance software solutions. EB was honored for enabling many critical systems within vehicles while moving beyond ADAS (Advanced Driver Assistance Systems).
Unique software expertise in the industry
EB focuses on several different areas of automotive software using its longstanding experience in engineering service. The combination of deep expertise with a breadth of products and services puts EB in a unique position within the industry. We provide professional automotive software solutions for driver assistance, navigation, HMI, connected car, and functional safety.