Friday, February 14, 2020
Advanced augmented reality HUD for safer driving with new release of EB GUIDE arware
EB GUIDE arware is a toolkit that enables the creation of augmented reality (AR) solutions for exceptional head-up displays (HUDs). Securing driver safety and trust, the toolkit allows you to complete augmented reality projects on your own.
Together with the release of the new EB GUIDE version, EB is honored to announce the new release of our augmented reality software, EB GUIDE arware. Let EB assist you in the creation of advanced augmented reality HUD!
> Download our new EB GUIDE arware demo now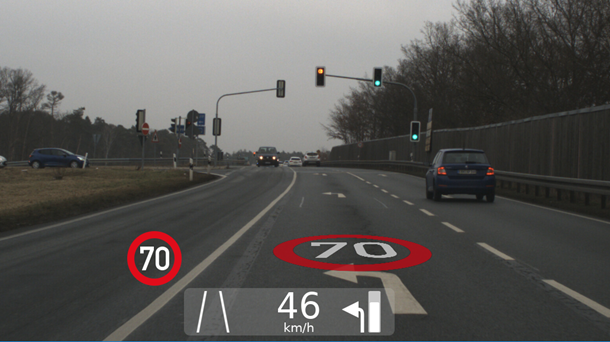 What is in it for you?

Disclosed EB GUIDE APIs increase interoperability
With the latest EB GUIDE release, we have opened further EB GUIDE APIs. Thanks to the detailed interface documentation included, you have, on the one hand, the possibility to extend the built-in functionality of each single product of the EB GUIDE product line (for example Studio, Monitor, or GTF) and seamlessly integrate it, on the other hand, into your development toolchain. Check out some cool examples to manipulate EB GUIDE API and even further additional resources!
Enhanced AR accuracy and better pose stabilization
Our model for calculating and predicting vehicle dynamics has been further improved!
Previously we used a single damper-spring model-to-model vehicle orientation. Now, by splitting the model into a rigid and a suspended part, we enhance our estimation and prediction capabilities.
New estimates for road slope as well as chassis orientation in yaw, pitch, and roll axis allow to establish a better registration with the real-world environment and place AR graphics right where they need to be!
Projection widget for use cases like traffic sign visualization
Our new projection widget makes it easier to highlight critical information right in the line of sight on the road.
Showing things like speed limits, road classes, or alerts from your ADAS system has never been easier!
Demo now with high resolution background image
We equipped our demo vehicle with a brand-new dash cam resulting in better image quality.
Check out our demo with new imagery powered by FLIR camera and Tamron lens.