Wednesday, October 12, 2016
Announcing EB GUIDE 6.3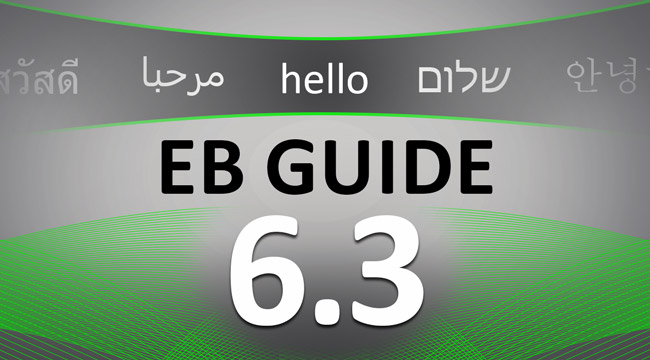 Today, Elektrobit released version 6.3 of our HMI modeling tool, EB GUIDE. EB GUIDE 6.3 includes a number of improvements:
Extended text processing and better rendering of languages through the integration of Harfbuzz.
Breadcrumbs in EB GUIDE's interface.
Copy/paste functionality which allows you to copy and paste datapool items, events, view states, and widget templates.
Support for the popular 3D file format FBX.
The ability to import and export XLIFF localizable data files.
Changes to the EB GUIDE user interface that improve productivity.
Even better text handling than before. Our tests measured a 2-factor speed improvement in text processing.
Harfbuzz
One of the biggest changes in this version of EB GUIDE is support for the Harfbuzz open source library. Harfbuzz is a spinoff of the FreeType open source project. It provides text shaping: the process of converting Unicode to glyphs in support of languages such as Korean and Arabic.
Harfbuzz is used in a wide range of software and operating systems, such as Android, Firefox, Chrome, and others. With Harfbuzz integration, EB GUIDE 6.3 supports more elegant rendering of languages like Korean, including joining and shaping as well as diacritic stacking. With this integration, you'll find support for even more languages in EB GUIDE, including Arabic, mixed Arabic, Korean, Thai, and Hebrew.
FBX
In EB GUIDE 6.3, you can now import files with the FBX 3D exchange format. FBX is used to describe complete 3D scenes, including light sources, cameras, 3D objects and textures, and animations. Once you import an FBX file into EB GUIDE, you can use our HMI system to render the scene, play animations, and animate the 3D object.
Translation support
XLIFF integration in EB GUIDE 6.3 allows you to export text snippets in the standard XLIFF format, translate them, and then import the translated text for use in EB GUIDE.
Breadcrumbs and other UI improvements
We've moved the toolbox next to the navigation pane on the left side of the EB GUIDE UI, making it more efficient to work on models. And, we've added breadcrumbs in the modeling interface. The breadcrumbs show the path of the currently selected element in your model and can be used to navigate quickly within the model.
There's more
For more information on this release, see the:
Find tutorials and other materials on the Resources page. As always, please contact us with any questions or suggestions.
Ready to get started? Download EB GUIDE 6.3.