Thursday, September 12, 2019
Stay tuned: New EB GUIDE arware release for augmented reality HUDs
EB is pleased to announce that our latest release of EB GUIDE arware —featuring augmented reality (AR) solutions for extraordinary head-up displays (HUDs)— is coming soon. Increase driver safety, while building driver trust in the vehicle, and improving the overall driver experience.
But before we unveil the details of this exciting new technology, let's begin with the basics.

Why do HUDs need AR?
HUDs, initially created as a life-saving tool for the pilots of fighter jets in WWII, were first seen in the automotive setting in the 80s, in their most rudimentary form. Over the decades the displays have changed significantly. But let's fast forward four decades, to the age of disruption. This is where it gets exciting, as modern-day HUDs merge with AR technology, ultimately playing a critical role in advanced driver assistance systems (ADAS). Basically, manufacturers are using the systems to direct the visual attention of the driver in real-time to anything of significant importance.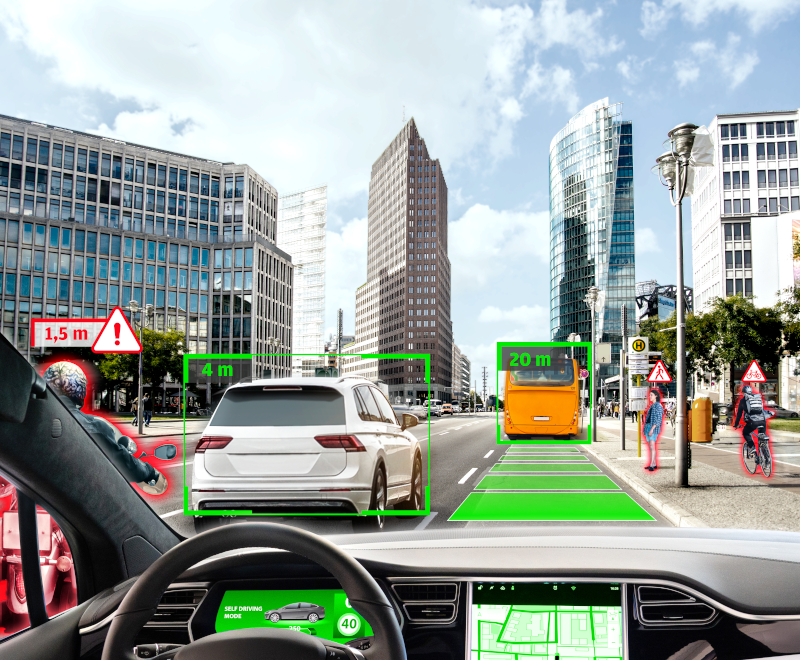 How are AR HUDs impacting the industry?
The HUD market is expected to grow at a rate of approximately 26%, making it worth USD 9.02 billion by the year 2020, according to a report by Grand View Research, Inc.
Regionally, Europe is one of the global leaders in the trend towards AR HUDs, driven by European automotive manufacturers and the general expansion of the sector. Specifically, the increased production of vehicles with HUDs in Germany, France, Italy, and the U.K. is heavily influencing the market. Increasingly strict safety regulations by the European Union are also polarizing the trend towards AR in HUDs, as are supply and demand owing to disruption and constant advancements in technology.

What to expect: a toolkit for driver safety and trust
Make driving safer, build driver trust in the vehicle, and improve driver experience. From the Jaguar XF and Chevrolet Corvette Stingray to the BMW 7 Series, Audi A7, and Mercedes-Benz S-Class, AR HUDs are playing an increasingly critical role in driver safety and trust & brand image and recognition.
We know AR HUDs, inside and out, which is why we further developed EB GUIDE arware – the software framework enables well-timed alerts that caution and guide the driver, ensuring the driver is safe at all times to better meet your needs. The latest release has made improvements to vehicle-specific events, making it easier to define custom workflows. Ultimately, you'll benefit from increased flexibility and convenience, not to mention valuable new customization options. In addition, there's a new external API, new configuration parameters, and improved positioning core with the end result being an intuitive, user-friendly product that simplifies your job and assists you in making an extraordinary AR-equipped HUD.
Don't be left behind. Find out more about EB GUIDE arware now and be one of the first to receive the new release in October. Click here to find out more about EB GUIDE arware and subscribe to our EB GUIDE newsletter.