Wednesday, January 17, 2018
EB GUIDE Speech Extension 6.5 now available
We are delighted to announce that version 6.5 of EB GUIDE Speech Extension is out now!
What's new and improved in this version?
We've added two cool new features that we are sure you will love to play around with! We also have a new widget feature, and, of course, EB GUIDE Speech Extension also leverages the new, flexible UI layout. With this version, we've directed our attention to creating features that you can use to create UIs for online cloud platforms and voice assistants.

Corpus command
The new command spidget allows speech input based on a set of examples (the text corpus) that are defined in an online cloud platform. External slots allow using entities from an external online cloud platform.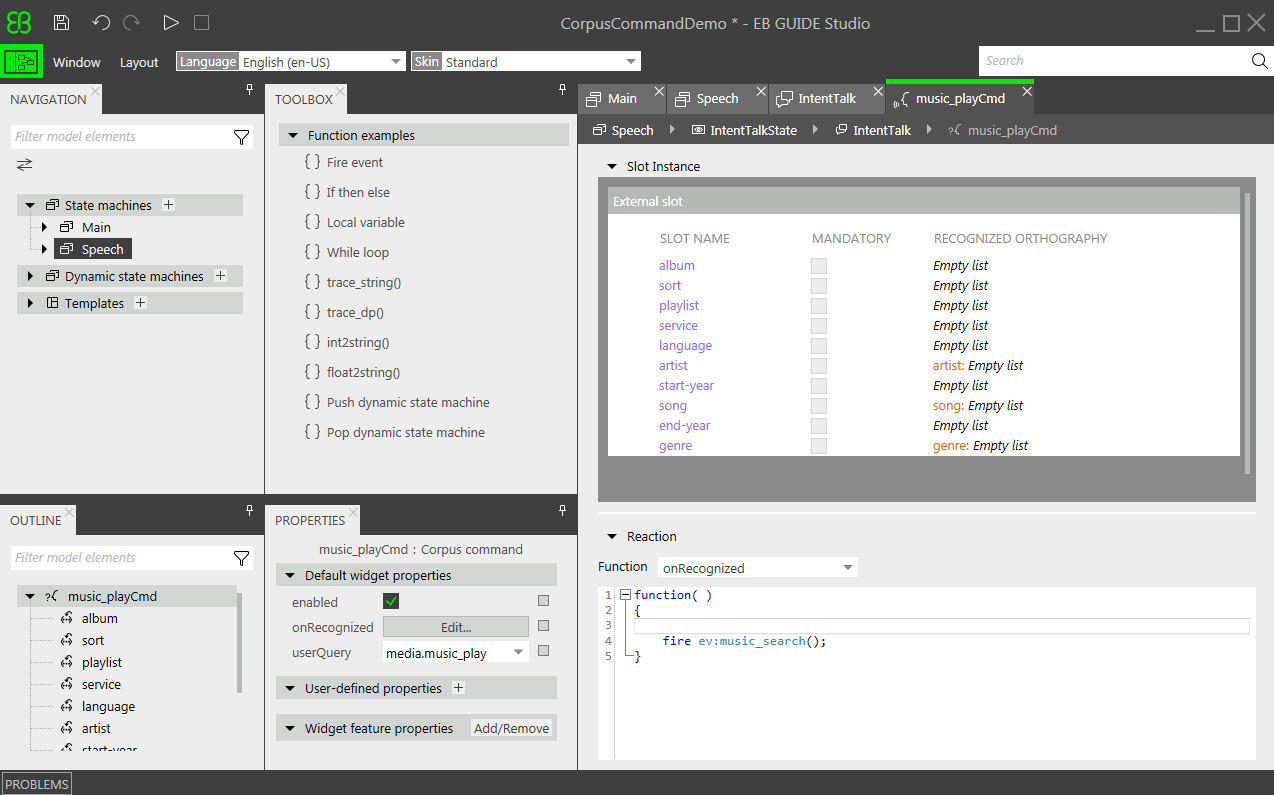 Corpus command

Magic command
Enhance your model and wake up the system by defining a magic command. After recognition of the magic command, prompts and recognition in the same talk are automatically executed. Magic commands are compiled dynamically, i.e. they can be configured to create an individual magic command. Define multiple magic commands to trigger different wake-up behavior of multiple voice assistants.


Magic command

Widget feature Arbitration
The new widget feature Arbitration is used for talks, which combine local recognition (Grammar command) and cloud recognition (Corpus command).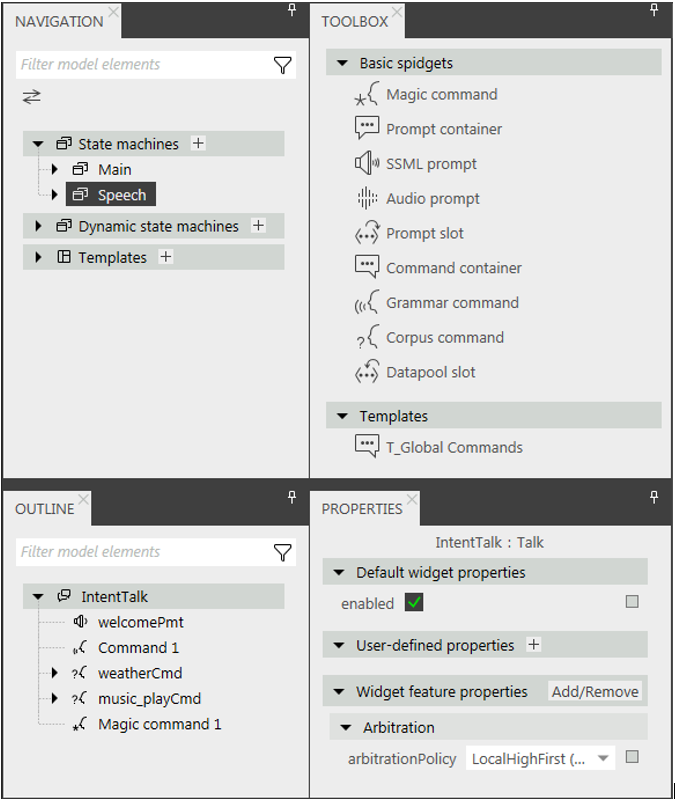 Arbitration widget feature

Improved user interface
As announced with EB GUIDE Studio 6.5, the UI is now one that you, the user, can customize. With dockable components, you can dock all components of the project editor and in EB GUIDE Monitor as tabs or undock them as floating components.
Improved Profile configuration
Profiles are now defined more easily with a .json configuration file and several values are already set by default when creating a new project with speech interface. This means easier access to parameters through the .json configuration file and paves the way to a flexible profile management in the future.
Start modeling now!
Current customers of EB GUIDE Speech Extension will receive this version of the software through our Sales channel.
If you are interested in EB GUIDE Speech Extension 6.5 and would like to see a demo of the product, then use this form to contact us.
If you are interested in purchasing the product or would like to find out how we can support you with your next Speech project, then contact us.
We now have a brand new, one-day Speech training workshop on offer. Register now!
As always, get in touch with us if you have questions or feedback.