Tuesday, July 7, 2020
EB enhances flexibility, capability, and ease of use of HMI development software EB GUIDE, adds support for Raspberry Pi
EB today announced new capabilities and features for EB GUIDE that will make developing advanced human-machine interfaces (HMIs) more accessible to a broader range of developers and more convenient than ever.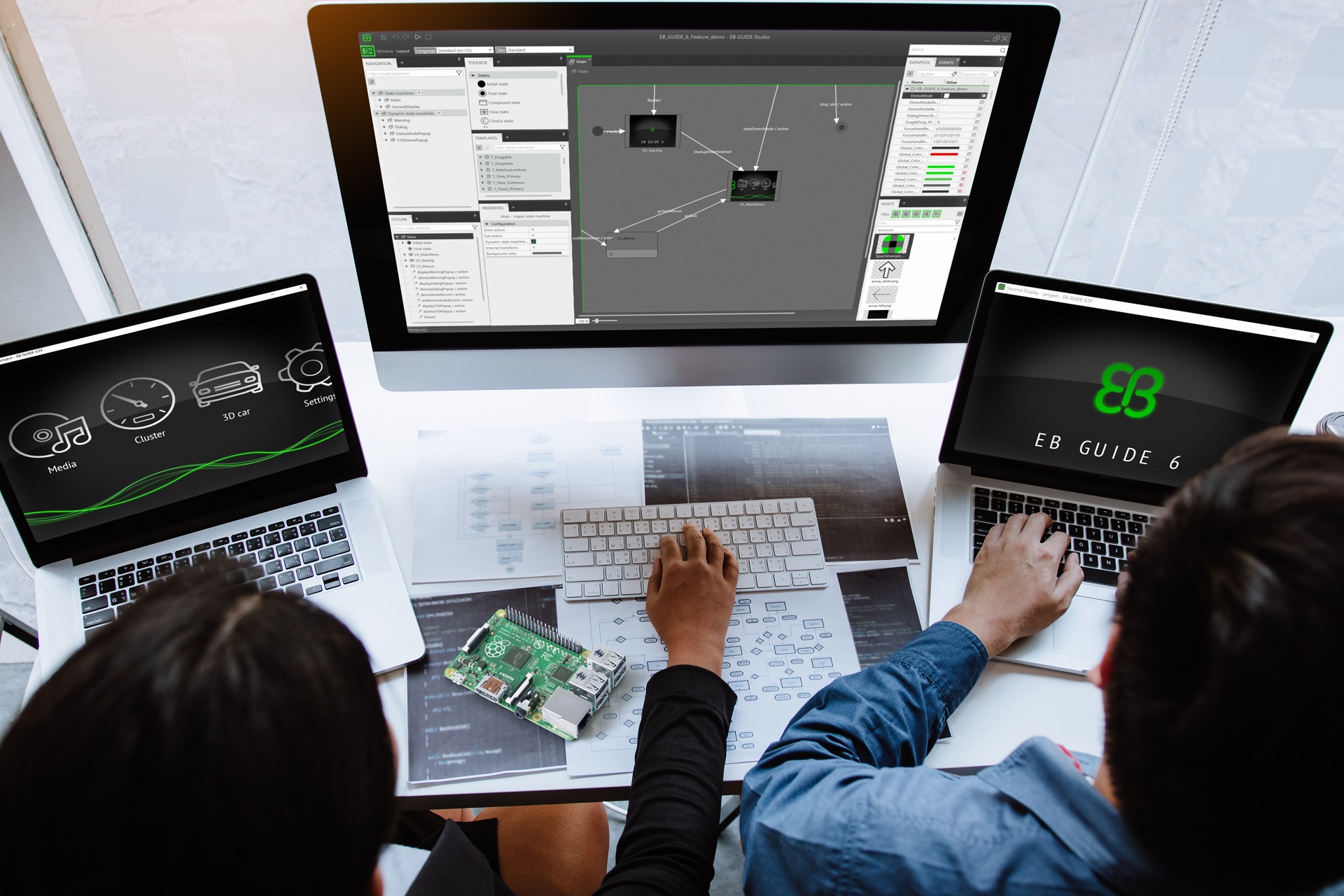 EB is proud to release the availability of a dedicated EB GUIDE Software Development Kit (SDK) for Raspberry Pi OS. This enables the users of Raspberry Pi devices, one of the most accessible and popular platforms for embedded systems development around the world, to benefit from EB GUIDE user-friendly features to develop state-of-the-art HMIs in a very simple and efficient way. This EB GUIDE SDK for Raspberry Pi OS is made available free of charge to our users, giving them a chance to try out and see how easy it is to model HMIs with EB GUIDE.
"We are excited to make our unique HMI development toolchain even more capable and available to a broader group of designers and developers," said Bruno Grasset, Head of Product Management User Experience, Elektrobit. "There are more than 30 million Raspberry Pi devices in use around the world. Pairing our advanced software with the versatile, budget-friendly Raspberry Pi development platform will accelerate innovation, allowing pros and students alike to easily create the world's most advanced user interfaces."
Learn how EB GUIDE on Raspberry Pi can accelerate innovation in here: https://www.elektrobit.com/ebguide/blog/hmi-software-development-kit-for-raspberry-pi/
This new release also comes with new features and strong enhancements to develop user interfaces more efficiently. With the new flexible and extensible tag filtering system and the new namespace structure, EB GUIDE users can now more easily handle large amount of data and objects, especially for large and complex HMIs. Developing large user interfaces has never been so quick and powerful.
Learn more about other UX improvements here: https://www.elektrobit.com/ebguide/blog/eb-guide-latest-version-ux-improvements/
Start modeling now!
As always, the following resources have been updated and are now available:
Download the Community edition of EB GUIDE.
Read through our updated Release Notes.
Download updated user documentation.
Access updated tutorials here.
Download updated feature demo, examples, and custom widgets.
Sign up for one of our EB GUIDE training courses now.