Thursday, January 23, 2020
Take collaboration to the next level – Modularization with EB GUIDE
Within the EB GUIDE 6.8 release, we introduced the first step towards modularization – namespaces. Namespaces enable you to split your model into smaller pieces to organize it and work together simultaneously on different parts of your model. Check out the blog post about namespaces.
This was just the beginning of working on smaller sub-HMIs, in different teams at the same time and still contributing to one big project. This way of working was often requested to be supported by EB GUIDE 6 and we're proud to introduce you to the concept of model interfaces.
What is a model interface?
Model interfaces enable you to use datapool items and events within multiple models. These elements are the connection between several sub-HMIs during runtime.
Sounds familiar? You're right, this could be achieved in EB GUIDE 6.8 by connecting EB GUIDE GTF instances via IPC.
Within this release we simplified the management of multiple models especially for you, the modeler.
Additionally, you can create and use as many model interfaces as you need to create a fully enhanced HMI.
Create a model interface
Each EB GUIDE 6.9 project has one model interface per default, named by the name of the project. Of course, you can rename the model interface as needed.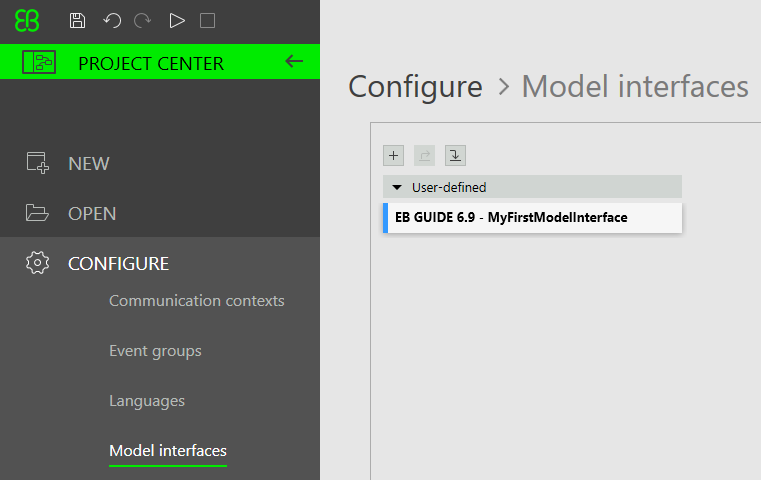 Creating a new model interface is as easy as can be, just click the + button and a new model interface is added.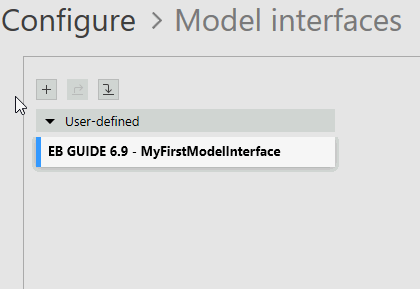 For a better differentiation, you can allocate a specific color to each model interface. This is also reflected wherever model-interface-related elements appear in your model.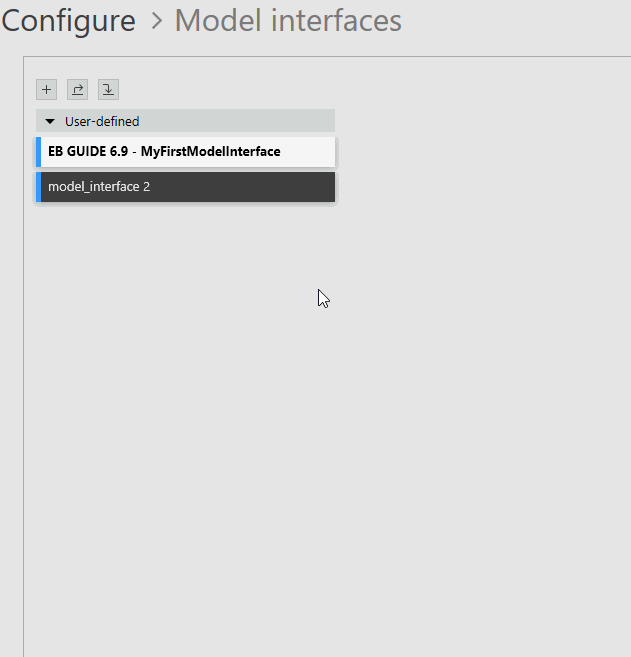 Define a model interface
To define a model interface, you have to add model elements to it. Select one or multiple datapool items or events in the respective component and add them to the desired model interface using the context menu. You have the freedom to add an element to several model interfaces, just as you need it in your project.
To easily distinguish an element that has been added to the model interface we added a visual differentiation.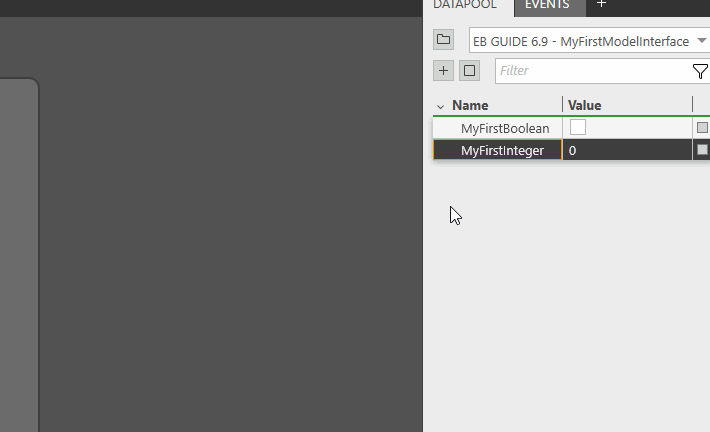 The number of elements added to a specific model interface is also reflected in the project center.

Exchange model elements
Share a model interface
Simply creating and defining a model interface isn't enough, you also need to share your defined model interface with the respective team that needs to use it.
In the project center section for model interfaces, select the model interface you want to share and click the export button. Just choose the location and name where it shall be exported to – that's it.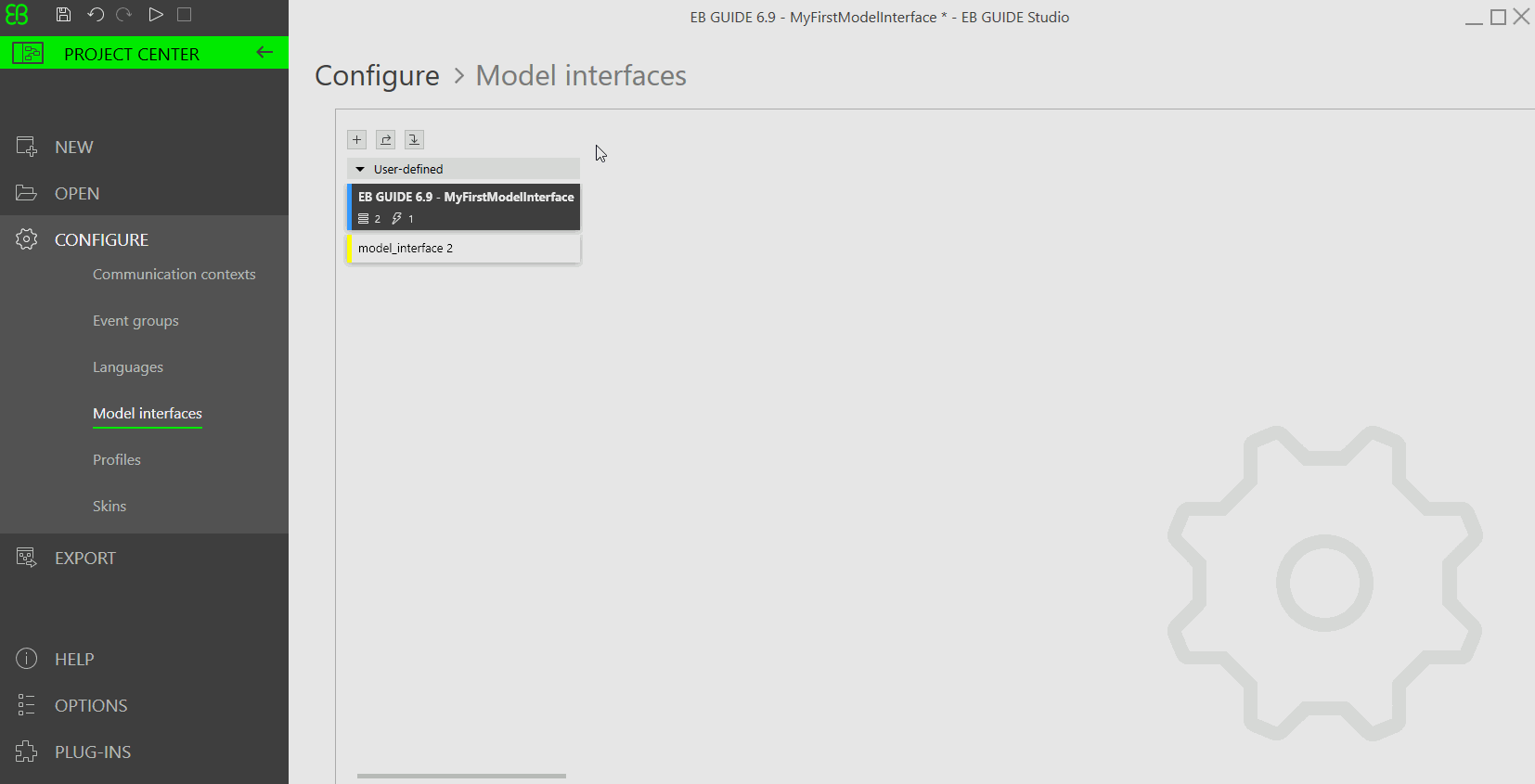 Use a model interface from another model
Now let's face the other perspective. You want to use a model interface coming from another model of a team you're collaborating with.
Right next to the export function in the project center section for model interfaces, you can import model interfaces by clicking the import button and select the respective model interface.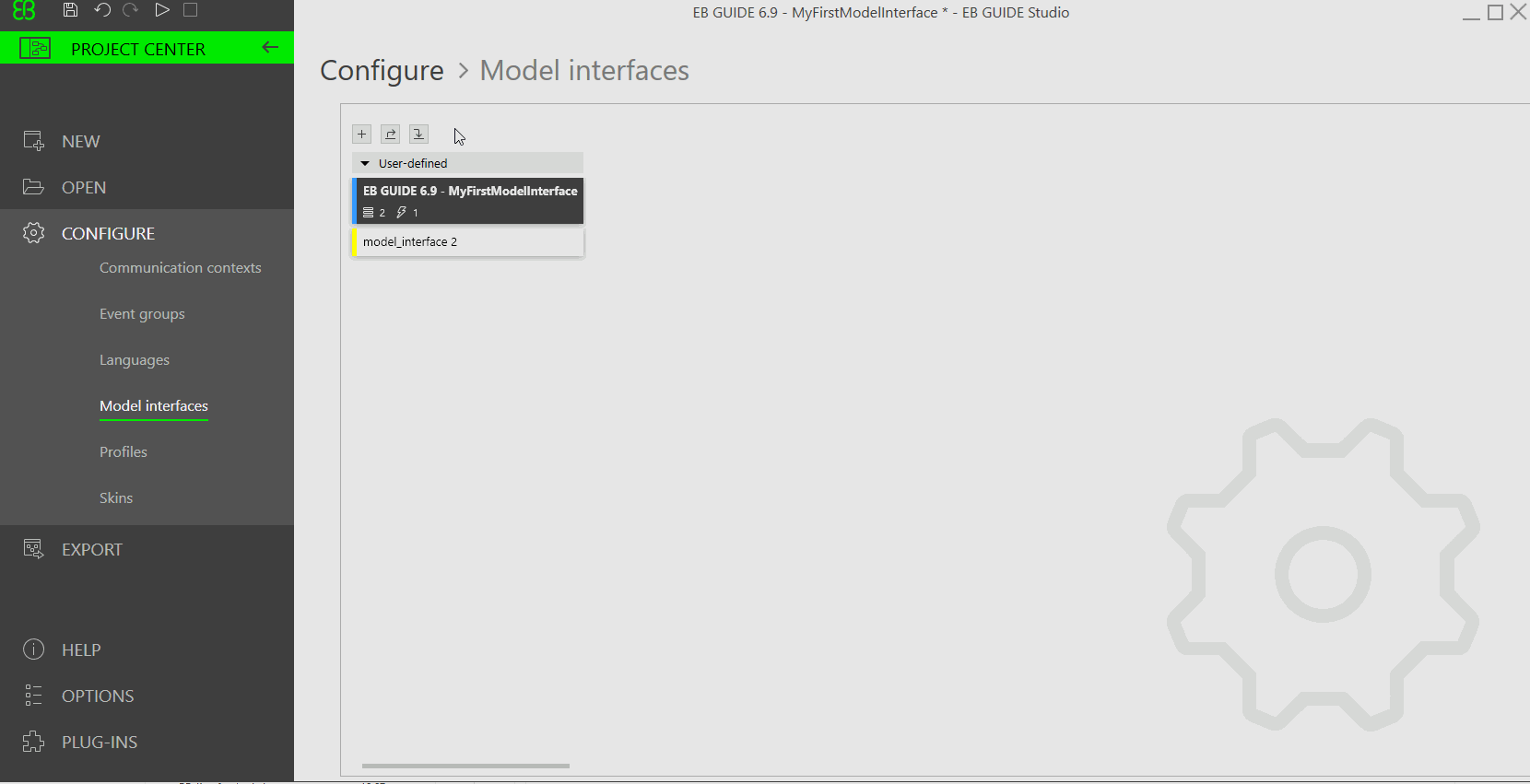 It is added to the section of imported model interfaces. Additionally, it is tagged with a hatched marker in the allocated color of the source model. This helps you to quickly recognize imported model elements.

Each imported model interface has its own namespace that is visible in the namespace component. You can see each element of the model interface by selecting the model interface namespace in the datapool and events component.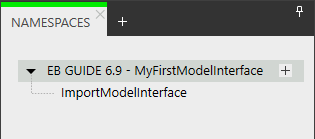 Imported model elements can be referenced in scripts and you can also link to datapool items from every compatible datapool or widget property.
Update an imported model interface
"What happens if a model interface I imported changed?" – you might have asked yourself. No problem at all, just import the model interface again and it will be updated. EB GUIDE creates a list of all changes, which will be generated automatically.
We hope these improvements will help you achieve your daily goals with EB GUIDE more efficiently and intuitively. If you have any comments and suggestions concerning UI/UX, feel free to contact us at uxd_support@elektrobit.com.

Start modeling now!
As always, the following resources have been updated and are now available:
Download the Community edition of EB GUIDE.
Read through our updated Release Notes.
Download updated user documentation.
Access updated tutorials here.
Download updated feature demo, examples, and custom widgets.
Sign up for one of our EB GUIDE training courses now.