Thursday, October 31, 2019
Strategic partnership is driving innovation
You may have read that augmented reality is the latest "must-have" for extraordinary head-up displays, but are there other technologies which are increasing driver safety, building driver trust in the vehicle, and improving the overall driver experience?
With EB, you are provided with extraordinary tools – tools which assist with the creation of augmented reality – precisely when you need them, without cutting corners on quality, innovation, and the overall user experience.  EB GUIDE arware will help you to augment navigation information on the road or emphasize the track course.
Now, to further strengthen and enhance the capabilities in augmented reality for the HUD, we're proud to announce an exciting new alliance with ANSYS, one of the industry's most reputable pioneers in Augmented Reality for HUDs.
Walk in their shoes, drive in their seat
What if you could see what your end user sees, and feel what your end user feels?
ANSYS VRXPERIENCE makes this possible. Entering ANSYS VRXPERIENCE for the first time (or any time after that, for that matter) is nothing short of impressive. The virtual reality environment with real-time lighting and sensors simulation incorporates camera systems, lidars, radars and ultrasonic sensors, allowing you to specify optical sensors and software requirements, and even integrating sensors on vehicles to test and validate ADAS. Do you want to perform model-in-the-loop (MIL), software-in-the-loop (SIL), and hardware-in-the-loop (HIL) testing? Closed loop simulation makes it possible.
Paired with EB GUIDE arware, we have successfully formed an end-to-end simulation toolchain, from virtual prototyping to UX. ANSYS VRXPERIENCE incorporates natural interactions through visual simulation, eye and finger tracking, and haptic feedback and a seamless workflow with optical digital mock-up, for an intuitive and user-friendly experience.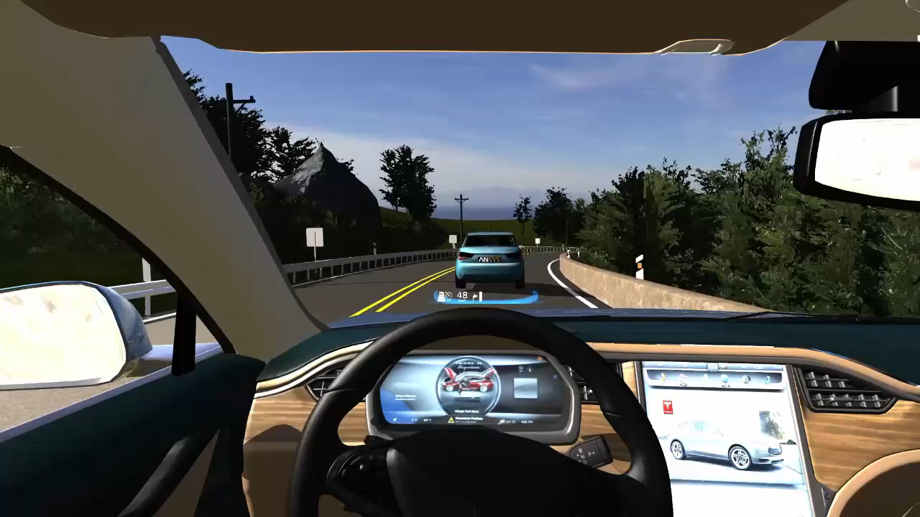 Okay, so it's got all the bells and whistles, but you're probably asking yourself "What's in it for me?"
How about significant improvements in quality? Watch in awe as your simulation provides deep insights into the underlying physics, solving quality issues. Another advantage is reduced time to market, as simulation circumvents physical prototyping and testing. And lastly, you'll love the accelerated time to market, reducing costs by lowering the initial investment required for physical prototyping and testing.
Strategic partnership for driver safety and trust
The alliance between Elektrobit and ANSYS is yet another way to make driving safer, build driver trust in the vehicle, and improve the driver experience.
Find out more about our EB GUIDE arware and get the free demo to experience the advanced augmented reality.