| | |
| --- | --- |
| Read the latest news from Elektrobit - Driving the Future of Software | |
Top Stories
Elektrobit (EB) Unveils EB cadian, a Remote Analytics Solution for Connected Cars

EB cadian enables carmakers to remotely analyze analytics data received from periodic or on-demand surveys, and to securely store that information on the Cloud. This real-time analysis allows carmakers to optimize production processes and improve the design of their next-generation vehicles.

EB cadian uses standardized formats to save time and money, and state-of-the-art encryption and authentication technologies ensure secure remote access and secure connection to the vehicle. EB cadian's customizable and configurable surveys leverage data efficiency to save bandwidth.

To learn more about the benefits of EB cadian, please view the press release.



Connected Maintenance for Your Fleet

This short video will show how EB helps carmakers manage software throughout a vehicle's life cycle.

Connect. Learn. Improve. Try EB cadian.

Watch this video to learn how EB cadian can help you remotely collect and analyze analytics data.
---
EB GUIDE 6.2 Released!

On June 7, we released version 6.2 of our powerful HMI development tool, EB GUIDE. This release includes a number of improvements: a new Stateless Command Driven Renderer (SCDR) for better and faster 3D capability; the View Transition Animation (VTA) feature that enables you to animate transitions between views within EB GUIDE Studio; and the new Korean language EB GUIDE Studio user interface and documentation.

Read more about EB GUIDE in our blog post—or download EB GUIDE Community Edition to try it out!
---
Sensor-Based Vehicle Positioning

In this recently published Elektronik Automotive article, EB experts Martin Schauer, Andis Rudevics, and Fabian Kirsch offer up deep insights into sensor-based positioning, Kalman filtering, and highly accurate positioning in the context of autonomous driving.

Read the corresponding TechPaper in English or German.
---
EB RACE for GENIVI – Free Download

We invite you to download and explore our free, full-featured EB RACE for GENIVI, a tool tailored to monitor and analyze GENIVI-based systems. Features include Linux profiling, DLT traces, D-Bus communication monitoring, Franca IDL Decoder, and more. For live monitoring, you can also download the Target Agent.

Visit our webpage for updates and other information about the product roadmap, upcoming releases of EB RACE, and efforts to set up the Target Agent as open source software.

Download EB RACE for GENIVI.
---
"Mind the Gap! Driving Assistance Systems from Development to Serial Use"

In this presentation from the recent Cooperation Forum Advanced Driver Assistance Systems congress, Aschaffenburg, Germany, EB's Jürgen Ludwig, Senior Manager of Business Development, addresses the essential components of developing future ADAS and highly automated driving systems. You can watch his presentation here.
---
Events

EB GUIDE and EB tresos Seminars, Tokyo, Japan
June – September
Automotive software development is getting more and more complex, but the Elektrobit Japan team is ready to help make things clearer. Join our local experts for a series of free seminars on AUTOSAR and HMI development, which will include overviews of European industry trends and the latest technology from EB. Participation is limited, so please view our detailed webpage at your earliest convenience.

AUTOSAR: June 15, July 20, August 24, September 14
HMI Development Process: June 16, July 21, August 25, September 15
---

Final Call: Register for Embedded Multi-Core Conference 2016, Munich, Germany
June 28 – 30
We're making our final preparations for the much-anticipated EMCC 2016, the second multi-core conference we've organized with our partners Infineon, Timing-Architects, and iSYSTEM. Day 1 and Day 2 will feature an impressive array of expert speakers and top-notch presentations devoted to all things multi-core. On Day 3, Workshop Day, we'll dive deep into optimization and validation of multi-core application timing behavior, AUTOSAR OS and runtime environment efficiency, and multi-core best practices.

All three days offer scheduled networking opportunities in our partner environment, and you're always welcome to stop by for a 1:1 discussion at our booth, where we'll be presenting our EB tresos solution for NVIDIA DRIVE PX autonomous driving platform.

Review the full agenda, and find more information at www.multicore-conference.com.

Register before it's too late! See you in Munich!
---

ConCarExpo 2016, Düsseldorf, Germany: UPDATE
June 29
Status update: Our booth at ConCarExpo has been relocated; you can now find us at booth #31. And the time for our presentation, "Robot Architectures for Highly Automated Driving," has been moved forward; please attend on June 29 at 15:10.

See you at booth #31!
---

AWS Enterprise Summit 2016, Frankfurt, Germany
June 30
This summit aims to shed light on the challenges big companies face when migrating their IT infrastructure to the Cloud. Main points of discussion will include strategies for successful migrations and adaptability to changes in processes, technologies, and staff.

In a Breakout Session, EB's Thomas Fleischmann, Head of Technology, Connected Car, and Sascha Ziesig, Senior Software Engineer, will present remote diagnostics and sensor data processing use cases for automobiles, and show how EB uses Amazon Web Services as a platform for innovation development.

No charge to attend.
---

Forum Safety & Security 2016, Munich, Germany
July 5 – 7
On July 6, EB's Robert Leibinger will present "Alles sicher? Safe & Secure im Automobil" at this conference devoted to automotive safety and security. Learn more about this industry event.
---

VDA Automotive SYS Conference, Berlin, Germany
July 6 – 8
The sixth international Conference on Quality Management for Automotive Electronics focuses on the quality of modern vehicle electronics as it relates to new functional safety regulations and established standards such as Automotive SPICE. On the first day of this VDA-hosted gathering of world-class speakers, leading service providers, and other industry experts, our Alexander Much and Rudi Grave will present "Evolving Needs for Software Systems," an afternoon workshop. We hope you can join them.

Get program and registration details.
---
Webinars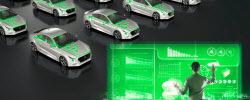 Game-Changer Connectivity – Insights through Remote Analytics
July 27
Analytics data is indispensable for today's carmakers, and the ability to collect and process this information in the Cloud, without physical access to a vehicle, adds a new dimension. This free 60-minute webinar from Automotive Megatrends features EB's connected-car expert, Oliver Pajonk, who will demonstrate just how EB cadian, our brand-new remote analytics tool, will be a connectivity game-changer. Topics of discussion include:

The advantages of individual configuration in remote analytics
The necessity of a secure and scalable backend infrastructure
How EB combines big data and analytics expertise in EB cadian
The value of predictive maintenance for carmakers
---

New Subscriber?




Sign up to receive the latest monthly news from Elektrobit.

---

Past Newsletters




Read news from previous Elektrobit issues.