| | |
| --- | --- |
| Read the latest news from Elektrobit Automotive - Driving the Future of Software | |
Top Stories
Elektrobit (EB) a Finalist at TU-Automotive Awards 2015
Detroit, MI

The prestigious TU-Automotive Awards celebrates achievement across the globe in the connected-car industry, and EB is proud to have earned not just one, but two nominations. We'll vie against some of the world's best-known automotive companies for the Best Connected Car System Integrator and Best Safety or ADAS Solution awards. See a list of all finalists here.
---
Featured in ATZ elektronik Magazine

A car's horizon is restricted to its direct environment, which is far too limited for future autonomous-driving driver-assistance systems. Additional details about geography, topology, weather, and road conditions, among other data, are necessary—a problem solved by combining real-time infrastructure information with digital map data from vehicles.

Get a deeper understanding of this topic by reading the ATZ elektronik article "The Car as a Sensor – Cooperative Perception and Learning for Automated Driving" (English or German).
---
The WEpods Pilot Project

The Dutch province of Gelderland has launched a pilot program featuring two self-driving vehicles called WEpods. The WEpods, which lack steering wheels and pedals, will initially shuttle visitors between a local rail hub and the Wageningen University & Research Centre. The pilot not only strives to deliver a reliable, ready-to-use system, but also forges a partnership between companies, governments, and knowledge institutions to develop, expand, and ultimately integrate automated vehicles with conventional traffic on public roads. EB is excited to be the supplier of electronic horizon components for the revolutionary WEpods.

Read more on the official project page, and learn more about electronic horizon.
---
Upcoming Events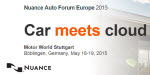 Car Meets Cloud - Nuance Auto Forum Europe 2015, Böblingen, Germany
May 18–19
Personalization powers the relationship between driver and car. Nuance Automotive Forum 2015, with the motto car meets cloud, is the place to learn about what's happening now and what's coming next in the connected-car world.

Nuance Communications, a leading provider of voice and language solutions, will bring together experts and industry thought-leaders for two days of insights, innovation, and networking at Motor World Stuttgart, May 18 and 19. Meet EB in the technology showcase area to experience live demonstrations of our speech dialog technology.

Learn more about this invitation-only event.
---

MDS Technology Seminar, Seoul, South Korea
May 20
The human-machine interface (HMI) in a vehicle must balance driver support against driver distraction, so interaction between driver and vehicle must be as intuitive as possible. Multimodal HMIs combining voice and gesture with touch and other tactile controls make this possible. Natural language understanding, cloud-based speech recognition, and hybrid systems are state-of-the-art technologies which will further improve the usability of user interfaces.

True to the seminar's theme—Innovation in cars! Innovation in SW development! Matthias Hampel, Head of Technology and Innovation HMI, will discuss all this and more in "Challenges in Developing a Smart Multimodal Driver Vehicle Interaction," on May 20.
---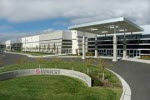 TU-Automotive Panel hosted by Elektrobit (EB), Novi, MI
June 3
Join EB at the TU-Automotive Conference in Novi, Michigan on Wednesday, June 3 at 5:30 p.m. for "Building the Blueprint for Tomorrow's Vehicle Software" panel. The advent of the autonomous car and impact of rapid electronics integration are making big demands on software specification, architecture and development - demands they were never designed to fulfill. Today's vehicle software architecture has never felt more inadequate to deliver tomorrow's cars.
---

Get Your Ticket for Embedded Multi-Core Conference 2015, Munich, Germany
June 16–18
EMCC 2015, the first multi-core conference organized by partner companies Elektrobit (EB), Infineon, Timing-Architects, and iSYSTEM, is nearly here and we want you on-board.

Why attend?

Content: Delve into multi-core development and best practices in technical sessions presented by renowned experts from EB, BMW, ZF Friedrichshafen, Exida, and other industry leaders.

Answers: Ask questions and get answers from technology experts at EB and our partners.

Connect: Meet with EB and other automotive-industry representatives for informal one-on-one discussions on the topics that matter most to you.

Check out the latest agenda.
---

International VDI Conference - IT Security for Vehicles, Cologne, Germany
June 17–18
As the connected car continues forward, vehicle IT safety becomes more and more important. Our expert, Martin Böhner, will address this and related issues in "Performance Analysis of Cryptographic Algorithms," part of the On-Board Security Challenges session. Click below to get an event overview and to see the full program. As always, we also invite you to join us at our booth on June 17 and 18.
---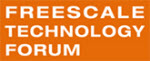 Freescale Technology Forum (FTF), Austin, TX
June 22–25
FTF offers more than 150 informative technical sessions, 250 problem-solving technology demos, and two enlightening keynote sessions. Come meet with EB in the technology lab to learn about AUTOSAR software development for electronic control units (ECUs), Ethernet for automotive, and multi-core operating systems. We look forward to seeing you in Austin!
---
Other News
New TechPaper: Managing Complexity with Agile Development

Today's fast-paced development environment requires maximum flexibility, which is practically impossible when manufacturers and suppliers rely on traditional collaboration methods. EB has implemented new software development models with OEMs to successfully shorten development cycles, increase transparency, and streamline processes. Read all the details in the new TechPaper (English or German).
---
New Brochure: Driver Assistance Software – EB Assist Solutions

Read EB's new driver assistance software brochure, which includes ADAS tools, modules and engineering services.

Download here.
---

New Subscriber?




Sign up to receive the latest monthly news from Elektrobit Automotive.

---

Past Newsletters




Read news from previous Elektrobit Automotive issues.