| | |
| --- | --- |
| Read the latest news from Elektrobit - Driving the Future of Software | |
Top Stories
Elektrobit (EB) Partnering with Infineon and NVIDIA to Deliver first-of-its-kind Autonomous-Driving Platform

Elektrobit is working with Infineon Technologies and NVIDIA to make it easier for automakers to create advanced driver assistance systems (ADAS) that integrate the highest levels of safety. Together, the companies are delivering a first-of-its-kind solution, a powerful development platform for autonomous driving.

Read the complete press release.
---
Beijing Office Expands

Strong growth has prompted us to expand our Beijing headquarters. We've moved nearby to a new facility that features a contemporary, open space and can accommodate more than 100 staff. The new office is conveniently located off subway lines 10 and 13 via Zichunlu Station, and is adjacent to "China's Silicon Valley" in the Zhongguancun area of Beijing. Come visit us at our new address:

Elektrobit Automotive Software (Shanghai) Co., Ltd.
Ying Du Building, Tower A, Floor 28
48 Zhi Chun Road
Hai Dian District
Beijing, China 100186
---
Lauterbach Expert Forum, Shanghai, China

Lauterbach, a world leader in hardware-assisted debug tools, recently gathered experts in Shanghai, and EB is proud to have been represented. Jan Rüdiger, EB team lead in the Car Infrastructure domain, presented "From Software to Software systems – New Megatrend: Domain Controller." The insightful presentation addressed one of the challenges now facing electronic control unit (ECU) manufacturers: how best to balance the growing demand for functionality in modern car architecture against the resultant increase in overall complexity.

View the presentation here.
---
Upcoming Events

22nd EuroAsiaSPI² Conference, Ankara, Turkey
September 30 – October 2
Meet our colleague, Functional Safety expert and Automotive SPICE assessor Alexander Much, at this year's EuroAsiaSPI² conference, where participants will discuss results from systems, software, and service process improvement and innovation (SPI) projects in industry and research. In his keynote speech, "Balanceability™ Is the New Agile," Mr. Much will explain why effective and long-lasting improvement needs a deep understanding of methods and the ability to find a good balance between them: "balanceabilty™."
---
IEEE/RSJ International Conference on Intelligent Robots and Systems, Hamburg, Germany
September 28 – October 2
Historically, robots have been confined to strictly controlled factory and warehouse floors, and their tasks tailored to their low intelligence level. This is changing drastically as the automotive industry and software companies embrace the advent of the autonomous vehicle. Universities, research labs, and development centers worldwide are now working hard to up the intelligence level to make a self-driving car on public roads a reality.

Come listen to EB's Head of Driver Assistance, Dr. Björn Giesler, deliver a thought-provoking keynote on the topic: "Robots, Politics, and Ethics: How Autonomous Driving Transforms Our Way of Thinking About Machines" (September 29, 5:50 p.m., Hall 2).
---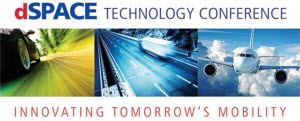 dSPACE Technology Conference 2015, Plymouth, Michigan
October 13 – 14
Dheeraj Sharma, Senior Software Engineer at dSPACE, will showcase how Elektrobit's EB tresos Studio configuration tool and dSPACE's authoring tool, SystemDesk, work together to create a world-class AUTOSAR toolchain. We invite you to experience this powerful duo firsthand in the conference demo room. The conference is at the Inn at St. John's, in Plymouth, MI, and it's free of charge.
---

MATLAB EXPO 2015, Tokyo, Japan
October 16
We hope you can join us in Tokyo as we introduce the powerful combination of MathWorks products and solutions and EB Assist ADTF and ADASIS toolboxes. MathWorks is the leading developer of mathematical computing software for engineers and scientists.
---

5th Annual Ethernet & IP @ Automotive Technology Day, Yokohama, Japan
October 27 – 28
The IEEE Standards Association (IEEE-SA) Ethernet & IP @ Automotive Technology Day is the premier venue for carmakers, suppliers, semiconductor vendors, and tool providers to discuss and learn about the evolution of Ethernet standards, technologies, and applications in the automotive environment.

Technology Day is open to anyone interested in next-generation automotive communication technologies, as well as those currently involved in related standardization and interoperability activities.

At this two-day event, Dr. Michael Ziehensack, our Ethernet expert, will deliver "Safe and Secure Communication with Automotive Ethernet" at 10:30 a.m. on October 28. At 1:30 p.m., Dr. Roman Pallierer, Product Manager at EB, will present, with our partners Ixia and C&S, "Standardization of tests for efficient testing of Automotive Ethernet ECUs."

We hope to see you at booth D1!
---

New Subscriber?




Sign up to receive the latest monthly news from Elektrobit.

---

Past Newsletters




Read news from previous Elektrobit issues.