SIGN UP
If you have received this news-letter from a friend or associate, and would like to receive it monthly please join!

Welcome to EB Automotive's monthly newsletter where you will find the latest news and information on our upcoming events, products and company news.

Elektrobit (EB) Automotive Opens Office in Oulu, Finland
The automotive industry is rapidly changing with the continued trend to driver assistance applications and to the integration of external devices in the car. These development trends are delivering a wealth of opportunities for car manufacturers and automotive suppliers alike. With the office opening in Oulu, Finland, EB is creating up to 40 jobs for software development engineers in the region with a focus on research and development for embedded software and software integration. The new office will enable EB to respond to current business needs by leveraging a highly skilled workforce in the area. Here's an excerpt from an interview with Alex Kocher, President, Elektrobit (EB) Automotive GmbH. Why did EB decide to establish an automotive software site in Finland? Alex Kocher: Finland is a strong economy in Northern Europe and home to Elektrobit's headquarters. Therefore, expanding our automotive software research and development business to Finland was a natural step for us. We see great potential from a highly skilled workforce especially in the electronics and software industry in the country. Our office opening in Finland is in line with our global expansion plans in Europe, the US and Asia. Why exactly in Oulu? Alex Kocher: Elektrobit already has a strong heritage in Oulu, with almost 30 years of experience on-site for EB's Wireless business. Therefore, it made sense to benefit from this experience in the region. In addition, the Oulu region is a key market for attracting new, highly skilled employees that are experts in the STEM field and especially for software development and integration. What will be the core business areas for Oulu site? Alex Kocher: Our office in Oulu will focus on strengthening our global Research and Development team for embedded car software and systems integration.

Telematics Wire Interviews Elektrobit on User Centered Automotive HMIs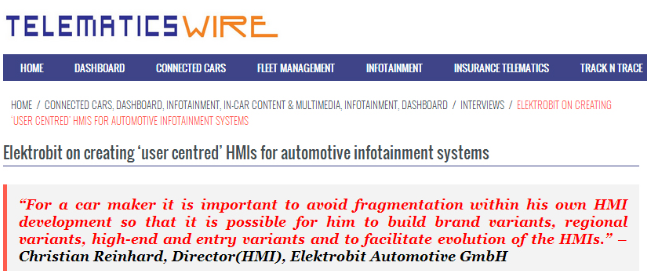 Telematics Wire, a publication geared to the latest in the automotive and transportation industry, recently interviewed Christian Reinhard, Director HMI on creating 'user centered' HMIs for automotive infotainment systems. Read the entire interview.

EB tresos Safety TimE Protection Achieved Safety Certification
The assessment agency exida Certification SA certified the product EB tresos Safety TimE Protection. exida confirmed the capability for use in safety related ECU projects up to the highest Automotive Safety Integrity Level (ASIL) D according to ISO26262 as well as in non-automotive projects up to IEC 61508 SIL 3. Together with EB´s Safety Operating System, EB tresos Safety TimE Protection is Elektrobit´s second independently certified product that meets Functional Safety standards. EB tresos Safety RTE and EB tresos Safety E2E protection complete EB´s powerful functional safety product family to achieve freedom from interference of safety related software applications. Learn more.

Keeping a Tight Grip on Complex HMIs
The latest version of the German magazine, elektrotechnik Automatisierung has published an article about the development of Human Machine Interfaces (HMI) written by Christian Reinhard, Director HMI at Elektrobit. Christian describes the entire process of software development for complex HMI projects from analysis of user tasks to evaluation of the system.




Safety related Multicore ECUs with AUTOSAR, September 24
Elektrobit's Sr. Project Manager for Operating Systems & Functional Safety, Dr. Alexander Mattausch, will present "How to Bring Safety related Multicore ECUs on the Road with AUTOSAR" at the Baden-Baden Spezial 2014 event on September 24th. Locate more information here.


ITG Conference, September 24-26
Elektrobit presents at the 11th ITG Conference on Speech Communication in Erlangen, Germany, September 24 – 26 organized by the FAU University of Erlangen and VDE Germany. During the conference, Dr. Dominique Massonié will discuss "Modeling Graphical and Speech User Interfaces with Widgets and Spidgets". Elektrobit will also demonstrate its speech dialog capabilities in the exhibitor area. Learn more about the event.

Paris Motor Show 2014, October 4-19
One of the main automotive events is coming up – The Paris Motor Show 2014! Exhibitors from all over the world will present more than 100 new international releases including 11,000 electric demo vehicles. Many of the cars displayed as well as demos run on Elektrobit software.

International Suppliers Fair (IZB), October 14-16
Stop by the Elektrobit booth, Hall 4 / 4426 at the IZB in Wolfsburg, Germany, October 14-16 to learn more about our broad portfolio of automotive solutions and services – from navigation to safety and security to driver assistance – multiple solutions from a single source with over 25 years of experience in the software industry. Read more.


Functional Safety Webinar, October 14
Elektrobit's Robert Leibinger, Solution Manager and Functional Safety Expert, welcomes you to join a complimentary webinar hosted by Automotive World on Tuesday, October 14th, focusing on the relevance of multicore systems for the next generation of functional Safety ECUs in the automotive industry. Register for the webinar.

Driver Assistance – Trends and Technologies Video
Dr. Rolf Dubitzky, Head of Driver Assistance at Elektrobit, talks about trends and technologies on the way to automated and autonomous driving. Watch the video here.