Meet demanding Functional Safety requirements
Today the expectations on cars include a growing number of on-board systems and sensors. That makes functional integration more complex. We can help you extend your existing development and production processes to fulfill the increasing demands of applicable safety standards.
Offerings
Functional Safety Training
To introduce Functional Safety, we start with awareness training. Our experienced trainers will raise the general understanding of safety through modern training methodologies such as blended learning. Once everyone understands the basics, later role-specific courses go into more detail.
Maturity-level enhancement
Organizations have different levels of maturity when it comes to safety understanding and practice. EB provides a framework to track safety maturity starting from day one. This high level of transparency helps development teams, quality leads and managers stay focused. Our pragmatic approach avoids over-engineering and our experience in the field allows us to support you in any additional efforts required to address safety.
Proven toolbox for safety projects
Our experts take advantage of a tool chain we have successfully used in many ASIL certified development projects. We know the international safety standards and use proven templates and best practices to handle the work products required for standards like ISO 26262 and IEC 61580. We then adapt our tools to the extent needed to work within your specific project environment.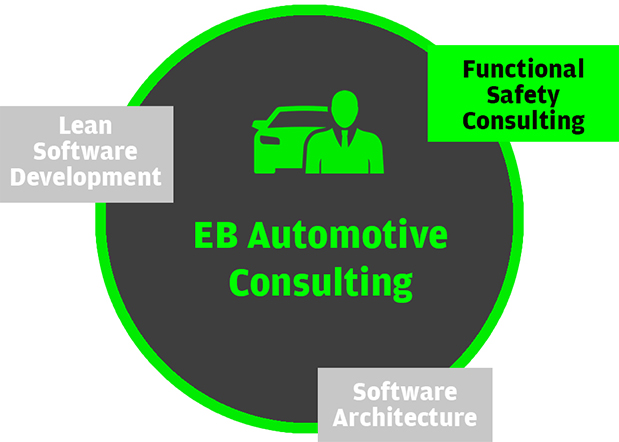 Our services cover:
Evaluating maturity level
Conducting a gap analysis based on IEC 61508, ISO 26262, and SPICE
Supporting the definition and implementation of safety strategies
Introducing safety concepts
Performing Functional Safety engineering and management
Integration with other EB products and services
Development tools, software modules, and driver assistance engineering services for intelligent, safe, and comfortable vehicles.
Develop your electronic control unit (ECU) with our scalable basic software, operating systems, and tailor-made tool environment.