State-of-the-art software development for the automotive industry
EB has successfully implemented the Lean Software Development Model for automotive software projects. In our daily business, we combine state-of-the-art software development methodologies, such as Scrum and Kanban, with industry standards, such as Automotive SPICE. That means we have experience combining classic approaches and newer tools like epics and user stories.
We're convinced, based on studies and our own experiences that the Lean Software Development Model results in more successful projects. We offer support and services, based on this Lean Software Development Model, to help our customers gain the benefits of lean development for reliable, process-driven yet agile projects that include traceability and increase development efficiency.
Benefits
Faster innovation cycles
Lean Software Development calls for creating potentially shippable releases at each iteration of development. This approach minimizes time-to-market while ensuring development of the most important features first. It also lets the team test and refine those features repeatedly. Lastly, it allows customers to see the evolving product—creating an atmosphere that promotes additional innovative ideas.
Greater flexibility
Because customers help establish project scope, they are better prepared to define and prioritize additional features without excessive time spent on gathering requirements or negotiating change requests. Plus, agile development methods allow the team to make changes in direction quickly, incorporate recent technical innovations, and respond to market changes, even late in the project.
Better cost control
Through continuous customer collaboration and frequent deliveries of working software, Lean Software Development provides better cost control. Prioritized backlogs assure that the most important or critical features are always implemented first.
Improved transparency
Because software releases are iterative and frequent, customers have better insight into the status of the software project. And because feature backlogs are prioritized jointly, customers understand the trade-offs.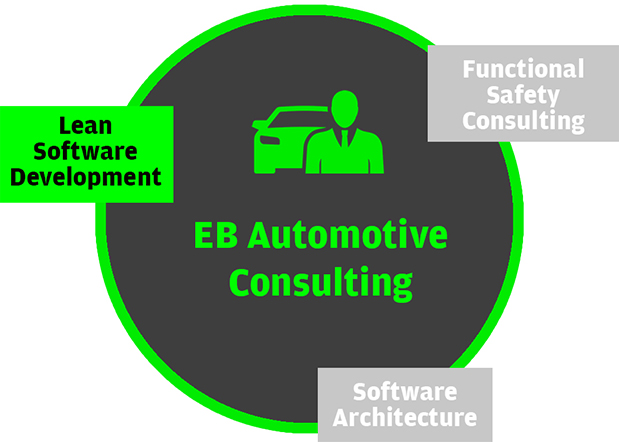 Key Features
Driving a transition to agile methods by introducing and coaching agile frameworks
Supporting the introduction of agile contracts and agile collaboration models
Supporting the introduction of software development tool chains and processes for agile development
Providing project management support for complex software projects
EB Lean Software Development services
It's crucial to establish the right control mechanisms early and then continuously adjust to changes in the team or the project environment. Agile software project execution propagates that approach.
Integration with other EB Automotive products and services
The Lean Software Development Model combines various lean and agile development methods to create a shorter development cycle with fewer errors and the flexibility to adapt to new requirements and demands.