Advanced driver assistance systems software solutions

Staying competitive means being on the cutting edge of driver assistance and autonomous driving solutions. Your drivers want accident prevention, comfort driving systems, and advanced navigation – and they want them green. Giving customers what they want requires integrating and leveraging the many highly sophisticated driver assistance technologies being developed. We provide proven tools, solutions, and engineering services for building these state-of-the-art driver assistance systems.
Benefits
Demonstrate responsibility and reliability
EB Automotive is a well-regarded industry leader in driver assistance software. Numerous leading manufacturers and suppliers use EB's solutions and services.
Lead in technology
EB, as a pure software company with extensive knowledge in driver assistance software development and implementation, puts you on the fast lane to autonomous driving. Our interlocking solutions and services (driver assistance, navigation, human machine interface (HMI), car infrastructure, Functional Safety, and connected services) let you implement a variety of automotive software solutions using a single, reliable source. Elektrobit enables carmakers and suppliers to build cars that lead in technology.
Be and stay state-of-the-art
With more than two decades of embedded software experience, we deliver the latest technology for road safety and traffic awareness. We constantly refine and update our products, solutions, and thinking to accommodate changes in technology and new market challenges.
Experts with extensive knowledge
EB's team of software developers, architects, and project managers uses the latest software development methods – from traditional to agile – along with qualified tools. Our specialists have professional skills and extensive knowledge acquired from delivering a wide variety of driver assistance solutions. You can rely on us as a value-adding partner.
Stay one step ahead in the connected world
It's challenging to accommodate the growing number of sensors and technologies such as radar, ultrasonic, video cameras, navigation, and wireless communications (Car2X). EB´s fusion of sensor data and the technologies for processing that data enable you to master the challenges of autonomous driving.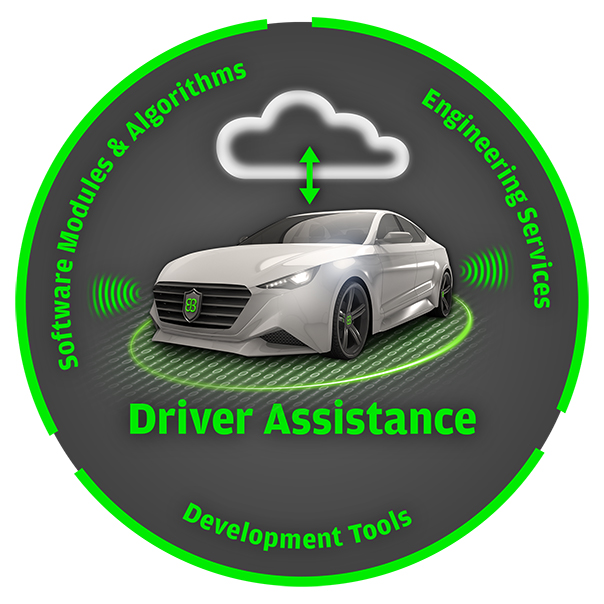 Key Features
EB Assist features:
Reliable, flexible, and cost-effective tools to simplify and accelerate driver assistance software development
Measurement technology that minimizes evaluation time and data errors, maximizing efficiency
Products and solutions based on industry standards (ADASIS, CAN, LIN, ADTF, etc.)
An electronic horizon solution that uses digital map information across car lines and model configurations without the need to have an active navigation system
Driver assistance software running on any ECU ready for volume production and to be on the road
Measurement tools for testing and validation of video-based driver assistance features
Engineering services for integration and industrialization of driver assistance software
Automated Driving
A cornerstone of automated driving is highly accurate road map data. This video demonstrates EB´s approach: "ADAS – contributor and beneficiary of cloud-enriched road map data".
EB Assist products, solutions, and services
A proven and widely used tool for development, validation, and visualization of driver assistance and highly automated driving features.
High-performant and reliable automotive PC system to suit your testing and validation needs.
Ready to use for automated ECU testing, e.g., rest bus simulation (RBS), software-/hardware-in-the-loop (SIL/HIL), end-of-line (EOL), or as an integral part of your production line.
Modular I/O slot cards, I/O interface modules, and simulation tools.
Integration with other EB products and services
EB Assist provides comprehensive solutions. Our combination of experts and products with different focuses of automotive software enables us to address your specific automotive challenge with a complete solution. Benefit from our knowledge and experience in: