Permanent valid speed limit and road sign information
Providing permanently the valid road sign info, such as speed limit, one way road or no passing zone facilitates safe and comfort driving.
EB Assist Traffic Sign Assistant merges data from onboard sensors as well as cloud data sources and forms the basis to provide current valid speed limits and road regulation information. This information can be displayed on the instrument cluster or utilized for driver assistance systems. It takes speed limits into account provided by road signage, from variable road signs and domain specific regulations (e. g. German highways only show speed limits with even numbers (80, 100, 120 km/h).
Thanks to EB Assist Traffic Sign Assistant carmakers relieve drivers, because they are able to maintain the overview in the chaos of signs, concentrate on traffic and adhere to the permitted speed.
Benefits
Merges different signal sources to generate valid traffic information
EB Assist Traffic Sign Assistant consolidates information from the front camera, the navigation system and the car, itself. The fusion of data is a permanent mechanism to generate road sign and speed limit information, including special situations such as time or weather conditions.
Reliability
EB Assist Traffic Sign Assistant combines different data to get the most reliable information including individual driving behavior, ambiguous or contradictorily road sign information as well as road traffic regulations.
Supports drivers and increases traffic safety
Thanks to EB Assist Traffic Sign Assistant, drivers or the car itself can constantly control the speed. Furthermore, overlooked signs can be recalled allowing drivers to arrive safely at their destinations while maintaining legal road regulations.
Tailored to your brand
The basic technology is adaptable to carmaker specific requirements. Plus, with EB Assist Traffic Sign Assistant a carmaker's specific warning channel can be triggered in line with the cars HMI concept.
Prerequisite for driver assistance features on the way to autonomous driving
Road conditions, road signs and speed limits are prerequisites to enable advanced driver assistance systems to perform within regulations. To support ADAS features like e.g. predictive ACC, reliable and exact information about the validity range of speed limit info is necessary.
EB Assist Traffic Sign Assistant provides more than just a traffic sign recognition. Due to based fusion technology the validity range can be determined and used for ADAS and autonomous driving.
Connectivity
EB Assist Traffic Sign Assistant is able to pre-filter recognized road signs before sending them to a server. This allows faster and more reliable data processing. Rejected sign information will not be uploaded. This allows server-side algorithms to work on reliable data.
Key features
Supports speed limit signs and supplementary signs by a front camera
Check plausibility of camera detected sign with additional information

from navigation system
from other vehicle sensors
a set of rules
Covers a huge range of urban and non-urban driving situations e. g. covered, polluted or mistakable traffic signs
Registers special driving situations e.g. tollgates or services
Platform specific parameter set for configuration
Triggers a carmaker's specific (speed) warning
Covers country differences
Processes over 100 input signals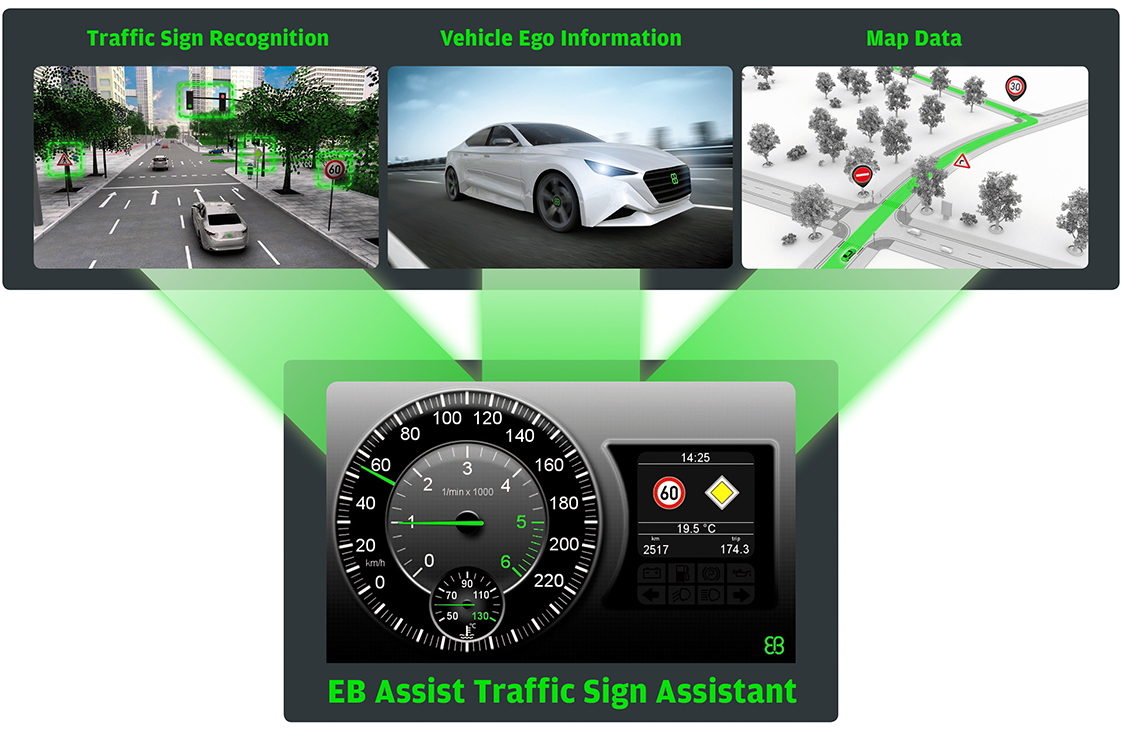 EB Assist Traffic Sign Assistant (TSA) related products
EB Assist Car Data Recorder (CDR)
A measurement technology providing a tablet interface you can use to gather test-drive data and assess its quality on the spot. EB Assist CDR simplifies the visualization of the EB Assist Traffic Sign Assistant.
Integration with other EB products and services
A comprehensive, hardware-agnostic software solution for highly-automated driving systems.