Helping you apply big data and machine learning
Vehicle sensors generating large amounts of data is nothing new, but the amount of data generated is increasing dramatically with increased connectivity. Processing all this data intelligently is a crucial factor in the war for market share, because that data can provide you with valuable insights to develop better automotive features.
All data isn't equal, though. And handling data can be expensive. EB helps customers to develop big data strategies that make sense and deliver ROI.
Benefits
Monetize your data
To offer consumers valuable new services, vehicle manufacturers have to bring together data from many different sources and data stored in diverse databases. EB can help you make sense out of all this data, including supply chain data, car sensor data, customer behavior information, etc.
Surface data intelligently
Passing data in real-time isn't always the best solution. Transferring data you don't need incurs unnecessary costs. Instead, you can transfer data exactly when you need it.
Reports and dashboards help you understand what you need to know with just a glance. EB can prepare and customize them to provide the information you need.
Faster time to market
With the right data at hand, you can make better decisions about features and speed up your product development cycles. Be the first in your market to offer your customers what they are longing for.
Gain your consumers trust
Research shows that a big concern for connected car drivers is their privacy. EB can consult with you on the anonymization of data to increase privacy without losing the data´s value. We can help you build privacy into your design.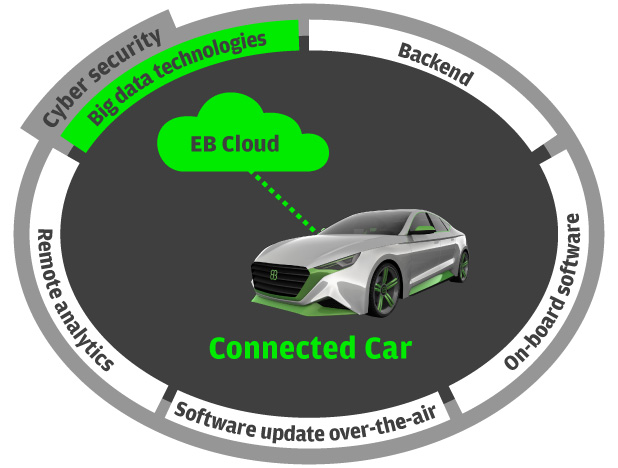 Key Features
Use of real-time and batch processing technologies
Scalability through use of the latest distributed processing technologies
Tailored specifically to the needs of the automotive industry
Validation and enrichment of digital maps using sensor data
Data mining experience
Service development and optional cloud operation
Related EB solutions and services