Supervision of highly automated driving systems
Making sure that automated driving features work perfectly, requires a flawless safety and error management. Monitoring the processes and identifying potential failures are a prerequisite for safe and secure driving features.
EB robinos Safety Management provides supervision of system parameters such as availability of system components, error tolerance/qualification times, or checking of complex data streams of other EB robinos components. Plus, more supervision code is automatically generated from description of parameters to supervise.

Benefits
Automated generation of supervision software based on customer requirements 
As requirements are often subject to change on a short notice, changing the safety supervision may be the result. EB robinos Safety Management provides a generator based concept to describe and store the rules for the safety supervision. This enables the developer to cover new requirements in a short time.
Covers any applications
EB robinos Safety Management helps a safety engineer to supervise any kind of system. It serves applications like automated parking, highway driving etc.
Optimizes software re-use
EB robinos Safety Management is part of EB robinos, which is an application-layer architecture with open interfaces for automated driving. EB robinos Safety Management is one of a range of EB robinos software modules for different functionalities. The defined interfaces allow optimized software re-use and the development of brand-specific systems.
Integrates with other systems
EB robinos Safety Management supports the EB driver assistance development platform, EB Assist ADTF, and a wide range of other driver assistance platforms from various suppliers.
Experience EB robinos Safety Management within EB Assist ADTF for free: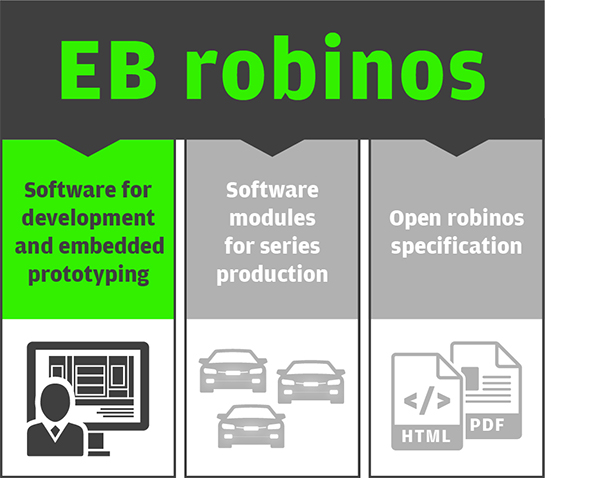 Key features
Supervision of data streams of EB robinos data structures
Configuration editor for handling customer-specific functional safety requirements
Generator based approach
Adaptable to different vehicle models
Runs in EB Assist ADTF
Runs on embedded Linux by end of 2017
Based on EB robinos framework
Can be applied to various use cases
EB robinos architecture

EB robinos Safety Management related products
A comprehensive, hardware-agnostic framework for highly automated driving systems.
Written version of the applied architecture and interfaces that describes the definitions of software modules, interfaces, and control mechanisms.
EB robinos Predictor provides highly accurate and up-to-date information about the road ahead for predictive driver assistance functions.
Provides a consistent environmental view through sensor data fusion.
Provides a flexible environment for the development of grid-based sensor data fusion.
Provides an accurate perception of the road through sensor data fusion.
Provides optimized positioning information for automated driving applications.
Offers a flexible short-term and mid-term planning for highly automated driving.
Integration with other EB products and services
A platform for working with EB robinos components in the development and testing stages.
Works seamlessly with the AUTOSAR-based EB tresos solution for NVIDIA DRIVE™ PX for developing close-to-production highly automated driving prototypes. Get your free EB tresos evaluation license.
Expert EB robinos and driver assistance teams provide consultation and support for choosing the right solutions for new or existing automated driving systems. EB also assists with migration strategies.