When you need some extras to enhance EB GUIDE Studio or use it with third-party tools, look to our list of plugins, or create your own widgets and plugins.
Standard plugins in EB GUIDE Studio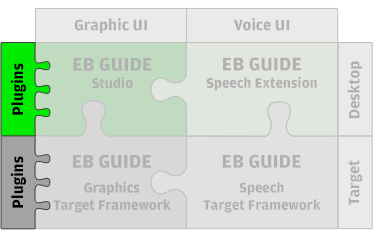 These standard plugins let you:
Insert comments on any part of your HMI project to help document the HMI elements.
Conduct automatic model-based checks to discover problems and errors as early as possible.
Use the translation plugin to get your HMI (Human Machine Interface) localized into many languages, while immediately executing the text length checks.
Export documentation of your HMI.
Many other plugins available.
Adobe® Photoshop® plugin (additional)
This plugin saves time and helps forge a bridge between designers and HMI developers. Use it to export graphics directly from Adobe® Photoshop® to EB GUIDE Studio.
Features
EB GUIDE Studio plugin lets you:
Export the layer information and the graphics from Adobe® Photoshop® via a script, and save the information in XML.
Create the control elements from the graphics and position them correctly using EB GUIDE Studio.
SVN plugin (additional)
Share large projects together with different developers at the same time. Use Subversion (SVN) version control server for multi-user mode.
Features
Loading a project initiates an SVN update and saving a project commits the modified files into the SVN repository.
Create your own plugins
Extend EB GUIDE Studio to meet your needs by creating your own plugins. Using the full API and supporting documentation, you can create your own plugins, such as widgets or applications.
Features
You can:
Access the tooling interfaces and write any type of EB GUIDE Studio extension.
Access all elements of the HMI model through a custom plugin that you can create by yourself. Examples for this task are available in the documentation and as source code examples.
HMI products and services
A powerful tool for intelligent multimodal HMI product development. EB GUIDE Studio lets you deliver the most advanced HMIs to your customers while staying on budget.
EB GUIDE Graphics Target Framework
Ensures that the powerful graphical interfaces you develop in EB GUIDE Studio render beautifully and are executed on your target in the vehicle.
Lets you design innovative speech dialogs while shortening development time for your HMI.
EB arware
EB arware is a software framework that enables the creation of augmented reality solutions that enhance the driving experience.
Integration with other EB products and services