EB offers comprehensive software services and support around EB tresos products. We are a full-service provider with many years of expertise developing software for automotive electronic control units (ECUs). Our global team assumes responsibility for specific parts of projects or for the entire project. EB can integrate customers' software and provide services to help pass car manufacturers' acceptance tests. EB can also help introduce you to the newest technologies, like Ethernet, Functional Safety/ISO 26262, or embedded security.
Through standard or custom training courses for AUTOSAR technology and our tools, EB provides project engineers with valuable knowledge about the function and interaction of AUTOSAR software modules.
What we offer
You have…
a brilliant idea to solve an automotive need?
We have…
substantial experience bringing ideas from prototype to start of production (SOP). Provide us with the algorithm and we will manage the rest.
Our service department deploys more than 200 experts that work in close proximity to and share the mindset of leading carmakers and Tier 1 suppliers. Together we produce solutions for the on-board and off-board areas of ECU software, which are available for the ECU embedded system itself as well as for the handling of ECU data, such as in the diagnostic (ODX).
Benefits
Thanks to EB's comprehensive services and worldwide availability, customers benefit from:
Reliability: EB has more than 20 years of expertise in automotive software development.
Outstanding AUTOSAR and Functional Safety know-how
Vast knowledge of car manufacturer software architecture, and thereby the advantage of a smooth process through SOP and further.
On-demand technical knowledge and on-site support no matter where you are around the globe—we have many international locations
Consistent customer support, which results in a shorter decision-making process and more efficient communication
Global Footprint & Portfolio
At EB, we think globally and act locally. Highly skilled teams are ready to provide assistance in numerous locations around the world: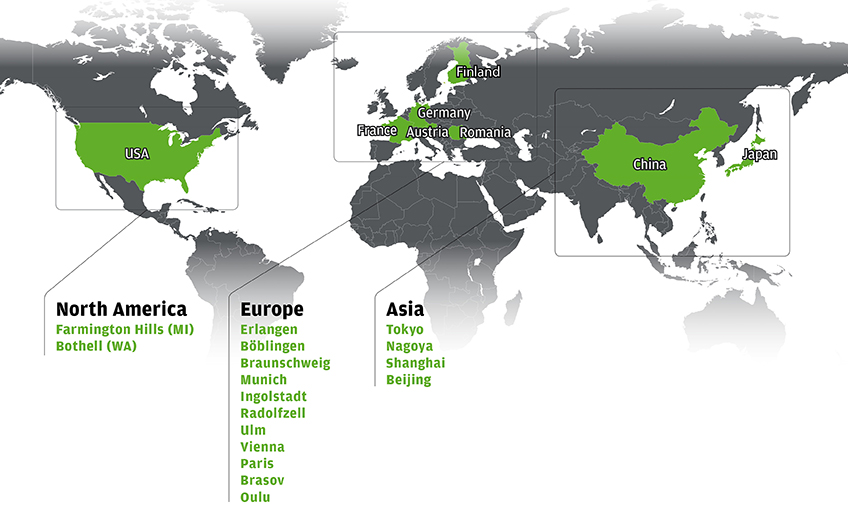 Our portfolio
EB is a dependable partner for developing, configuring, testing, and maintaining ECU software throughout the entire product life cycle.
Our service portfolio covers:
Basic software configuration and development meeting project requirements
Customization of EB standard products
Functional safety concepts based on EB's safety products
ASIL- and SPICE-compliant development processes
Model-based code generation, application integration, and RTE configuration
Software architecture, design, and requirements management
Workshops, training, and coaching
Integration with other EB tresos products and technologies
AUTOSAR basic software, operating systems, tools, and Functional Safety.
Engineering Services based on the latest technologies.
EB's products and services are customized to the requirements of individual car-makers.