Today, the combination of cloud connectivity, big data and machine learning has resulted in the rapid development and transformation of speech dialog. It has evolved from command and control-based dialog systems to Natural Language Understanding and cloud technology and is focused on multiple modalities, frameworks and assistants – both cloud and embedded.
Speech-enabled human machine interface (HMI) gives customers the control they want while keeping their hands on the wheel. Voice enables both drivers and passengers, giving them access to information, services and applications they use whether in the car or at work or their homes.
EB GUIDE Speech Extension lets you design innovative speech-enabled HMI while shortening development time. Leverage its easy-to-use interface to design the next-generation of speech within the car – one that employs the power of hybrid speech architecture, combining embedded with various cloud-based technologies.
Benefits
Better UI by integrating speech functions early
Model and prototype speech interaction from the earliest phases of development, saving time and addressing challenges early.
Personalize your customers' in-car experiences
Leverage cloud to deliver the latest content, information and apps. Take advantage of context- and user-based information derived from multiple sources, within the car and outside it, to make informed decisions while delivering experiences that are tailor made to your users.
Ensure good interaction between speech and graphics
Model and build your speech-enabled HMI in parallel with your graphical user interface, to ensure consistent and logical interaction between the two.
Offer a customized branding experience
Integrate easily with your current platforms and systems. Customize your Speech offering so it reflects your brand and the experience you want your customers to have. Offer differing levels of language and functionalities across your variants.
Flexibility in technology
EB GUIDE Speech Extension supports a variety of speech recognition and speech synthesis systems.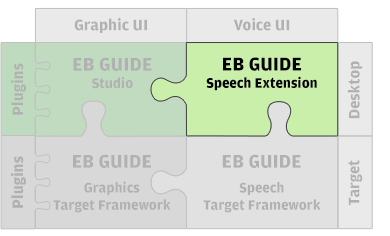 Key features
Natural Language Understanding (NLU) technology provides easy-to-use speech control.
Model voice user interfaces, both embedded and cloud based with a single toolchain that comes with an advanced arbitration mechanism
Leverage Natural Language Generation (NLG) technology for compelling system responses and natural dialog flow
Easily integrate third-party speech frameworks or assistants.
UX products and services
A powerful tool for intelligent multimodal HMI product development. EB GUIDE Studio lets you deliver the most advanced HMIs to your customers while staying on budget.
EB GUIDE Graphics Target Framework
Ensures that the powerful graphical interfaces you develop in EB GUIDE Studio render beautifully and are executed on your target in the vehicle.
EB arware is a software framework that enables the creation of augmented reality solutions that enhance the driving experience.
Integration with other EB products and services
A customizable, scalable navigation solution that lets you give drivers the newest features in navigation, including high-end 3D maps and driver assistance functions.
EB Assist ADTF is a tool for the development, validation, visualization and test of driver assistance and automated driving features.
Key software components to bring automated driving functions and systems to mass production.