EB GUIDE Studio lets you deliver the most advanced human machine interfaces (HMIs) to your customers. You can offer the features they want and still stay on budget with EB GUIDE Studio, a powerful tool for intelligent multimodal HMI product development.
Benefits
Faster creation of compelling multimodal user interfaces
This scalable solution supports automotive head units, heads-up displays, and cluster instruments, as well as HMIs for industrial applications. Use EB GUIDE Studio to simultaneously design the graphical user interface (GUI) and voice user interface (VUI), as well as touch and gesture procedures.
Reuse HMI across different models and brands
Use the same platform to create complete HMI solutions for different carmakers, models, and brands—each with its own look and feel.
Team collaboration on one model
Your whole team, even if it is large and globally distributed, can work on the same HMI model, allowing you to shorten development time and ensure the HMI benefits from everyone's expertise.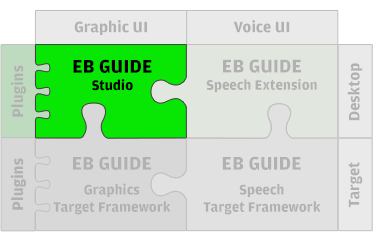 Features
Illustrated state charts, compound states, and diagrams help control large-scale projects (~1500 views)
Team collaboration
Support of translation and documentation process
Variant handling (managing of several brands in one model)
WYSIWYG view editor
Integrated simulation
Appealing look and feel with graphic effects and animations
Support for different input modes (push-rotary button, touch, gesture, speech)
Extendable with your own plugins
Speech Extension complements the HMI model with speech dialog functionality
UX products and services
EB GUIDE Graphics Target Framework
Ensures that the powerful graphical interfaces you develop in EB GUIDE Studio render beautifully and are executed on your target in the vehicle.
Lets you design innovative speech dialogs while shortening development time for your HMI.
EB arware is a software framework that enables the creation of augmented reality solutions that enhance the driving experience.
Integration with other EB products and services
A customizable, scalable navigation solution that lets you give drivers the newest features in navigation, including high-end 3D maps and driver assistance functions.
EB Assist ADTF is a tool for the development, validation, visualization and test of driver assistance and automated driving features.
Key software components to bring automated driving functions and systems to mass production.