Description
Duration: 2 days
Format: in-house training
You are on the track of implementing Lean-Agile software and systems development at a large scale?
You have chosen SAFe and know that one important key to success in a Lean-Agile transformation is engaging and supporting your employees with education and training?
We are here to support you! We combine certified theoretic know-how with proven practical expertise and we offer several training courses to encourage your agile coaches.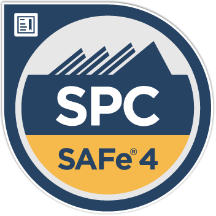 Our SAFe training courses are based on the schedules of the Scaled Agile, Inc. and are concluded with an exam for a certification according to the prestigious SAFe classifications.
See all SAFe certifications
Dear customers,
Travel restrictions are currently in effect due to the Corona virus.
However, EB maintains all training offers and can also provide those as online training classes.
Please do not hesitate to send training requests. We will contact you to jointly agree on the best way how to serve your request, be it a virtual training now, or a classroom training later.
What is SAFe?
The Scaled Agile Framework® combines approaches from the agile methods of Scrum, Kanban, and Extreme Programming with Lean Thinking, as well as Donald G. Reinertsen's principles of lean product development, enabling it to leverage enterprise agility on a large scale.
Why SAFe?

Make your choice:
You are coordinating and leading a Lean-Agile transformation at the enterprise scale?
Leading SAFe (4.6)
This training empowers you to develop a Lean-Agile mindset and to apply the principles and practices of the Scaled Agile Framework® (SAFe®) to support Agile Teams, programs, and program portfolio management.
You are searching for Lean-Agile experiences for your team members?
SAFe for Teams (4.6)
Break down features, write user stories, improve team and train processes, and plan and execute iterations like Agile Team members in a SAFe Agile Release Train (ART).
You have selected Scrum Master candidates and want to train them?
SAFe Scrum Master (4.6)
Learn to facilitate Team and Program Level events for successful program execution, explore Scrum in the context of the entire enterprise, and become a servant leader and coach.
SAFe Advanced Scrum Master (4.6)
Learn scalable engineering, DevOps practices, and facilitate cross-team interactions in support of program execution and relentless improvement in an enterprise environment. For SAFe Product Owner.
You want to introduce DevOps?
SAFe DevOps (4.6)
SAFe DevOps provides a comprehensive overview for understanding the DevOps competencies needed to accelerate time to market by improving the flow of value through the Continuous Delivery Pipeline.
You want to enable your software architects to engage across the organization as effective leaders and change agents?
SAFe for Architects (4.6)
Explore the roles, responsibilities, and mindset of Agile Architects, learn how to align architecture with business value and drive continuous flow to large systems-of-systems while supporting SAFe program execution.
You want to enable Software Engineers to adapt SAFe practices into your work?
SAFe Agile Software Engineering (4.6)
Learn proven practices to detail, model, design, implement, verify, and validate stories in a SAFe Continuous Delivery Pipeline. The training includes XP technical practices, Behavioral-Driven Development (BDD), and Test-Driven Development (TDD).