Alatura-te echipei invingatoare!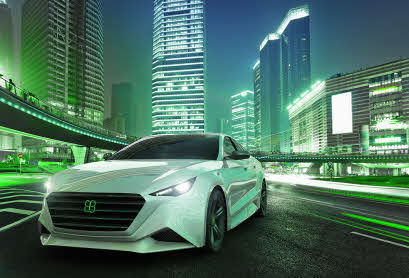 Elektrobit is an industry-leading supplier of automotive software and has had a proven record in embedded and connected software development for over two decades. We are a globally-operating company with our headquarters in Germany and branches in Asia, Europe, and North America.
Two of them are situated in Romania, Europe, in the cities of Brasov and Timisoara.
Elektrobit Timișoara is the westernmost city of Romania, situated at the country's border with Hungary and built around the river Bega. Timișoara is an important university center with 42.000 students and around 333.000 residents, thus being one of the biggest cities in Romania.
The Elektrobit office in Timisoara is a technology center for AUTOSAR solutions. We are developing AUTOSAR modules and configuration tools, and deliver integrated solutions for the Electronic Control Units of modern cars.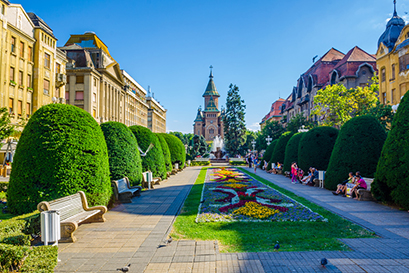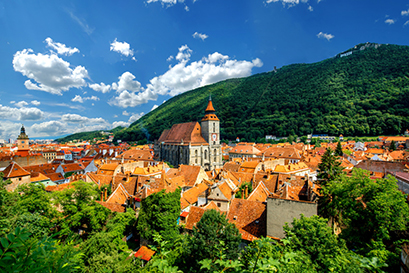 Brasov is located in the central part of Romania, about 166 km from Bucharest. It is surrounded by the Southern Carpathians, and is part of the Transylvania region. Brasov is one of the largest cities in Romania with a population of appr. 280,000.
The Elektrobit office in Brasov focuses on topics around driver assistance, navigation, HMI, connected car and system engineering.
Meet the team – Employee testimonials
Ana Ceuca – Senior Accountant
After a year of study as Erasmus student in France, returning home gave me the opportunity to work for EB. It happened 9 year ago when I started my beautiful experience at EB, the place where I managed to develop both professionally and personally.
What defines EB from my point of view? There are some points I have to mention here: the positive atmosphere, the wonderful and professional people – the time spent with them is precious. I am proud to be part of this team and I like to gain new knowledge and to be able to share my knowledge with the colleagues.
What I like even more is the freedom to choose, the flexible time, the calm with which any topic is discussed, and also the corporate culture – the fact that I can communicate with colleagues from different departments and different countries.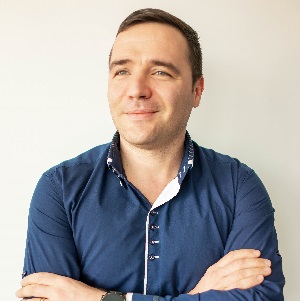 Catalin Priboi – Project Manager
Born and raised in Brasov, I've graduated the Transylvania University of Brasov in 2013 where I studied Automatics and Applied Computer Science. The same year, I started my career, joining Elektrobit as a Junior Software Developer. I later joined EB GUIDE product as a developer and trainer to enhance the tool and support our customers build their State of the Art HMI models. Currently, I hold the position of Project Manager in the ICAS project, part of the High-Performance Controller (HPC) domain.
What I like about EB is that I was always given the opportunity to ascend in my career, by providing the support and the environment that I needed to enhance my skills and raise up to all encountered challenges.
Football will always be my main hobby, whenever I have the chance, I don't miss the occasion to play. Sharing the same passion with multiple colleagues in the Brasov office, we get together every week to play or participate in different corporate competitions.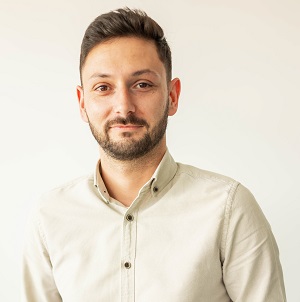 Robert Torok – HR Professional
When I joined Elektrobit in May 2022 as a Recruiter, in Brasov, I was looking for a position where I could be able to be more involved in the overall recruitment of new employees and to develop along the way. Since joining the team, I have been provided many learning opportunities and I was able to develop my skill set by working among talented and passionate people. From day one I had the full support from all my teammates, they made me feel comfortable, included and they were happy to share all their knowledge with me.
Also, Elektrobit's culture is incomparable, as it stands for togetherness, equality, a healthy life/work balance, freedom to act and on top of it, personal development. I am looking forward to seeing how my journey in Elektrobit will be!
Take a look at our open positions in our careers site.
Our contact details:
Elektrobit Automotive Romania SRL
10B Calea Bucuresti Street,
Brasov, 500365
Romania
Elektrobit Automotive Romania SRL
10 Coriolan Brediceanu Street (700 Square),
Timisoara, 300011
Romania