Amazon Alexa HMI integration
Elektrobit's Amazon Alexa HMI integration for a voice-first in-car experience
Provide a combination of relevant driving information with infotainment applications
Amazon Alexa has proven to be an incredibly beneficial consumer technology, helping to simplify and organize life at home. Now, Elektrobit is giving car makers and Tier 1s the opportunity to take Alexa out of the home, into the car, and on the go. By integrating Amazon Alexa into the HMI of your vehicles, you're giving drivers direct access not only to all car-specific functionalities but also to the whole digital ecosystem comprising Amazon web services and third-party skills they know and love.
You now can ask Alexa to play music, get directions, place calls, control the car's heating, ventilation and air-conditioning, listen to audiobooks and more, while keeping your hands on the wheel and eyes on the road.
Elektrobit makes it easy for car makers and Tier 1s to integrate Amazon Alexa Auto SDK into their cockpit software platforms, to provide a combination of relevant driving information with infotainment applications.
Ability to leverage out-of-the-box speech science such as Automatic Speech Recognition (ASR) and Natural Language Understanding (NLU) from Alexa.
Flexibility with Alexa skills
Access to 50 000+ Alexa skills and the ability to build your own custom skills.
Elektrobit offers maintenance services to control, refresh, and maintain the Alexa experience for your customers during the lifetime of the car.
Customizability for identification and authentication
Elektrobit implements identification and authentication according to the needs and convenience of your customers.
Elektrobit showcased Amazon Alexa at CES 2019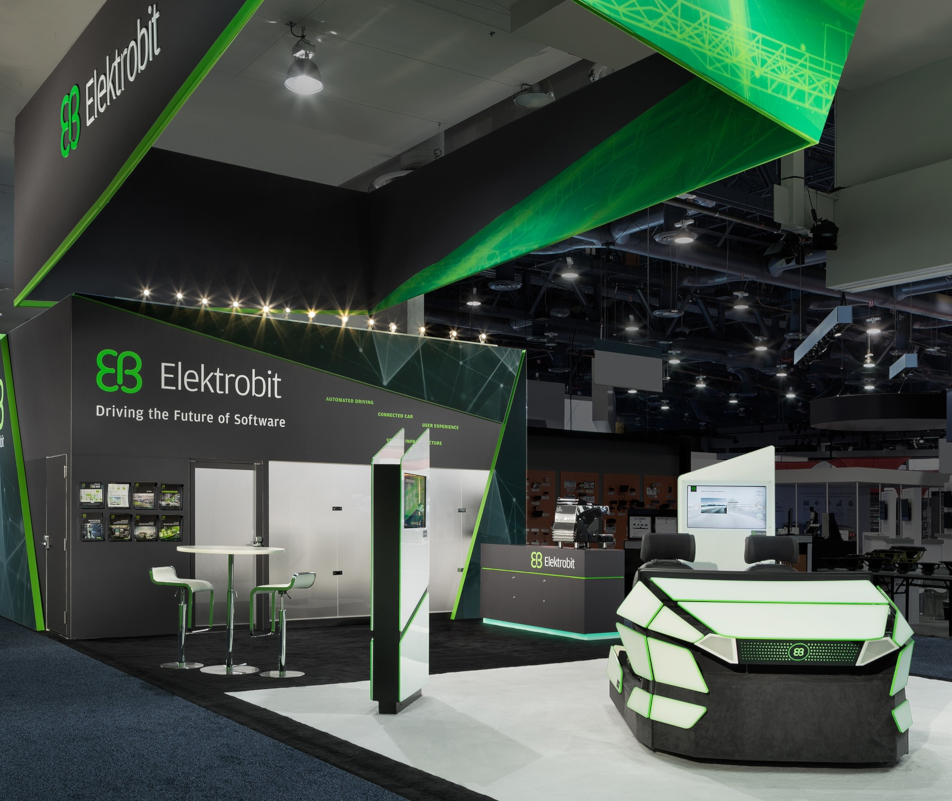 Elektrobit's cockpit demonstrator
Elektrobit's software experts created a demonstrator that extended the capabilities of a standard Amazon Alexa HMI integration, enabling the service to be proactive and alert drivers of incidents on the road and assist in the handover between autonomous and manual modes of driving.
Elektrobit software stacks and communication HMI frameworks, following a service-oriented architecture, provided the basis for a seamless and responsive user experience. To make things a bit more entertaining, our experts also created a scenario where, in full autonomous mode only, drivers were able to enjoy a full-blown Fire TV experience!
Additional details of the cockpit demonstrator:
Dialog modifications to the Alexa system are triggered and added to the car's software, resulting in safer and faster assistant responses.
It featured an 8K dashboard display, control pad, and steering wheel display.
The audio system was equipped with noise reduction for input and augmented audio for output.
The cockpit demonstrator explained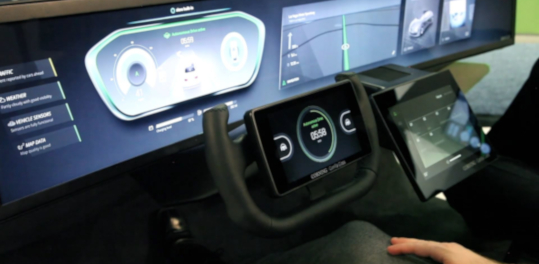 Elektrobit's Amazon Alexa HMI integration at CES 2019 – Part 1
In part 1 of this demonstration from CES 2019, we introduce how Amazon Alexa is integrated into a cockpit demonstrator and showcase how customers will be able to ask Alexa to answer questions, play music, hear the news, get weather and traffic reports, control their smart home, and more.
Further information on UX and HMI solutions