Autonomous and driverless vehicle technology will present automotive designers and vehicle manufacturers with a completely new and radical approach to the way in which vehicle interiors are designed and operated. Impacted by rapidly evolving consumer electronics technology and new automotive business models, the car is now a connected object that is set to become an extension of someone's home and office. This raises an interesting question: what factors need to be taken into consideration when creating automotive interiors? Join EB's Dr. Dominique Massonié as he presents insights into emerging challenges for automotive user interface design and their solutions.
Novi, MI, USA
October 23 - 24, 2018
EB presentation, EB booth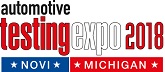 Over 300 companies will be present and discuss every facet of testing, including electric and hybrid vehicle test programs, autonomous test and validation technologies, and the whole spectrum of vehicle development tools to contribute to safety, reliability and quality programs.
Make sure to stop by our EB Booth and get informed about our products and solutions.
Novi, MI, USA
October 23 - 25, 2018
EB Booth

Automated vehicles must comply with many homologation aspects, integration, and validation testing that aims to make them as safe as possible. The Autonomous Vehicles and ADAS Testing Forum brings together professionals who are passionate about innovation in business and making the automotive world a safer place. Hear EB's Nicole Beringer when she speaks about the extent of applicability of Deep Learning to autonomous driving. Furthermore, topics in focus at this conference include the infeasibility of complete testing, requirements challenges, operational concept approaches to testing, and effective use of monitor/actuator architecture.
Berlin, Germany
October 24 - 25, 2018
EB presentation

This congress offers a forum for discussions on the hype topic "from assisted to autonomous driving" in a very practical way. VW and VDI invite every 2 years to Wolfsburg. The event is support by a strong network from the industry and universities.
Meet us on our EB Booth on Nov. 7th and 8th!
Wolfsburg, Germany
November 7 - 8, 2018
EB Booth
The electronica Automotive Conference brings together experts and decision-makers from all over the world to exchange information and ideas relevant to automotive-industry technology trends and strategies. At the conference, Martin Schleicher, Executive Vice President, Strategy, Partnerships, and Marketing at EB, will moderate the lecture "Scalable and flexible software-platform for high-performance ECUs". Make sure to attend on Wednesday, November 14th from11:30 to 12:00 in Hall B4, Booth B4.321, to get new insights on this topic.
Munich, Germany
November 13 - October 16, 2018
EB presentation
Software for the automotive industry