The event will focus on cyber resilience for connected cars, give an overview of the most relevant security building blocks currently available, and show how the industry can use cryptographic agility to its advantage.
Join Martin Böhner, Program Manager Security, for his presentation "Joining forces – Combining the strengths of Secure Onboard Communication with an IDPS system". Martin will highlight cryptography and behavioral models.
Nürtingen, Germany
September 27 - 28, 2017
EB presentation

This is the most significant industry meeting for electronic experts, covering all the classic electronic topics and subjects like connected car, electric mobility, driver assistance systems, and automated driving.
Join Rudolf Grave, Senior Expert ECU Architecture, for his presentation on "Service-oriented in-vehicle architecture: new communication mechanisms for central computers with fail operational requirements." Also be curious about the speech of Dr. Nicole Beringer, Program Manager for highly automated driving and innovation management covering "Extending the sensor range for highly automated driving: A new approach for environment modelling."
Visit us at our booth # 101.
Bonn, Germany
October 18 - 19, 2017
EB presentations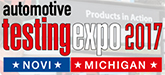 Over 300 exhibiting companies will be out to demonstrate that their products are able to help with the ultimate aim of eliminating recalls.
In addition, co-locating with Automotive Testing Expo North America will once again be Engine Expo North America and for the first time, Automotive Interiors Expo North America.
Novi, MI, USA
October 24 - 26, 2017
EB presentation

The conference will cover areas like Symtavision Newsconference on Timing Analysis Provides a Unique Opportunity for the Exchange of Ideas and Experiences among Engineers, Managers, Technology Experts and Researchers in the Field of Embedded Real-time Systems.
Braunschweig, Germany
October 25 - 26, 2017
EB booth
Software for the automotive industry