EB corbos – your entry into the automotive world of high-performance computing
Develop your high-performance controller (HPC) with our already-on-the-road, rich development tools for Elektrobit's Adaptive AUTOSAR implementation supporting various operating systems. Elektrobit offers a Linux operating system and hypervisor as part of our EB corbos product line.
Adaptive AUTOSAR is the new standard for architectures built on high-performance controllers (HPCs), providing support for interconnectivity and real-time updates. High-performance controllers, powered by a multi-core processor, form the heart of the next-generation automotive functional architecture.
Elektrobit, your Adaptive AUTOSAR partner
Elektrobit was among the first to offer a commercially available software implementation of Adaptive AUTOSAR, and its scalable solutions are making it easier for car makers and Tier 1 suppliers to develop these advanced systems. Our performance platform provides the necessary ingredients to create fail-operational software systems mandatory for automated driving up to Level 5. It allows maximum potential utilization of today's processors by consolidating heterogeneous applications into one system on a chip. Elektrobit works closely with the supplier ecosystem such as Intel, NVIDIA, NXP, Renesas, and QNX to best meet our customers' needs.
Read more about the AUTOSAR Adaptive Platform
The automotive industry is undergoing disruptive change and manufacturers must rely on a trusted partner in building next-generation automotive architectures. The classic vehicle is being transformed into a software-defined Internet of Things (IoT) device. Personalization, connectivity, and mobility-as-a-service are becoming more important for drivers and passengers. The amount of software in vehicles will continue to increase. The future of driving depends on re-designing the core architecture of the car and the software that powers it. Developments such as connectivity, smart devices, e-mobility, and automated driving place high demands on the in-vehicle network architecture.
Automated driving functions, in particular, call for incredibly powerful electronic control units (ECUs). The more driving tasks the software assumes and the more connections there are to the outside world, the greater the demand on these ECUs.
Functional safety and security create additional requirements for future software architectures. Safety systems must work reliably to ensure human safety, even in the case of a malfunction or an accident.
To accommodate these increasing demands and changing needs, the vehicle architecture is moving from complex distributed systems to consolidated, high-performance central and zonal architectures. Future platforms will communicate via service-orientated paradigms that allow flexible updating and localization.
Adaptive AUTOSAR, where safety meets performance
To enable highly automated and connected driving, car makers are consolidating up to 100 single ECUs into a centralized functional architecture with just five to ten embedded performance controllers at its core. To make this possible, car makers are in need of new software to leverage the capabilities of powerful multi-core processors.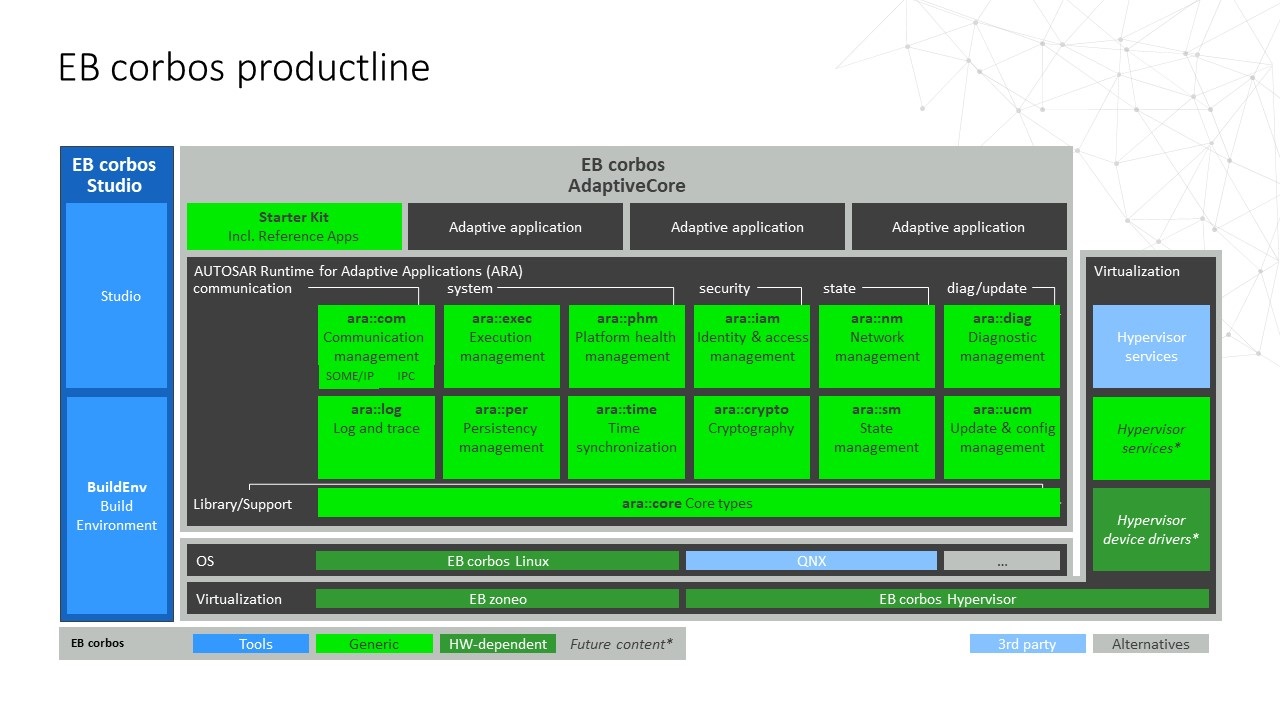 Guaranteeing highest safety levels
for automated driving
With our industry-leading software solutions up to the highest automotive safety integrity level (ASIL D), we are a substantial element of the AUTOSAR success story, providing the ingredients to create fail-operational software systems mandatory for automated driving up to Level 5.
… by consolidating heterogeneous applications into one system on a chip. Hardware virtualization provides an optimized way to create virtual machines for your use case.
… through re-usable software functions due to hardware abstraction, less effort for integration and migration to new hardware, and flexible tool collaborations and integration into your development environment through standardized methodology
EB corbos Linux
Container-based Linux distribution solves the challenges of dependency management between diverse applications, offering variability for customer extensions and efficient maintainability.
EB corbos AdaptiveCore
Software base for safe and secure high-performance controllers (HPCs). It provides a holistic software framework according to the industry's new AUTOSAR Adaptive Platform.
Provides communication between virtual machines and the Ethernet network, connecting both Classic and Adaptive AUTOSAR (Linux) subsystems.
EB corbos Hypervisor
Provides a virtualization environment for execution of multiple guest operating systems on one single CPU.
EB corbos Studio
Versatile tool provides an integrated development environment for developing and integrating applications for high-performance controllers (HPCs).
Further information on Elektrobit's Adaptive AUTOSAR solutions
Further information
Training