Functional Safety is a key technology in today's automotive industry. One of Elektrobit´s core competences is providing industry-leading software solutions for safety-related electronic control units (ECUs). These solutions are based on the AUTOSAR standard, meet the ISO 26262 requirements up to the highest automotive safety integrity level, (ASIL D), and are available for single-core and multicore microcontrollers.
Additionally, our solutions conform to the IEC 61508 standard for non-automotive use. EB tresos Safety solutions have been on the road with leading carmakers for many years.
Benefits
EB Automotive Functional Safety solutions offer:
A mix of safety and quality management (QM) software
Integration of Black Box Software
Availability of safety mechanisms—independent of QM software
Completely certified solutions that ease safety assessments
Scalable architectures for single-core and multicore devices
Efficient integration of functional safety and AUTOSAR from a development partner, EB
Availability for several microcontrollers, including Freescale, STM, Infineon, Texas Instruments, and Renesas Electronics
EB tresos Functional Safety products
We extended our AUTOSAR-based EB tresos AutoCore product with high-quality EB tresos Safety products to meet all requirements for safety-related projects: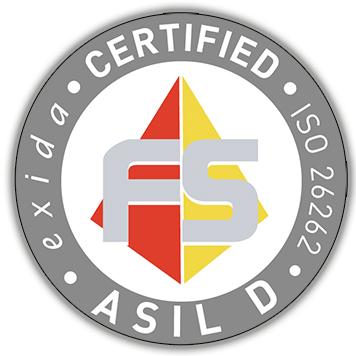 All our EB tresos Safety products are certified by exida, ensuring that you are building on a platform that meets the highest levels of safety requirements.
EB's safety products seamlessly integrate into the EB tresos product line.
Integration with other EB products and technologies
Read a short introduction about Functional Safety, ISO 26262, and ASIL.
Our AUTOSAR basic software stack is the software basis for functional safety.
Our configuration and integration tool for basic software and functional safety projects. EB tresos Studio is an all-in-one tool environment with full AUTOSAR support.
ASIL software requires a safe execution environment for ECUs (Functional Safety) along with protection against unauthorized access (security). There is no safety without security, and vice versa.
Advanced driver assistance systems (ADAS) require a safe software base according to ISO 26262.