Best-in-class AUTOSAR tooling

Rely on a consistent, single-tool environment for electronic control unit (ECU) development with AUTOSAR. EB tresos Studio lets you configure, validate, and generate your ECU basic software (BSW).
EB tresos Studio is the tool environment for our EB tresos AutoCore and EB tresos OsekCore. With its importer and generator interfaces, the tool fits perfectly into the AUTOSAR workflow and can be seamlessly integrated into existing tool-chains. This allows the integration of company-specific basic software modules and legacy software components.
Benefits
Reliability based on standard compliance
The EB tresos tool environment offers full support for AUTOSAR 4.x releases. It's also the right configuration tool for EB's OSEK/VDX-compliant basic software.
Efficient open concept
EB tresos Studio is based on Eclipse, which makes it extendable with new user functions. Also, it allows development of carmaker- and Tier 1-owned modules.
Save time and effort
Users benefit from one tool environment for configuration, validation, and code generation instead of juggling multiple tools. Multithreading mechanisms are used to save time for code generation. Various assistant functions and wizards ease day-to-day work.
Strong partner ecosystem
EB tresos Studio is the industry-standard tool for microcontroller abstraction layer (MCAL) development by semiconductor suppliers like NXP, STM, and Infineon. We are integrating the MCALs of the majority of hardware vendors, so that it can be configured with our tool.
Features
To simplify the configuration of an ECU, EB tresos Studio provides several importers such as the System Description Importer, the DBC Importer, the Fibex Importer, and the LDF Importer. The importers configure the BSW automatically.
Generic Configuration Editor
The Generic Configuration Editor is the graphical user interface through which developers may edit configurations for basic software modules that comply with the AUTOSAR standard. Also, third-party software like MCAL modules or carmaker-specific modules can be easily integrated and configured with EB tresos Studio.
EB tresos Studio also provides features for sophisticated configuration validity checks and navigation between configuration parameters.
Data validation
EB tresos Studio provides powerful ways to validate configuration data. A background verification service assures quick feedback while keeping the main graphical user interface responsive.
Code generation
Code generators are provided for efficient code generation. EB tresos Studio comes with several code generator languages (proprietary, Jet, Java) that are suited to different use cases. In addition to these code generators, the product supports seamless integration of third-party code generators, such as code generators shipped with MCAL modules or carmaker-specific modules.
Command line support
EB tresos Studio provides a command line interface to:
Trigger code generation and verification
Import configuration projects
Run file importers or unattended wizards
Trigger file conversion functions
Workflows view
EB tresos Studio provides step-by-step instructions using a guided workflow. The instructions guide the user through the configuration of the basic software. A workflow consists of a list of steps the ECU developer has to perform in order to accomplish a certain task, e.g., to set up a configuration project or to run an importer. EB tresos Studio also handles project-specific workflows, which are only shown in the context of a certain project.
EB tresos Application Notes:
SystemDesk EB tresos Studio ACG8 – TargetLink Application Note
SystemDesk EB tresos Studio 13 or 14 – TargetLink Application Note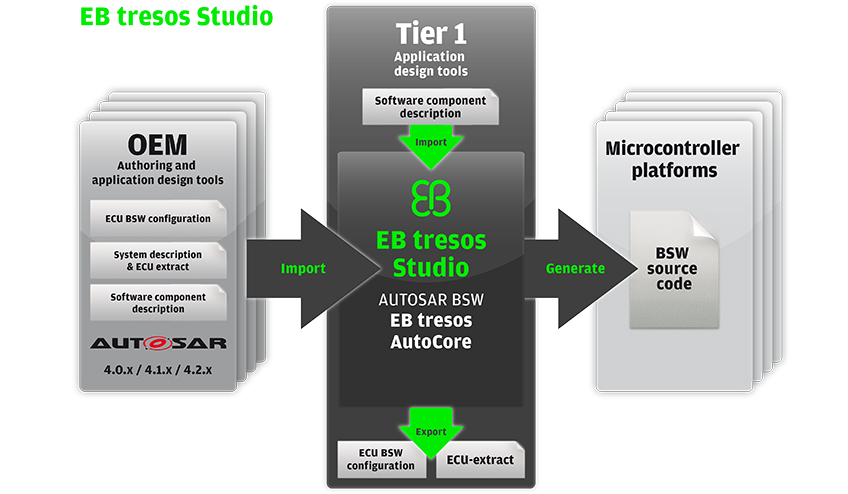 Integration with other EB products and technologies
Our basic software for AUTOSAR-compliant ECUs.
Our basic software package for OSEK/VDX-compliant ECUs.
Our virtual AUTOSAR basic software, which runs on a Win32 platform.
Our AUTOSAR-based basic software which complies with functional safety/ISO 26262.
Ready to use for automated ECU testing, e.g., rest bus simulation (RBS), software-/hardware-in-the-loop (SIL/HIL), end-of-line (EOL), or as an integral part of your production line.