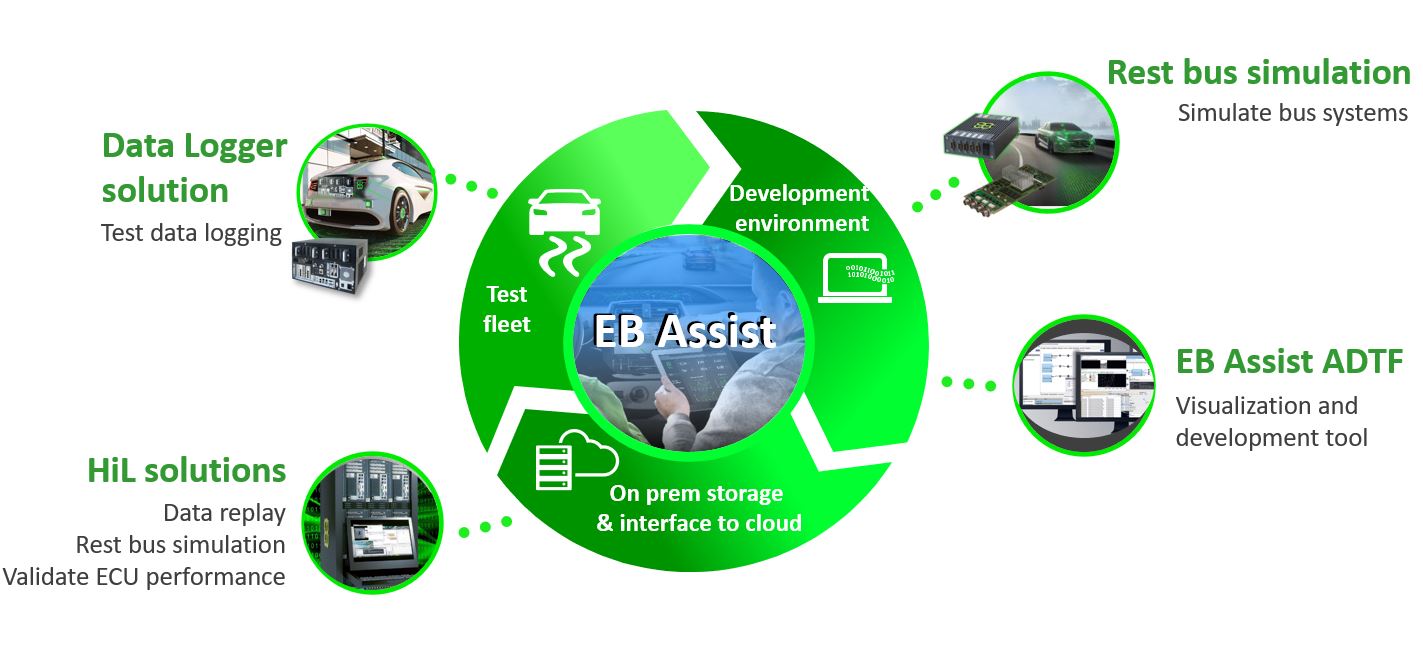 Develop, test, visualize, validate, and build ADAS and automated driving functions and systems
Staying competitive on the road toward autonomous driving means being on the cutting edge of ADAS and automated driving development. Increasingly sophisticated functions are accompanied with growing complexity and high expenses. More and more effort needs to be put into development, testing and validation activities as well as the generation of reliable data. EB Assist stands for state-of-the-art hardware and software products to successfully develop, test, visualize, validate, and build ADAS and automated driving functions and systems.
Profit from a comprehensive offering and a leader in technology
EB Assist covers major areas of ADAS/AD development, from creating driving scenes, replaying, and simulation to testing, visualization, validation, and function development. Our products comprise three decades of embedded software and driver assistance development experience leading OEMs and Tier 1s across the world benefit from. Furthermore, all products are based on industry standards (ADASIS, CAN, LIN, FlexRay, SOME/IP, OABR, AUTOSAR, EB Assist ADTF, etc.).
Fast and flexible realization of your requirements
EB Assist products are perfectly suited for you to fulfill the high requirements when it comes to build flawless automated driving functions. Furthermore, our products are backed by a comprehensive in-house hardware and firmware development.
Single sourcing helps you save time and money
One contact point in case of issues relieves you of the tedious task to find the right company to solve your problem within a complex solution.
Seamlessly integrable and ready to use right from the start
High-performant, integrated, customizable, extendible hardware and software products allow the seamless integration into any desired development and test process environment, and therefore cover the whole automated driving toolchain.
Benefit from experts with extensive knowledge
Dedicated training, professional consulting, and experienced support with short respond times help you to achieve your goals. Profound engineering services suit even your most exceptional needs.
A holistic approach to support your automated driving function development

EB Assist ADTF
Framework for the development, testing, validation, and visualization of ADAS and AD systems with a wide range of toolboxes available to extend system functionality.

EB Assist Logger Solution
High-performant and reliable automotive PC systems to suit your testing and validation needs, the basis for powerful HiL systems.

EB Assist Busmirror
Our tool for testing ECU software during the implementation stage, both for real hardware and on PC.

EB Assist bus tools
Broad set of high-performant modular I/O slot cards, I/O interface modules, and simulation tools for measurement and simulation of bus data.

HiL simulation solution
Test functions, system integration, and communication of ECUs in a simulated environment under realistic conditions to validate your ECUs and their functionality.
Further information on EB Assist
Further information
Training