The challenge
Kubota Corp., which operates on a global scale mainly in agricultural machinery, needed an HMI concept and HMI development process to make it easier to use a variety of functions specific to agricultural machinery when installing the state-of-the-art full graphic cluster meter on their next-generation harvesting machines.
Constraints:
Support for skinning and multilingualization
Developing HMI design that takes into account the usability of agricultural machinery users
Acquiring know-how to develop HMI for full graphic cluster meters
Successful developing Kubota's first full graphic cluster meter for harvesting machines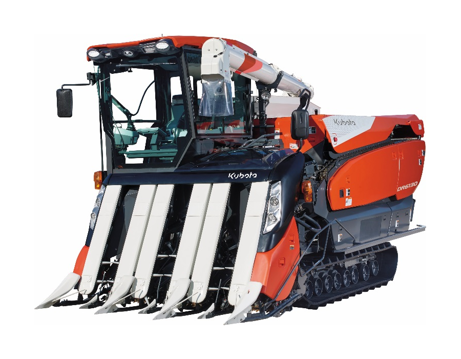 The solution
Elektrobit provides solutions using EB GUIDE to develop full graphic cluster meters for Kubota's next-generation harvesting machines.
Benefits
Complex 2D HMI can be designed quickly and easily.
Customized HMI for various harvesting machines for global regions can be developed from a single source.
A single tool that can carry out specifications, modeling, and simulation to be used on the target platform.
Model-based development approach can significantly reduce time and cost in the iterative HMI development process.
EB's added value
EB GUIDE has been used to develop 50 million vehicles for more than 15 years. It supports the latest HMI development for customers involved in HMI design and development around the world.
EB GUIDE is the only HMI development platform in the market incorporated with embedded state machine that develops user interface supporting the development of multi-modal HMI that can be manipulated by graphics, voice, touch, gesture, etc. With the latest modularization function, it allows you to break down the HMI into separate modules and design efficiently.
EB's Japanese subsidiary provides strong support from concept design to series production.
Statements by Kazuya Takasaki and Shotaro Yamamoto, Agricultural Machinery General Division, Agricultural Machinery Technology Headquarters, Harvesting Machine Engineering Department
"Thanks to EB GUIDE, we were able to realize state-of-the-art HMI development at a reasonable price. In addition, the detailed support from the beginning of development allowed a completion within a short period of time. With its high designability, we can realize UI as we wanted, and it has became the pioneering product of Kubota's HMI. It is highly rated by the users and one of the product's big sales points."
– Kazuya Takasaki
"EB GUIDE is a very user-friendly HMI development tool. It was possible to model with simple or complex operation and with easy-to-understand display resulting in high-performance products in a short development period. In addition, since EB GUIDE enables different models and languages to be managed as a single model, it was most suitable to develop harvesting machines that would expand internationally in different models."
– Shotaro Yamamoto