A smarter, safer (and more enjoyable) driving experience
Automotive HMIs allow drivers and passengers to interact with their vehicles in a far more natural way. Via in-car touch screens and buttons, push rotary controllers, swipe and gesture functions, and even speech recognition technology. These features provide safer distraction-free driving whilst also making the in-car user experience far more enjoyable.
On the other hand, to reduce driver distraction, many car makers are starting to implement multi-information displays in cars. Specifically, the information will be split into two or more screens based on its relevance for the driver and the co-passenger.
In addition, drivers and manufacturers alike can customize the HMI software to suit their own personalized interactions, harnessing stunning 2D and 3D graphics, intuitive tactile button feedback, and even driver augmented reality systems. These fully personalized features build an instant synergy between the driver and the vehicle and increase confidence in the automotive brand.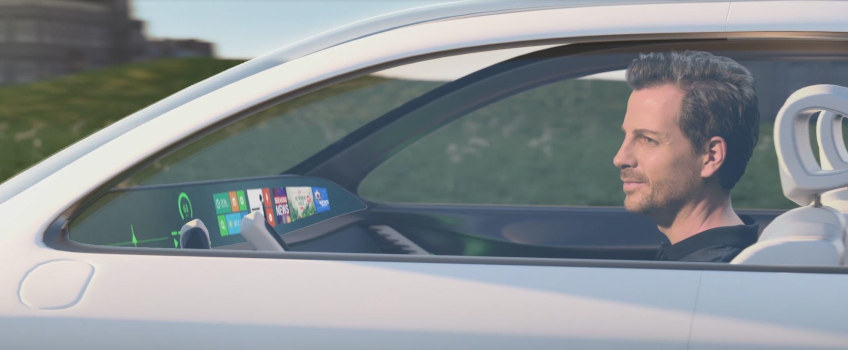 Augmented reality provides unprecedented driver safety
Combining in-car sensors with an advanced HMI platform, Elektrobit is able to provide the driver with a real-time augmented reality experience via a head-up display (HUD). The HUD can provide visual information such as speed limit changes, upcoming cornering strategies, and even help to visualize the potential movement of other road users. This allows the driver to focus on the road without the need for additional dashboard displays or buttons and increases the overall driver and vehicle safety.
Increased value propositions for automotive manufacturers
Automotive HMIs not only benefit the end user—but also allow vehicle manufacturers to showcase a distinct advantage in an increasingly competitive marketplace.
In a time when consumers are actively searching for the newest state-of-the-art car safety and technology, car makers can leverage Elektrobit's expertise to present an innovative, fully customizable HMI system to help drive purchasing behavior and increase the strength and integrity of their brand.
The flexibility and adaptability of Elektrobit's HMI platform also ensures that manufacturers will save money over the long term, by avoiding unnecessary software development costs and enabling a high degree of reuse for existing components, sensors, and hardware.
Elektrobit's artificial intelligence drives a suite of new in-vehicle assistants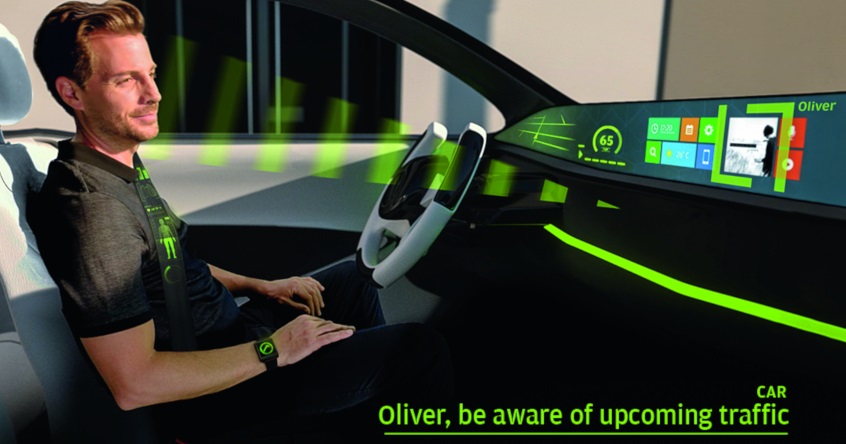 In a landmark software development, Elektrobit's HMI interface now also incorporates voice assistance systems such as Amazon's Alexa and Google Assistant. This provides vehicle occupants with intuitive speech recognition technology and ensuring a far more holistic in-car experience. These virtual assistants allow users to hear real-time traffic conditions, play music, update schedules, access weather reports, and even ask direct question. All via a completely hands-free platform.
The in-car AI utilizes Elektrobit's software expertise to far extend the car's on-board capabilities, allowing effortless voice interaction between vehicle occupants and the HMI system. Advanced speech technology plays a key role in minimizing driver distraction, and sets the new standard in enjoyable, efficient, and safer driving.
Elektrobit's related User Experience services:
Elektrobit's Cockpit System Solutions – Solutions for intelligent automotive digital cockpits: Digital Cockpits Solutions for Automotive. 
Elektrobit's services for Android Automotive – Android Automotive HMI integration for richer in-car UX: Android Automotive HMI integration for cars.
Elektrobit's Amazon Alexa HMI integration – Amazon Alexa HMI integration for a voice-first in-car experience: Amazon Alexa HMI integration for cars.