Human machine interface (HMI)
Benefits
Save time and money during development
EB GUIDE lets you control HMI development and do so across multiple suppliers, car makers, or car models. With EB GUIDE, you can model and simulate the HMI on your PC and deploy it easily on your target—all with the same look and feel. Moreover, EB GUIDE allows multiple users and distributed teams to work on the same model.
Create a compelling state-of-the-art user experience
Seamless integration of graphical, haptic, and voice user interfaces enables you to create a consistent user experience. Deliver the advanced user interfaces your customers want, including 3D support, animations and effects, as well as the latest speech technology.
Benefit from worldwide support from an experienced provider
For more than ten years, EB GUIDE and EB experts have been assisting HMI developers worldwide. We continue to be an industry innovator. EB works with leading international chip vendors and technology providers to extend and improve EB GUIDE continuously according to the market's needs.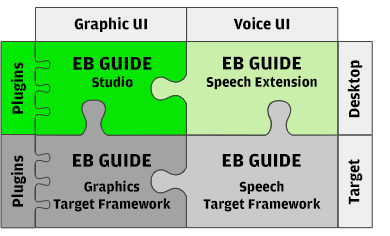 EB GUIDE features:
All-in-one tool for specification, modeling, prototyping, and mass production of HMIs for digital instrument clusters, infotainment systems, heads-up displays (HUDs), and industry applications
Provides a single tool for multimodal modeling of graphical, haptic, and voice user interfaces
Supports you in developing HMIs with 3D graphics, effects, and animations
Enables you to use the latest speech dialog technology
Allows you to integrate HTML 5 content into your native HMI
WYSIWYG interface lets you evaluate your HMI in an early development stage
NEW! Scene graph widget that gives you access to and control of all relevant 3D scene parameters  such as viewing, lighting or material settings
NEW! A custom widget renderer to create customized widgets
NEW! Full text and reference search that allows you to search for all model elements such as widgets, templates, and datapool items and for full text within scripts
Ready-to-use widget template libraries so you can simply start modeling right away instead of spending time creating widgets from scratch. Download now.
UX products and services
A powerful tool for intelligent multimodal HMI product development. EB GUIDE Studio lets you deliver the most advanced HMIs to your customers while staying on budget.
EB GUIDE Graphics Target Framework
Ensures that the powerful graphical interfaces you develop in EB GUIDE Studio render beautifully and are executed on your target in the vehicle.
Lets you design innovative speech dialogs while shortening development time for your HMI.
EB arware is a software framework that enables the creation of augmented reality solutions that enhance the driving experience.
Integration with other EB products and services
A customizable, scalable navigation solution that lets you give drivers the newest features in navigation, including high-end 3D maps and driver assistance functions.
EB Assist ADTF is a tool for the development, validation, visualization and test of driver assistance and automated driving features.
EB robinos is a comprehensive, hardware agnostic software solution for highly automated driving systems.