The companies
Kässbohrer Geländefahrzeug AG produces and sells snow grooming vehicles and beach cleaning equipment under the brand names PistenBully or BeachTech. The company is the world leader in both product segments. RAFI develops and produces systems and components for human-machine communication. For example electromechanical components, operating panels, touch screens, keyboards, and ECUs.
The challenge
The growing number of complex features of the snow groomer led to an enormous number of switches and knobs to operate the device. PistenBully therefore decided to switch to a touchscreen solution as HMI (human machine interface). The new user interface concept should improve usability, increase flexibility, and reduce production costs.
The solution
With RAFI as hardware manufacturer and Elektrobit as software supplier, PistenBully found the perfect development team to set up the new HMI solution. Whereas RAFI prepared the touchscreen hardware, Elektrobit provided the development environment and HMI architecture. PistenBully could then smoothly take over the HMI development, finalize it in short time with EB GUIDE as the HMI tool and tailor it to their customers' needs. The ready solution can be first found in the PistenBully 600 F with other vehicles to follow soon.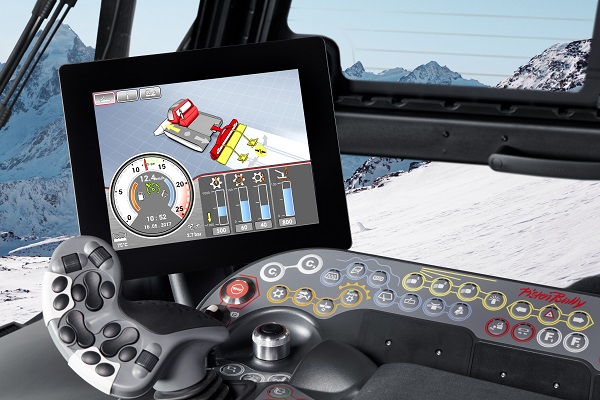 The benefit
PistenBully now offers a state-of-the art HMI (human machine interface) with great usability and high flexibility to its strong and loyal customer base. By using EB GUIDE and taking over development work by themselves, PistenBully found a fast and cost effective way to achieve this benefit.