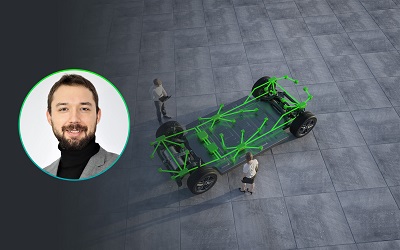 In this free webinar, Elektrobit's expert for in-vehicle communication, Illia Safiulin, Product Manager EB zoneo, presents new demands that are requested by new zonal architectures from software solutions.
Another point that was covered is how the full utilization of hardware capabilities can help to cope with these new demands and lead to a faster and more efficient networking within a car.
Furthermore, he demonstrates how an intelligent automotive-grade switch firmware can handle the ever-increasing network functions to enhance the scalability, safety, and security of vehicles while enabling secure, high-performance communication within in-vehicle networks.
Summary
Software complexity is bound to increase. The next generation cars will be equipped with independent processing blocks suited for different architectures such as domain controllers, High Performance Computers (HPC) and zonal ECUs. Communication is moving from signal based to service oriented. Newer and efficient hardware solutions (HPCs, Ethernet Switch, zonal ECUs) are introduced to manage automotive network complexity and performance demands. To complement this, a flexible, efficient, and reliable software is required to master the challenges of automotive network, both between the ECUs and inside the ECUs.
Key topics and takeaways:
Learn how automotive manufacturers and their suppliers can develop advanced, high-bandwidth communication systems needed for next generation vehicles.
How to accomplish better computational resource utilization and free computation resources.
Best ways to overcome challenges such as need for a higher data rate of in-vehicle networking, reduction of MCU overhead on network-related tasks and how to deal with cybersecurity challenges.
Resource type
Webinar recording