Fusing Cameras, Connected Maps, and Electronic Horizon
Intelligent Speed Assistance (ISA) will become a mandatory requirement in a lot of vehicle types from 2022 but must be implemented in an efficient way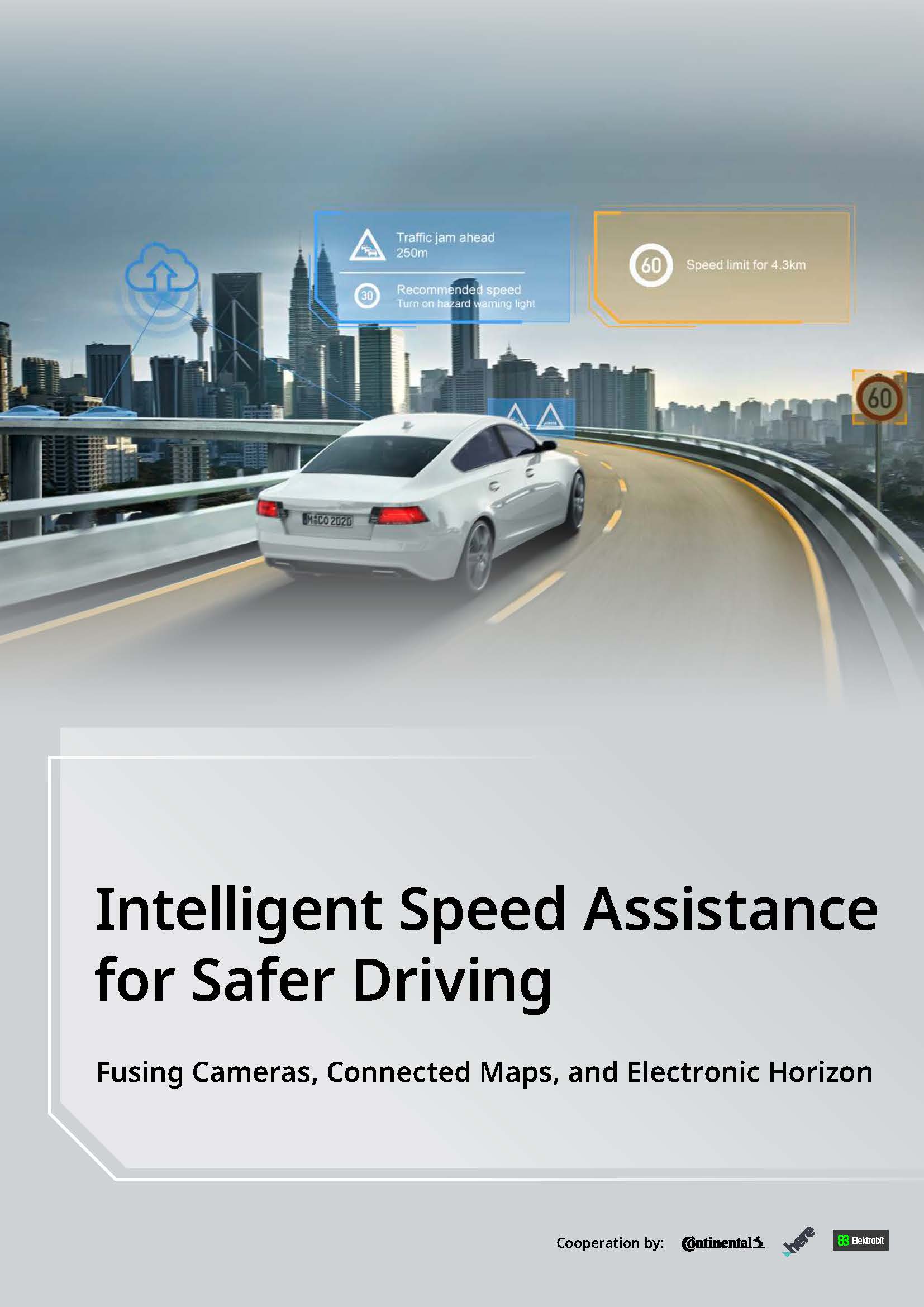 Table of contents
What is Intelligent Speed Assistance (ISA)

ISA history, regulations, and future implications
ISA history, content, and applicability
Safety, financial, and environmental benefits
Euro NCAP extra scoring and 2019 test results
Euro NCAP speed limit testing in 2019
Expected outcomes for the automotive industry
Implications for OEMs

Real-world challenges

Estimated posted limits density in Europe
Lack of physical speed limit signs in certain parts of the world
Implicit speed limits based on location
Speed limits determined by weather conditions
Other environmental variables
Considerations for trucks and commercial vehicles

Implementation architecture scenarios

Onboard vehicle camera-only implementations
Electronic horizon + maps
Onboard vehicle cameras + electronic horizon + maps

Conclusion

The Importance of multiple data sources for robust implementation
The global platform for connected ADAS and automated driving
Sharing sensor data to keep location information updated at scale
Executive summary
The Intelligent Speed Assistance (ISA) will help drivers better acknowledge legal speed limits to reduce the frequency and severity of accidents will become a mandatory requirement in several vehicle types from 2022.
In this paper, Continental, HERE Technologies, and Elektrobit describe the challenges involved in making ISA an industry-standard feature and show ways on how to implement such systems: from basic systems using only onboard vehicle cameras to more sophisticated architectures incorporating cameras, location data, digital maps, and electronic horizon technology.
Resource type
White paper
Related content
EB robinos Predictor in-vehicle electronic horizon solution for accurate and up-to-date information about the road ahead.
EB robinos Predictor Eval Kit robust and production-ready ADASIS Provider for your R&D activities.
Continental's eHorizon Maps on Demand Service gives connected vehicles the ability to see the road ahead by always providing up-to-date map information to driver and vehicle.
HERE HD Live Map provides intelligent sensor data for autonomous driving solutions.