Robust and production-ready ADASIS Provider for your R&D activities
EB robinos Predictor Eval Kit is an out-of-the-box ADASIS Provider for your R&D activities. By supporting the latest map material (for ADASIS v2 and v3), using a GNSS receiver as positioning source and recording/replaying test drives, the kit contains everything that is necessary to run EB robinos Predictor instantly within your development environment. The provided web interface (WebApp) lets you start using EB robinos Predictor Eval Kit without complex installation or configuration.

Benefits
EB robinos Predictor Eval Kit is a Raspberry Pi device running the EB robinos Provider for ADASIS. It can be used to evaluate the capacity and performance of EB's electronic horizon products. This Raspberry Pi platform is equipped with all that is necessary for a demonstration ECU.
Major advantages of this kit are:
Space-saving design
Easy integration and longevity due to high hardware and software robustness
Saving time as the kit is ready for test drives
Independent of ADASIS version (CAN bus and Ethernet support)
Possible to simulate any route
Integrable into your testing and simulation environment by reading GPS information from CAN
Features
Playback for pre-recorded test drive track
Recording of new test drive tracks
ADASIS protocol settings
Map selection
CAN ID Configuration
NEW
NDS database support up to NDS 2.5.4
Mapscape data bank based on HERE maps, 2018 Q4 included
Route simulation based on XML tour files
MPP (most probable path) follows the route if available
Map visualization
Provider software update
Transmission via CAN or UDP
Built-in Reconstructor viewer
CAN input Positioning Interface (experimental version)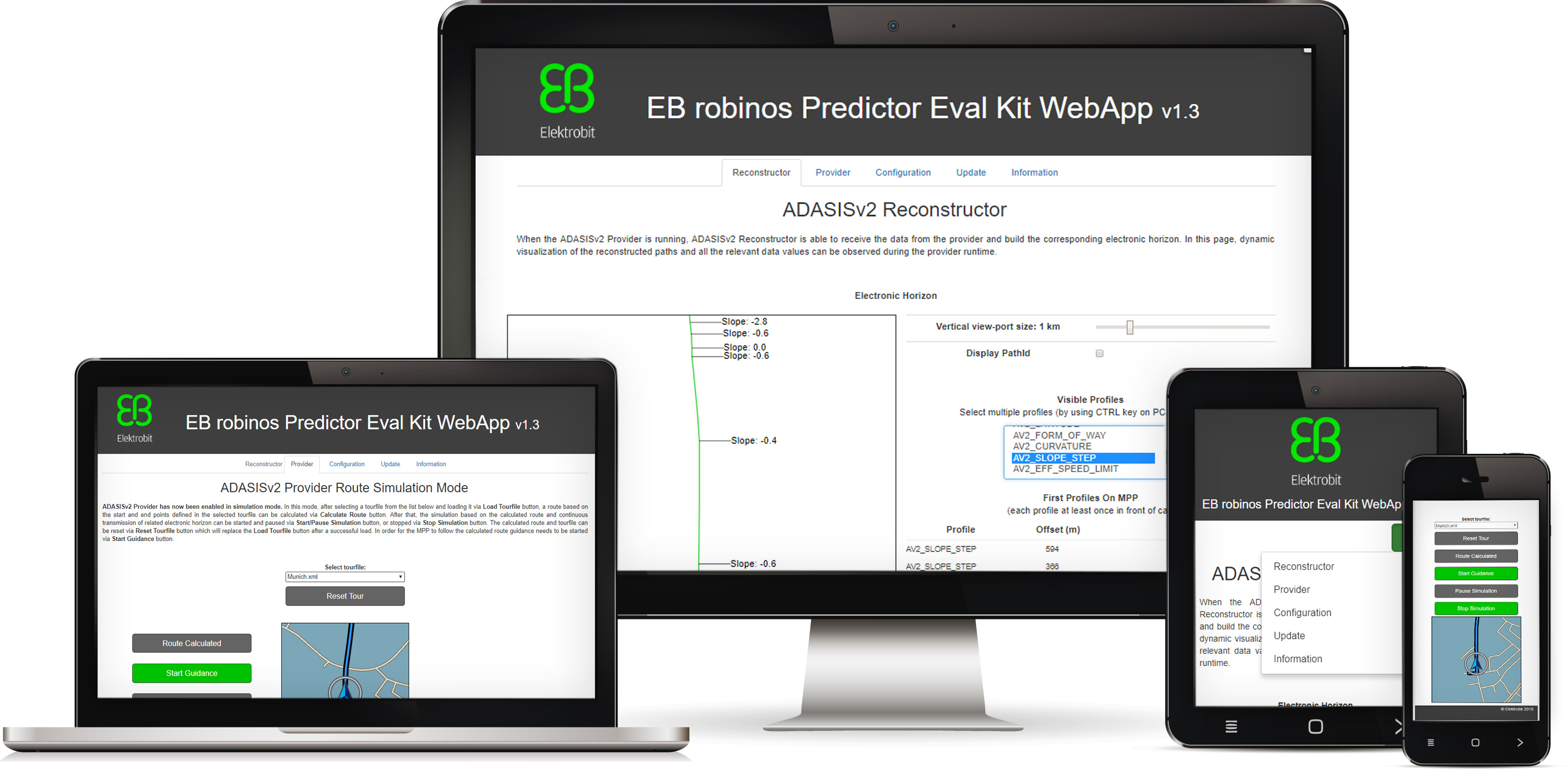 ADASIS v3 – the standard format for HD maps and automated driving
To enable and/or enhance the functionalities of ADAS and automated driving systems, vehicle manufacturers want to access and use the information provided by navigation systems such as map data, vehicle position, and speed. Today, however, navigation map databases are only accessible to navigation applications and are stored in the proprietary format of the navigation system. For applications to access this data, an appropriate information exchange interface must be defined. This is the overall aim of the ADASIS Forum.
In 2018, EB was awarded with defining the reference implementation of the ADASIS v3 Provider and Reconstructor by the ADASIS Forum.
Advantages
Ethernet broadband connection
Supports bi-directional communication between EB robinos Predictor Eval Kit and the electronic horizon client application
Centimeter-accurate resolution enabling lane accurate information
Support for NDS 2.5 and OTA backends
Map-supplier independent
EB solution is aligned with the ADASISv3 roadmap and is also backward compatible
EB product's self-proclaimed demand is to always fulfill the latest standard and to provide this quality level to EB customers
EB product is based on over six years of experience in electronic horizon solutions
Development based on the state-of-the-art ADASIS forum discussion
EB robinos Predictor Eval Kit related products/solutions/services
Electronic horizon solution for accurate and up-to-date information about the road ahead.
Key software components to bring automated driving functions and systems to mass production.
Integration with other EB products and services