End-to-end simulation tool chain, from virtual prototyping to user experience
Elektrobit and Ansys joint solution makes it easier to virtually design, assess, and test an augmented reality HUD solution in real-life driving conditions for a significantly improved user experience and faster time to market.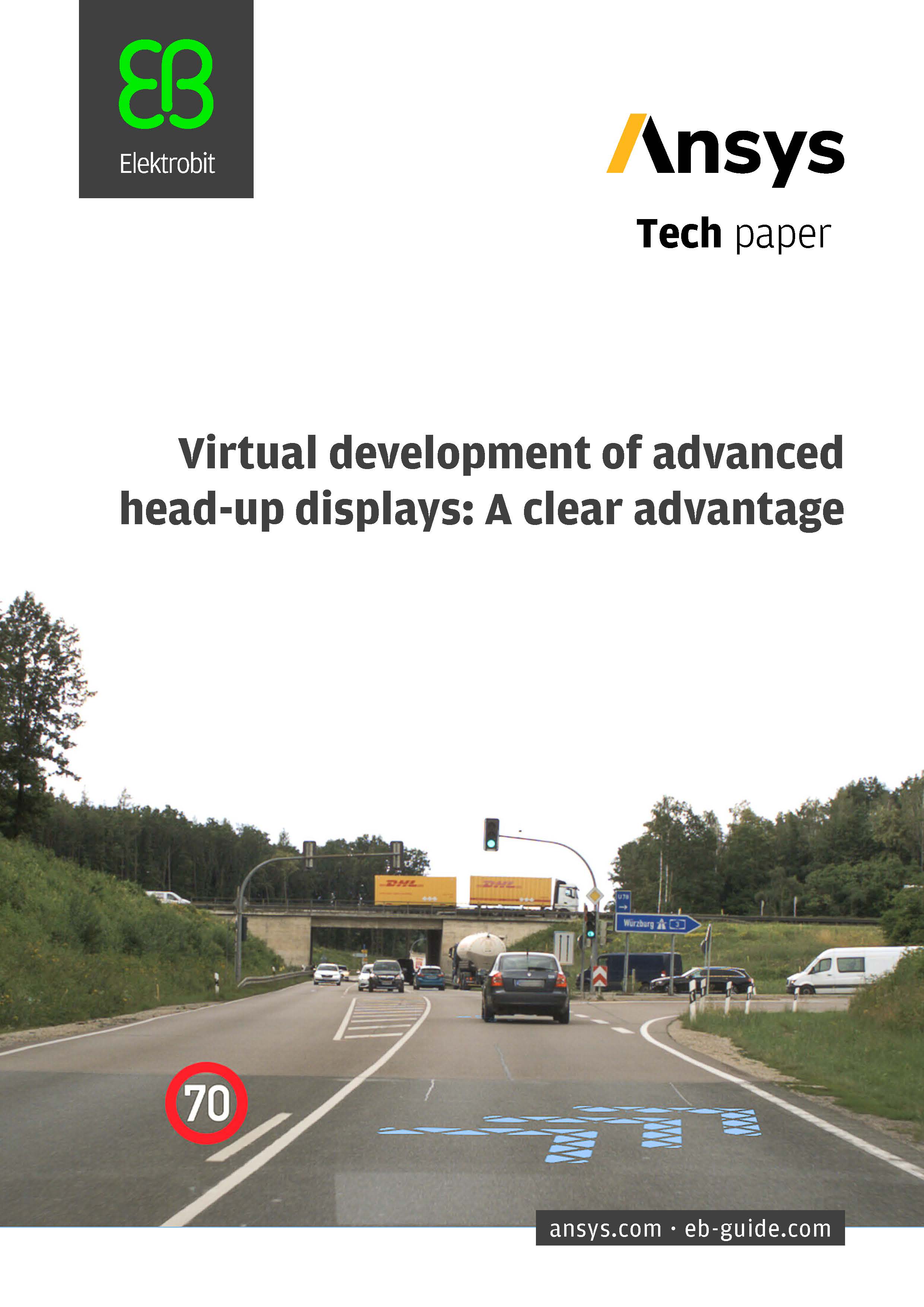 Table of contents
Augmented reality HUDs: focusing on the future
Ansys and Elektrobit: Envisioning a solution
A step-by-step, driver-in-the-loop development process
The clear benefits of virtual HUD development

Faster product launches
Lower development costs
Improved collaboration
Greater innovation
An enhanced user experience
Support for fact-based decision making
Better functional testing coverage

Bringing advanced HUDs to market, quickly and safely
In deep cooperation with

Introduction
Head-up displays (HUDs) are one of the fastest-growing and most exciting technologies in the global automotive market. Not only do HUDs help human drivers navigate more effectively and more safely, but they also support the performance of advanced driver assistance systems (ADAS) by providing a level of trust that perception systems are "seeing" the physical world accurately. Already complex, HUD designs are becoming even more sophisticated with the addition of augmented reality (AR) capabilities that highlight critical data or areas of concern, such as pedestrians in the road ahead. Because AR HUDs bring together optics, hardware, software and human-machine interfaces, building multiple physical prototypes is prohibitively time- and cost-intensive.
A partnership between Ansys and Elektrobit makes it possible to design all the technical components in an integrated, closed-loop process, and then test the finished HUD design in a virtual driving environment. By combining their leading HUD development solutions, Ansys and Elektrobit are bringing the future of augmented reality HUDs into sharp focus.
Resource type
Tech paper / White paper