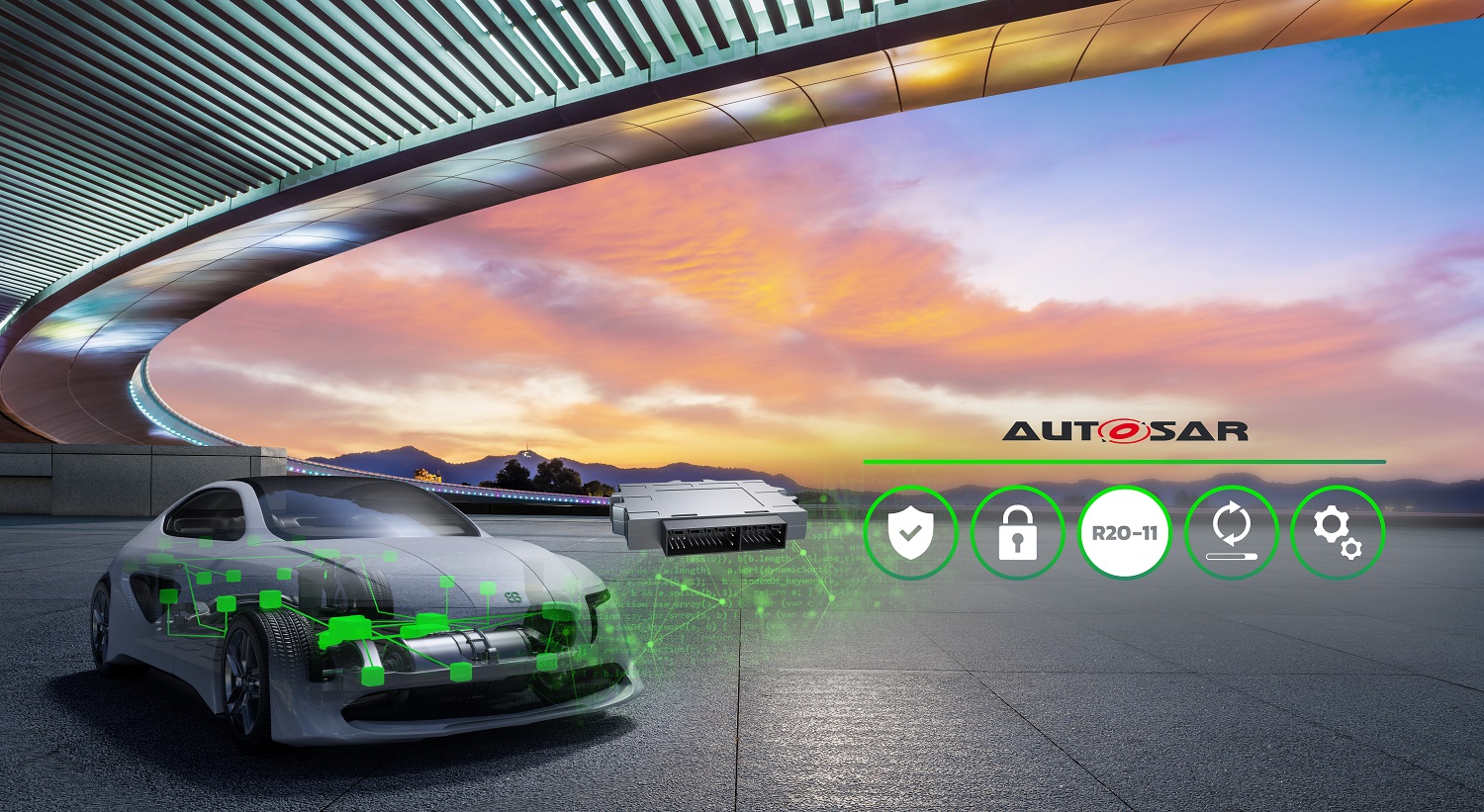 ERLANGEN, Germany, February 9, 2023 – Elektrobit today announced the immediate availability of EB tresos 9, the new iteration of its industry-leading basic software enabling carmakers and suppliers to develop next-generation electronic control units (ECUs) based on the latest AUTOSAR standard. The update fully supports AUTOSAR R20-11 and integrates the industry-leading onboard intrusion-detection capabilities in Argus CAN IDPS, developed by CES 2023 Innovation Award-winner Argus Cyber Security.
Industry experts expect the share of production vehicles incorporating ECUs based on AUTOSAR basic software to reach 80% by 2027. EB tresos 9 will allow OEMs and Tier 1s standardizing on AUTOSAR to reduce development costs and overall development time.
EB tresos 9 specifically streamlines the development of software features that comply with the latest standards for security and safety including ISO/SAE 21434 for cyber security risk management and SAE J1979-2 for on-board emissions diagnostics, which will be mandatory for vehicles in the US as of 2027. It monitors traffic, detects threats and anomalies, and offers prevention mechanisms for common attack methods such as denial of service and brute force. EB tresos 9 also fulfills the firmware-over-the-air requirements defined by AUTOSAR for updating ECUs during normal vehicle operation.
"With EB tresos 9 we've added the latest AUTOSAR compliance requirements, coupled with best-in-class security, making it easier for our customers to build the complex automotive operating systems (OSes) that will control and define all systems in their next-generation vehicles," said Michael Robertson, vice president, global product management and strategy, Elektrobit. "EB tresos 9's off-the-shelf functionality and reusability allows development of more software features, for more vehicles, in less time."
EB tresos 9 is a significant part of Elektrobit's overall software and engineering services offerings, which uniquely provide a one-stop-shop for carmakers seeking to build their own automotive OS —the harmonized software platforms that will control all systems in next-generation vehicles. Elektrobit has been developing automotive basic software for over 30 years, resulting in the industry's most mature and reliable software line.
Elektrobit intends to make continued updates to the EB tresos line as further updates are made to the AUTOSAR standard. In addition, EB tresos 9 roadmap includes measures for higher degree of automation for reducing costs and enhancing development efficiencies of teams, and a new, state-of-the-art graphical user interface to make it easier and more intuitive to use.
For more information about our Classic AUTOSAR offering, see EB tresos and Argus CAN IDPS.
Join our webinar "Step forward – transitioning from EB tresos 8 to 9" on the 23rd of February 2023. Register here: Webinar – Automotive World.
About Elektrobit
Elektrobit is an award-winning and visionary global vendor of embedded and connected software products and services for the automotive industry. A leader in automotive software with over 30 years of serving the industry, Elektrobit's software powers over five billion devices in more than 600 million vehicles and offers flexible, innovative solutions for car infrastructure software, connectivity & security, automated driving and related tools, and user experience. Elektrobit is a wholly-owned, independently-operated subsidiary of Continental.
For more information, visit us at elektrobit.com
Media contacts:
Elektrobit Global
Silvia Lutz-Bartels
Head of Global Public Relations, Elektrobit
Mobile: +49 174 8107570
E-Mail: silvia.lutz-bartels@elektrobit.com

Elektrobit – North America
Barbara Hagin
Breakaway Communications for Elektrobit
Mobile : +1 408 832 7626
Email: bhagin@breakawaycom.com