Software solutions to enable connectivity, big data analytics and management of a vehicle's lifecycle

The connected car is the most disruptive technology in the automotive industry today. It offers great potential. Combining car functionality with our software solutions creates a connected car that can navigate traffic, significantly reduce vehicle defects and warranty costs, and enable new business models.
Online connections in the car offer the driver and passengers new, convenient services. These services add significant value to the OEM by distinguishing its brand from the competition.
EB provides technologies that connect the car to the cloud or that use mobile devices as gateways. Our end-to-end solutions can make your vehicles part of the internet of things.
Benefits
Offer new and exciting services
Drivers and passengers expectations are rising. The weather at their destination, current traffic information, the latest emails and social posts, or the shopping list created on their smartphone – being able to provide cloud aggregated information in the vehicle is key to customer satisfaction.
Create value out of data
Our team of experts is here to help carmakers create value out of large-scale vehicle sensor data. With our project and development skills and our diagnostics expertise, we're able to offer solutions based on intelligent remote diagnostics.
Improve safety
Cloud-to-car communication can improve safety significantly by providing vehicles with the latest map-updates and car-to-car and car-to-infrastructure communication is already on the horizon—technology that will revolutionize vehicle safety.
Software updates over-the-air
It's not just horsepower or design that differentiates vehicles. More and more it's about the software inside them and the features it unlocks. But differentiating on software requires that in-car software lifecycles adjust to the speed of consumer electronics, delivering the latest updates in weeks or months, not years. Over the air updates offer that ability.
Manage cyber security
Nothing connected to the internet is 100% secure, but at EB we're dedicated to making cars as secure as possible. Over the last decade we have continuously stayed steps ahead on cyber security. We take the learnings from other industry sectors that have dealt with security issues longer and combine them with our own deep experience in the automotive environment, plus our extensive knowledge of safety standards.
A reliable basis for autonomous cars
Autonomous cars and driver assistance functions depend on highly accurate and in-time external data feeds. The EB Sensor Cloud is a dependable source of information that incorporates a variety of data sources.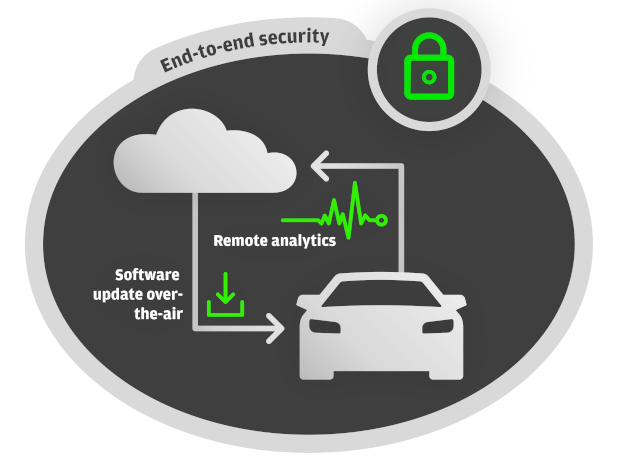 Key Features
Cloud and backend infrastructure, and the necessary services to run, maintain and improve those infrastructures
A secure connectivity gateway, setting the parameters for data transfer
Expert know-how in diagnostics for mission critical client and server systems
Technologies which allow us to collect vehicle data and analyze them intelligently
Big data analytics services including machine learning and geo-analyzing
IT systems for documenting and querying defect data
Protection from outside attacks
Functional safety expertise
EB Connected Car products, solutions, and services
Remote analytics tool for connected cars.
Secure over-the-air software updates
Protecting the cloud and the vehicle network from outside attacks is our priority.
Integration with other EB products and services