Automotive OTA: Software updates over the air
EB cadian Sync
Continuously improve vehicle functions and react fast to security issues through automotive OTA updates
A connected, but not updatable vehicle is a huge cybersecurity threat. Therefore, vehicles need to be updatable over the air. Apart from security, consumers are used to the short innovation cycles as offered by their smartphones and computers. That is why automotive over-the-air updates are becoming the method of choice for distributing everything from infotainment system features to operating system security patches and ECU updates or configuration changes.
The task of updating critical vehicle functions places high demands on the security and reliability of the processes used for this purpose. Signal-based communication in Classic AUTOSAR has been replaced with service-oriented communication in Adaptive AUTOSAR. With this system architecture, new applications can be integrated into the entire system more easily.
In connection with OTA updates, Adaptive AUTOSAR provides key functions as standard for purposefully updating functions and components. While Classic AUTOSAR has always required a full update of the application software, Adaptive AUTOSAR supports differential updates.
Industry-leading automotive OTA software: EB cadian Sync
As a leader in designing, developing, and integrating advanced software into many of the world's best-known automotive brands, Elektrobit is already powering millions of cars around the world, but also transforms the automotive industry towards next-generation in-vehicle platforms.
With EB cadian Sync, Elektrobit offers a reliable, flexible, and secure toolchain for software and firmware updates over the air.
All features you need for software updates on Adaptive AUTOSAR. Standardized.
UCM (update and configuration management) Master within EB cadian Sync provides a standardized way to install, update, and uninstall software on AUTOSAR Adaptive Platforms safely and securely. It comes along with standardized features such as, for example, standardized interfaces to the vehicle driver, state manager as well as OTA client, and executes the functions of self-update, roll-back, standardized logging, and streaming. With this standardization, it fulfills the prerequisites for general use on AUTOSAR Adaptive Platforms.
Quick start to OTA software updates on AUTOSAR Adaptive Platforms
EB cadian Sync UCM Master is pre-integrated into the Starter Kit (version 2.9 and later) of Elektrobit´s AUTOSAR solution EB corbos AdaptiveCore. EB corbos Starter Kit ensures that software in an Automotive OS can be easily deployed, enhanced, and maintained. With the addition of EB cadian Sync UCM Master, it provides a standardized, safe, and secure way to install, update, and uninstall software in architectures based on the AUTOSAR Adaptive Platform. Both products work together seamlessly out of the box without requiring further integration efforts. Thus, we're bringing together two key components of an Automotive OS to make it easier for carmakers to develop their software-defined vehicles on a common software platform.
Read more in our media advisory.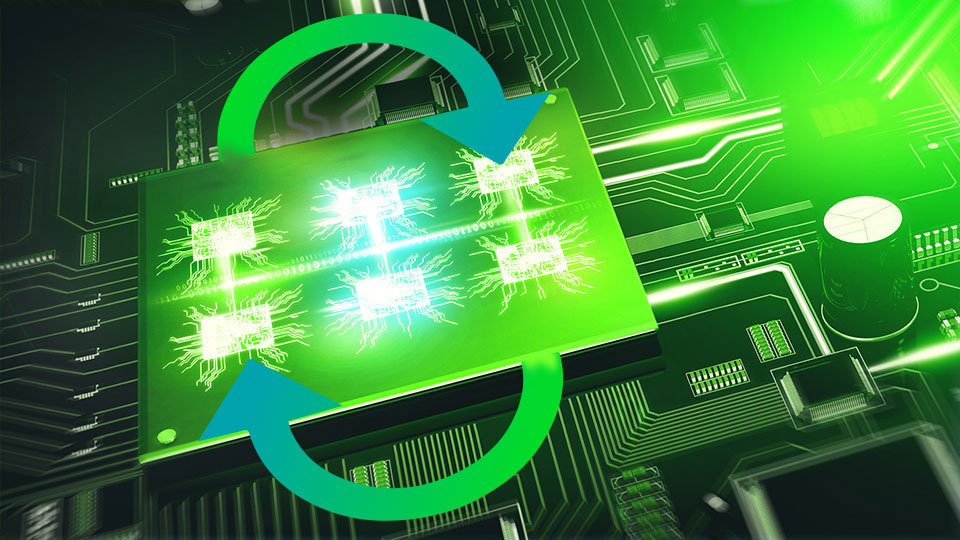 Pre-integrated onboard and back-end over-the-air (OTA) solution
The software update solution for software-defined vehicles from Elektrobit and Airbiquity® enables OEMs to quickly and easily source and build an end-to-end OTA system. It combines Elektrobit´s in-vehicle over-the-air update software product EB cadian with Airbiquity's OTAmatic®, which securely orchestrates and automates vehicle software update campaigns from the cloud.
Read more about the partnership and our joint solution in our press announcement, on our partner webpage and in the infosheet.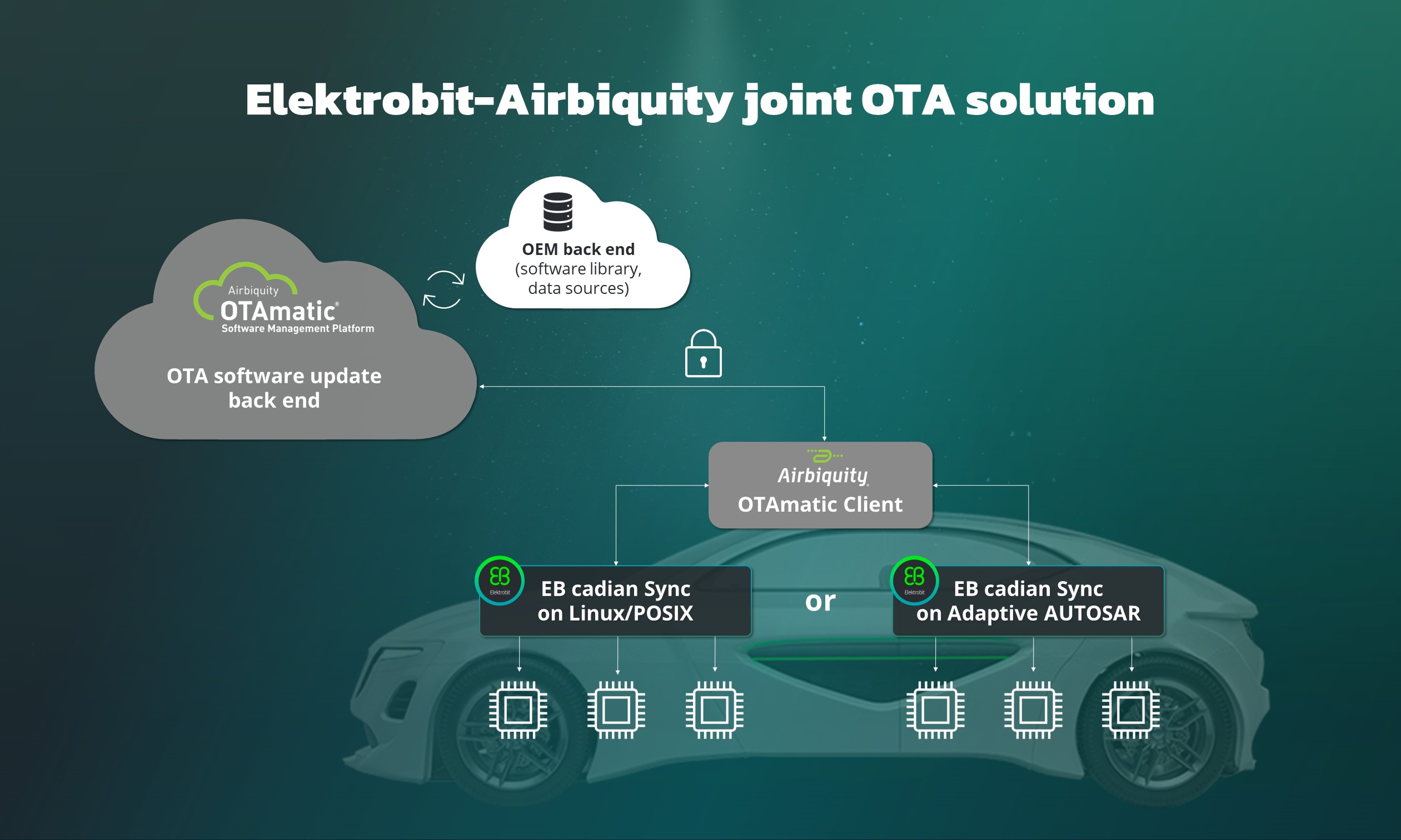 Save time & costs by reducing repair shop visits
Half a decade of development by automotive software experts
Trusted data exchange on all levels
Available for different POSIX-based platforms including Adaptive AUTOSAR
Compatible to various cloud back ends
Functional split to support different E/E architectures
Ready for customer-specific enhancements
UCM Master integrated into Adaptive AUTOSAR by Elektrobit's EB corbos
Key features of EB cadian Sync
Meeting requirements of multiple platforms
The Elektrobit update master is available for a wide range of operating systems, including Linux and Adaptive AUTOSAR.
Independent of the preferred platform, the update master / UCM Master provides the seamless integration into the OTA update environment.
Save bandwidth, data traffic, and increase success ratio
Two-step campaign approach to reduce bandwidth usage by eliminating unnecessary downloads. A mismatch between the expected and the existing vehicle configuration will be detected and resolved.
With A/B updates you can achieve a zero downtime of the vehicle for the whole update process.
Further information on Elektrobit's connected car solutions