Secure software updates over the air
Continuously improve vehicle functions and react fast to security issues through software updates over the air.
A connected, but not updatable vehicle is a huge cybersecurity threat. Therefore, vehicles need to be updatable over the air. Apart from security, consumers are used to the short innovation cycles compared offered by their smartphones and computers. That is why over-the-air updates are becoming the method of choice for distributing everything from infotainment system features to operating system security patches and ECU updates or configuration changes.
With EB cadian Sync, Elektrobit offers a reliable, scalable, flexible, and secure toolchain for software and firmware updates over the air. Read more about enabling software updates over-the-air for next generation's vehicles in our tech paper "EB cadian Sync – Software updates over the air":
Benefits
Allocation flexibility allows us to adjust our solution to your system architecture
The core component which uploads the updates from the backend to the car is modelled with a graphical tool to be exactly adaptable to your specific requirements.
Well testable and reproduceable core component.
Works on a wide range of operating systems including classic and adaptive AUTOSAR
The EB update master is available for a wide range of operating systems, including Classic and Adaptive AUTOSAR.
Independent of the preferred platform, the update master provides the seamless integration into the OTA update environment.
Save bandwidth, data traffic, and increases success ratio
Two-step campaign approach to reduce bandwidth usage by eliminating unnecessary downloads. A mismatch between the expected and the existing vehicle configuration will be detected and resolved.
EB is supplying a delta update solution from Argus that inherits patent-pending differential algorithm. In certain hardware environments, the delta update does not even require an adaption of the update target.
With A/B updates you can achieve a zero downtime of the vehicle for the whole update process.
The back-end is a service platform
Scalable, modular, and agnostic back-end solution for fleet, software, and campaign management
Can be seamlessly integrated into your system architecture
one platform with the same user interface concept for different services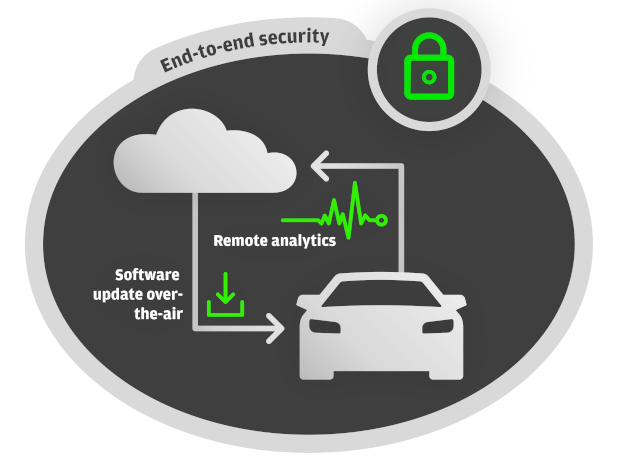 Key features:
Platform-independent and modular on-board components
Ready-to-use software distribution platform
Scalable back-end
Efficient updates by support of differential and A/B updates
Compression to save time on low bandwidth bus systems
Ad-hoc updates upon request
Orchestrated flashing of distributed functions
Secure end-to-end communication and data storage
Crypto logistics concepts for key management and derivation strategies (for ECUs, vehicles, and fleets)
User interface (UI) for vehicle, campaign, and software management
EB cadian Sync demo video
Watch our EB cadian Sync demo video to get a first impression of how the product works.
EB's software update over the air related products, solutions, and services
Remote analytics tool for connected cars.
Protecting the vehicle network from outside attacks is our priority.