Cloud-based validation toolchain for automated driving

Efficiently manage terabytes to exabytes of driving scenes, bringing automated driving to series production faster
Testing and validation of automated driving involves billions of test miles and huge amounts of data, generated through real and simulated test drives.
Our mission is to solve all the logistic challenges presented to engineers within the automated driving development phase while interacting with big data. We get these teams back to focus on writing algorithms and bringing functions and systems to series production faster.
Accelerate development with EB Assist Test Lab
Watch this video to learn about how EB Assist Test Lab helps you to accelerate development with one tool that supports data generation, labeling, data discovery, and more.
Benefits
One-stop validation tooling
Accelerate development with one tool that supports data generation, labeling, data discovery, and test execution. Execution and post-processing of parallel tests in the cloud heavily shortens development and update cycles, enables short update cycles of future features, and allows for new business models.
Save costs through pay-on-demand
Through a flexible, on-demand approach, you only need to pay for the computing power and functionality you need.
Efficiently manage exabytes of data
A central cloud-based database that brings order to the chaotic task of collecting data and enabling the use and reuse of your most important data.
Speed up the development process
Making use of cloud-computing providers like Microsoft Azure allows for near infinite flexibility and scalability, meeting peak demands during parallel tests.
Simplify team collaboration
Simplify team workflows and interactions with tooling that truly understands how to manage and socialize a big data lake. Plus, it ensures universal accessibility for developers around the world.
Profit from an open design
Our adjustable and flexible platform with open interfaces allows you to add your own, proven in-use tools to our toolchain, e.g. IPG CarMaker.
EB Assist Test Lab architecture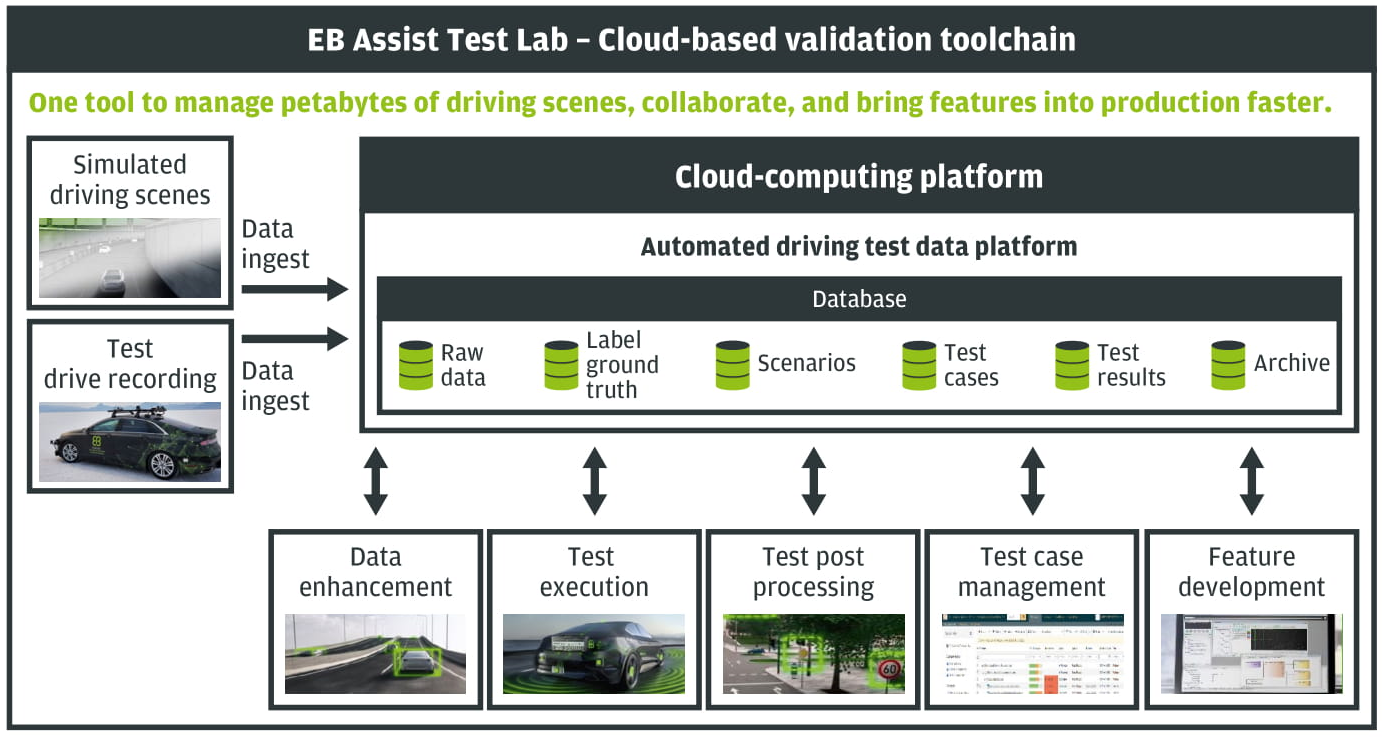 Key features
Toolchain for recording, simulating, analyzing, labeling, managing, and processing data
Open interfaces to accommodate partner toolboxes
Data ingestion, tracking, and data discovery through a user-friendly and intuitive web portal
Storing and managing real and simulated test drive data
Enhancement and semi-automated labeling of data
Loading and running multiple tests in parallel across the globe
Smart prioritization around hot, cold, and "frozen" data to bring down costs
Easy accommodation for ADTF and ROS data formats as well as custom data types
Data quality indication to easily rate driving scenes and their quality
Additional information on EB Assist Test Lab
Related products
Leading development tool for ADAS and automated driving. The software cornerstone for your HiL solution.
Add-ons and extensions to meet your specific test and validation needs.
High-performant and reliable automotive PC systems to suit your testing and validation needs, the basis for powerful HiL systems.
Broad set of high-performant modular I/O slot cards, I/O interface modules, and simulation tools for measurement and simulation of bus data.
Our tool for testing ECU software during the implementation stage, both for real hardware and on PC.
Related solution
Hardware-in-the-Loop simulation solution
With our Hardware-in-the-Loop (HiL) simulation solution, you can test the functions, system integration, and communication of ECUs in a simulated environment under realistic conditions to validate your ECUs and their functionality.