Cloud-based validation toolchain for automated driving

Efficiently manage terabytes to exabytes of driving scenes, bringing automated driving to series production faster
Testing and validation of automated driving involves billions of test miles and huge amounts of data, generated through real and simulated test drives.
Our mission is to solve all the logistic challenges presented to engineers within the automated driving development phase while interacting with big data. We get these teams back to focus on writing algorithms and bringing functions and systems to series production faster.
Accelerate development with EB Assist Test Lab
Watch this video to learn about how EB Assist Test Lab helps you to accelerate development with one tool that supports data generation, labeling, data discovery, and more.
Benefits
Optimize data and storage management
EB Assist Test Lab knows the value of your data. By simultaneously managing different data lakes, both in the cloud and on-premise, you can improve your data transportation and storage strategy to reduce costs by up to 80%.
Simplify global collaboration
Streamline workflows and interactions with tooling that understands how to manage and socialize a big data lake. Ensure universal accessibility for your developers, partners, and customers around the world thanks to a cloud-based architecture.
Easily find the data you need
Search, find, select, and extract required data to train and validate your algorithms. Find the corner cases in petabytes of data in a matter of seconds. All made possible through an intuitive and user-friendly, web-based application.
Unlock scalability through the cloud
Leverage the flexibility and scalability of our cloud-based architecture for accelerating parallel tasks to meet critical peaks.
Save costs through pay on demand
Through a flexible, on-demand approach, you only need to pay for the computing power and functionality you need. This helps to reduce upfront costs and risk.
Profit from an open design
Our platform with open interfaces can be integrated into your existing tool environment. Also, easily add your proven in-house tools to our toolchain, e.g. simulation software, labeling tools, or data analysis software.
EB Assist Test Lab architecture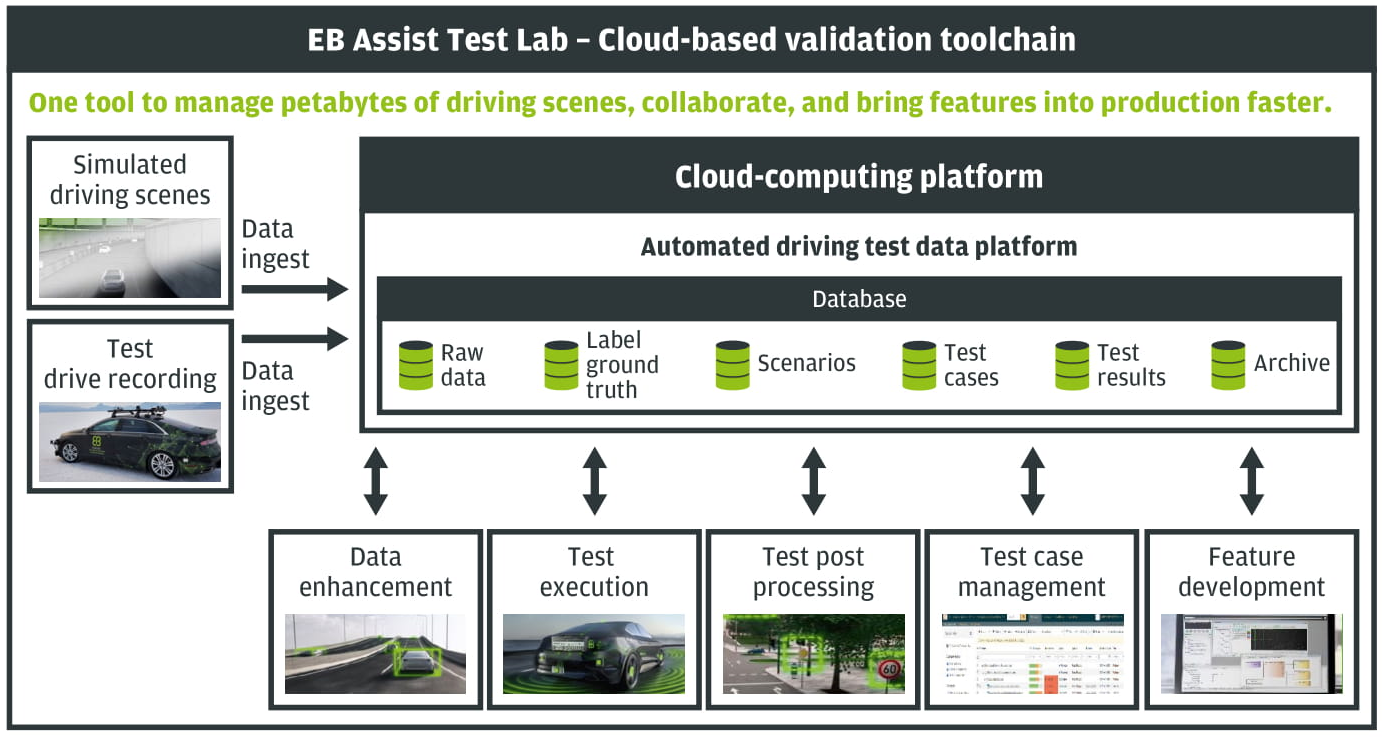 Key features for developers
Search and find data that you need through an intuitive, web-based portal
Preview, filter, and visualize data
Easily create campaigns and issue data collection requests
Share data with colleagues and partners
Data quality indication to easily rate driving scenes and their quality
Enhancement and semi-automated labeling of data with your desired labeling tool
Smart prioritization around hot, cold, and "frozen" data to bring down costs
Out-of-the-box support for commonly used data formats such as ADTF or ROS
Easy integration of customer-specific data types
Advantages for companies
Make data accessible and usable beyond department and company borders
Save costs through data prioritization and data storage optimization mechanisms
Reduce workload, free up your developers' resources
Easily manage permissions and keep control of your data
Leverage the cloud and but also keep your on-premise infrastructure
Cut costs by up to 80 % through pay-per-use without fixed costs
Easily integrate your in-house tooling
Interlocking with all EB Assist products
Dedicated support, training, consulting, and custom engineering
EB Assist Test Lab gallery
Additional information on EB Assist Test Lab
Related products
Leading development tool for ADAS and automated driving. The software cornerstone for your HiL solution.
Add-ons and extensions to meet your specific test and validation needs.
High-performant and reliable automotive PC systems to suit your testing and validation needs, the basis for powerful HiL systems.
Broad set of high-performant modular I/O slot cards, I/O interface modules, and simulation tools for measurement and simulation of bus data.
Our tool for testing ECU software during the implementation stage, both for real hardware and on PC.
Related solution
Hardware-in-the-Loop simulation solution
With our Hardware-in-the-Loop (HiL) simulation solution, you can test the functions, system integration, and communication of ECUs in a simulated environment under realistic conditions to validate your ECUs and their functionality.