Secure over-the-air software updates
Carmakers need to be able to update their software over the air (OTA) to guarantee security. A connected, but not updatable vehicle is a huge cybersecurity threat.
Aside from security, consumers are used to short innovation cycles like their smartphones and computers offer. They do not expect to have to visit a car dealer or pop in a cd to update vehicle software. That is why over-the-air updates are becoming the method of choice for distributing everything from infotainment system updates to operating system security patches and system revisions or configuration changes.
With EB's over-the-air (OTA) solution all this can be done through a secure connectivity gateway.

Benefits
Over-the-air updates save time
Delivering new features and applications wirelessly improves performance and enables fast fixes. Being able to add new features to the infotainment system or update navigation maps helps increase customer loyalty to your brand.
In well-prepared environments, software copy operations can be done even while the consumer is driving, avoiding battery limitations. And this advanced scenario allows the flashing procedure to be done in a very short amount of time.
Reduce vehicle recalls and save money
Recalls can cost vehicle manufacturers billions of dollars. Using electronic control units (ECUs) to their full potential as software platform provides great competitive advantages by helping to reduce recalls. The potential for savings on maintenance and warranty costs is tremendous.
Competitive advantage through faster time to market
The need for speed in automotive development is undeniable. Consumers want new innovations on a regular basis, even after they have bought a vehicle. Over-the-air updates make for more satisfied and loyal consumers.
New product offerings
Software is becoming a product in itself within the vehicle. With over-the-air updates, you can offer software to consumers not only at purchase time, but during the whole vehicle lifecycle. This opens additional revenue streams.
Stay up to date regarding security
EB develops a secure software base, through our proven key management and crypto logistics know-how.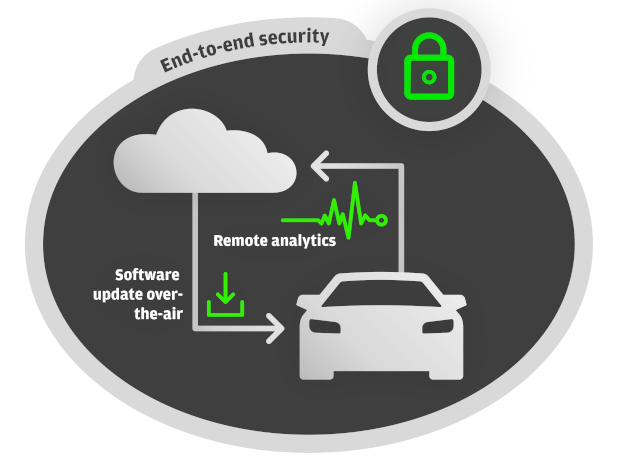 Key features:
Platform-independent, modular, on-board components for over-the-air software updates
Standard diagnostic protocols for updates
A scalable backend
Differential updates to only update required areas of the software
Compression to save time on low bandwidth bus systems
Ad-hoc updates upon request
Flashing of distributed functions – distributed functionalities need an orchestrated flashing of all involved ECUs
Secure end-to-end communication and data storage
Crypto logistics concepts for key management and derivation strategies (for ECUs, vehicles, and fleets)
User interface (UI) for vehicle, campaign, and software management
EB's software update over the air related products, solutions, and services
Remote analytics tool for connected cars.
Protecting the vehicle network from outside attacks is our priority.