Use EB GUIDE Speech Target Framework to deploy the speech dialog model in the vehicle, once you've developed it with the integrated human machine interface (HMI) development tools EB GUIDE Studio and EB GUIDE Speech Extension.
Benefits
Hear what drivers will hear
In EB GUIDE Studio you can use the EB GUIDE STF to simulate the speech dialog. That way, during development, you can interact with the speech system and experience it just as the customer will in the car.
Provide natural human-machine dialog
The framework uses state-of-the-art speech technology, allowing you to create familiar and comfortable interactions for drivers.
Benefit from our speech dialog integration experience
EB GUIDE STF can be extended with additional speech dialog resources dedicated to automotive use cases like navigation, radio, and address book. This allows you to rapidly integrate speech-enabled applications like navigation, tuner, and organizer.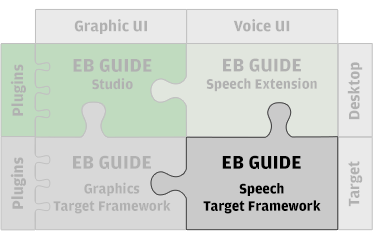 Features
Execute speech dialog on the target platform exactly as created with EB GUIDE Speech Extension
Inclusion of third-party text-to-speech (TTS), automatic speech recognition (ASR) and natural language understanding (NLU) modules – embedded and cloud
Resource handling for persistency and various automotive use cases (e.g., address book, voice destination entry (VDE), media, radio)
Adapts to various operating systems and platforms like automotive and consumer electronic devices.
UX products and services
A powerful tool for intelligent multimodal HMI product development. EB GUIDE Studio lets you deliver the most advanced HMIs to your customers while staying on budget.
EB GUIDE Graphics Target Framework
Ensures that the powerful graphical interfaces you develop in EB GUIDE Studio render beautifully and are executed on your target in the vehicle.
Lets you design innovative speech dialogs while shortening development time for your HMI.
EB arware is a software framework that enables the creation of augmented reality solutions that enhance the driving experience.
Integration with other EB products and services
A customizable, scalable navigation solution that lets you give drivers the newest features in navigation, including high-end 3D maps and driver assistance functions.
EB Assist ADTF is a tool for the development, validation, visualization and test of driver assistance and automated driving features.
EB robinos is a comprehensive, hardware agnostic software solution for highly automated driving systems.