Ensuring Project Health
A thorough understanding of complex software systems is crucial for project success.
EB solys is a sophisticated approach to analyzing complex automotive software systems from top to bottom, including their runtime behavior. EB consultants combine state-of-the art EB solys tooling, methodology, and expert know-how to ensure a deep understanding of the current state of the system. Our consultants will point out potential design and performance risks and guide you in developing healthy and well performing software systems.
EB solys – A first glance
Learn how EB solys helps you to verify if the actual runtime behavior of the system matches the specification. Therefore you can assign or reject tickets that do not concern your team much earlier. You can also define compliance criteria directly in EB solys scripts and continuously check them.
Benefits
Assess system health
With software and system complexity increasing, it gets harder and harder to understand the impact of potential changes to the code base or system setup. EB solys helps you stay informed about the compliance and performance of your overall system.
Increase system understanding
Through graphical and programmatic analysis of runtime data, you'll better understand the system's design, behavior, and structure. Combine multiple different sources of information—including multi CPU systems based on different technology—into a unified view so you can determine the strengths and weaknesses of your system.
Analyze target systems live and post mortem
EB solys graphical analysis tools provide insight into the operation of your software on your target systems during runtime. Get live analysis of inter-process communications, performance, and trace messages. Runtime data can also be stored and loaded into EB solys for later post-mortem analysis.
Evaluate specification compliance

EB solys enables the comparison of a software architecture specifications against the runtime behavior of the software. In a structured view it visualizes inter-process and inter-component communication on different levels.
Monitor performance metrics and detect trends

EB solys—as part of your Continuous Integration process—allows you to analyze long term trends in timing and performance and correlate changes in system KPIs with changes in your system.
Provide early feedback to development teams

EB solys facilitates continuous validation of your system architecture, interfaces, and non-functional requirements to provide your development team with early and fast feedback.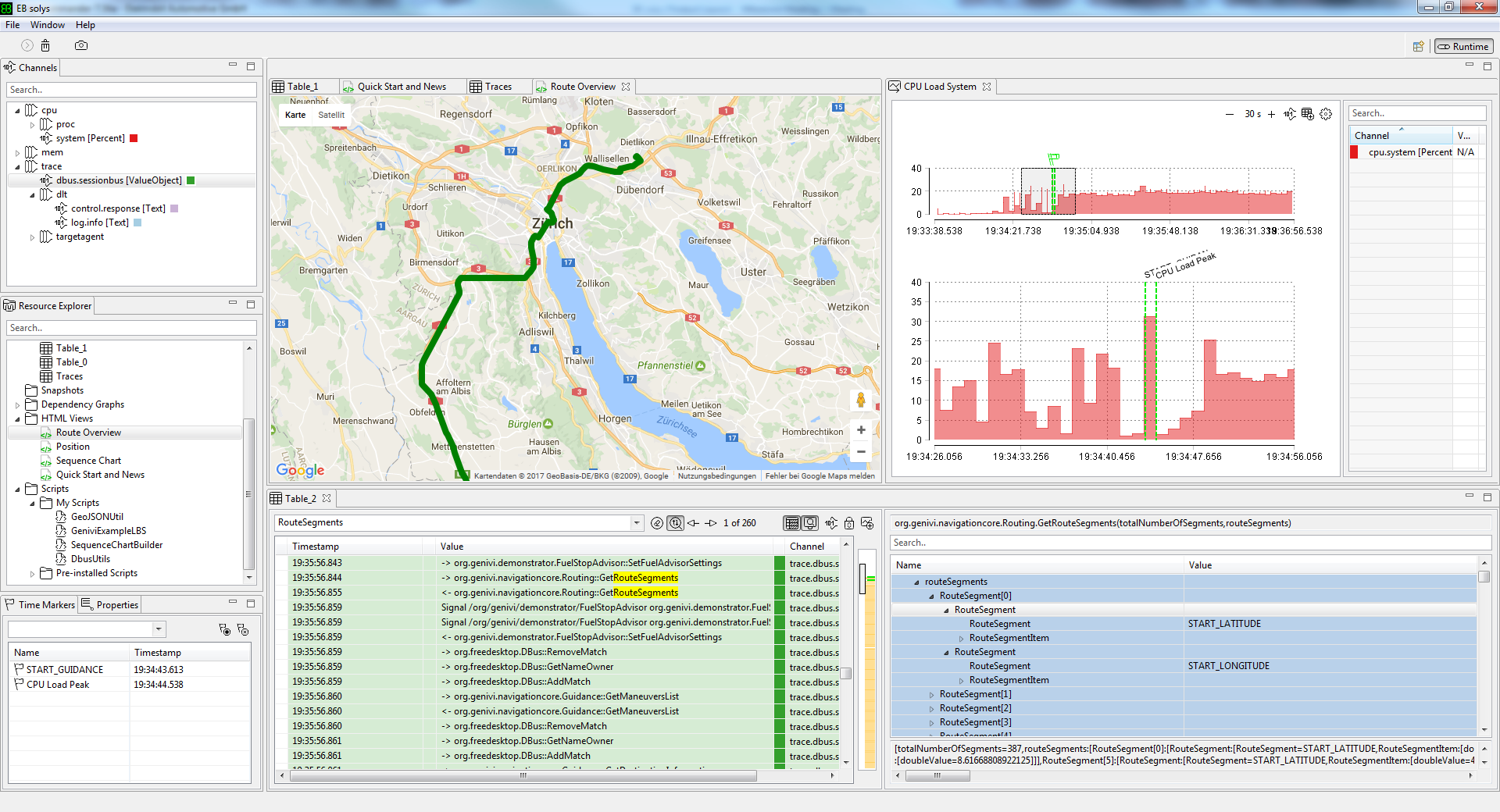 Key features
Graphical correlation and analysis of target runtime data
Hot spot analysis & root cause isolation
Static and dynamic communication analysis
Multi-OS (Linux, WinCE, QNX) target-agent with extensible plug-in architecture
Extension points for custom importer and decoders to process any trace format
Out-of-the-box plug-ins available for resource monitoring, inter-process communication and traces
GENIVI-ready with support for Linux, DLT, D-Bus, Franca IDL and systemd
Integration into continuous build and test toolchain with EB solys Auto mode
Built-In Script Engine to add new functionality by accessing the EB solys raw data and resources
Download EB solys

Download and explore our EB solys  with the appropriate feature bundle for monitoring and analyzing software systems, including Linux profiling, DLT traces, D-Bus communication monitoring, Franca IDL Decoder and more. The Target Agent can be downloaded optionally if you want to experience live monitoring of your system.
The provided version is a full featured trial edition. After four weeks the feature set will be automatically limited to basic features. Follow the license key acquisition sequence after downloading and launching EB solys.
Check our web page continuously for more information regarding the roadmap and releases for EB solys and the progress of setting-up the Target Agent as open source software.
Recommended system requirements:
Windows PC (Windows 7)
RAM: 16 GB (Minimum: 8 GB)
CPU: Intel i7 (Minimum: Intel i5 or similar)
If you are interested in a customized and extended version that is tailored to your project needs or if you want to integrate EB solys Auto into your continuous integration process do not hesitate to contact us: sales@elektrobit.com