Vehicle software systems are becoming increasingly complex. At the same time, there's a need for more and more systems and sensors to connect within the car and between cars (car2x) on the road.
Customers are demanding that vehicles integrate with their mobile devices, the Internet, and apps. The constant change this imposes requires rapid development with ever-shorter innovation cycles for automotive software. At the same time, an ever-growing number of on-board systems and sensors must communicate with one another and with external sites. That requires putting in place security mechanisms to protect systems from the damage that might result from unauthorized, external access.
Benefits
Because of our many years in the field, we are able to offer:
Deep expertise
Tailor-made security solutions based on EB's extensive knowledge of the individual specifications of major carmakers and suppliers
Standardized and efficient embedded cryptography architectures based on:

AUTOSAR
HIS-standard
Customer-specific software
Reliability
Comprehensive support during the entire software life cycle
Maintenance services
Proven concepts: EB's security solutions are already on the road in millions of cars.
Synergies
We are an active member of the "Secure Hardware-Software Architectures for Robust Computing Systems" (SHARCS) initiative, a consortium aiming to design, build and demonstrate secure-by-design system architectures that achieve end-to-end security.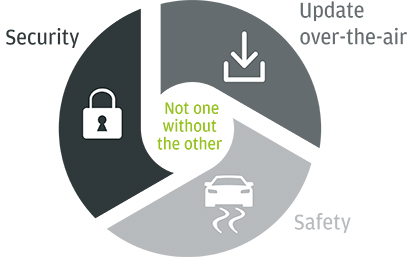 EB Portfolio
With almost 30 years of expertise in the field of automotive software development—and more than 20 years of experience in engineering security processes and solutions — Elektrobit (EB) is the right partner for carmakers and Tier 1 suppliers when electronic control units (ECUs) require a secure software base.
EB offers custom security solutions for embedded systems. Our comprehensive portfolio covers:
Security solution design
Integration into different customer environments and processes, including:

Customer-specific software environments

Implementation of:

Cryptographic routines (e.g., AUTOSAR CSM and CAL)
Customer-specific security solutions
Special solutions for multi-core ECUs
Combined safety and security solutions

Support for cryptographic hardware such as Secure Hardware Extension (SHE) and Hardware Security Module (HSM)
Porting of HW platforms and compilers
The qualifications for mass production
Maintenance services
Use cases and Features
EB has successfully executed mass–production-approved security implementations for car manufacturers like Audi, BMW, Daimler, Volkswagen, GM, and various Tier 1 suppliers, including features such as:
Authentication
Signature
Flash protection
Software-enabling (carmaker-specific or according to HIS)
Anti-theft protection
Mileage protection
Secure on-board communication
Data protection
Support for cryptographic hardware, e.g., SHE and HSM
Compression and decompression
For customized applications, we prepare individual solutions and work with our customers through the complete development process and after. We help during the concept phase and requirements analysis—including design and testing—through the documentation, support, and software integration stages. When it comes to the start of production (SOP), EB aligns with customers and offers comprehensive maintenance services.
Integration with other EB tresos products & technologies
EB security solutions are based on cryptography for embedded systems, e.g., protection via authentication mechanisms or signature validations. They integrate seamlessly into EB's basic software.
Signals exchanged are used in functional safety applications as well as in applications that are potentially subject to embedded security issues.
There is no safety without security, and vice versa. Learn more about our EB tresos Safety products.