Boosting ADAS
Drivers benefit from cars that know what's on the road ahead. EB robinos Predictor provides highly accurate and up-to-date information about the road ahead for predictive driver assistance functions. Through electronic horizon-based driver assistance features, carmakers strengthen their position delivering safety and comfort while securing their way to automated driving.

Benefits
Comprehensive offering
EB's offering caters to the needs of the entire automotive industry as there is a product variant for each customer segment. We offer an EB robinos Predictor either based on commercial maps or a variant based on OSM maps with self-learning algorithms for entry levels cars without onboard navigation..
Enable popular features
Electronic horizon-based advanced driver assistance systems (ADAS) functions let you provide customers with popular features like curve-speed warnings, adaptive curve lights, traffic-sign display, range determination, lane keeping and fuel-efficient driving.
A single source saves time and money
EB robinos Predictor combines navigation and driver assistance software as well as backend capabilities and covers predevelopment as well as serial production. With this complete offering carmakers and suppliers can benefit from EB's expertise in navigation and driver assistance.
Integrate with other systems
EB robinos Predictor supports EB's driver assistance development platform, EB Assist ADTF, and a wide range of other driver assistance platforms from various suppliers. You can produce an electronic horizon on any navigation system and integrate map data into any ADAS electronic control unit.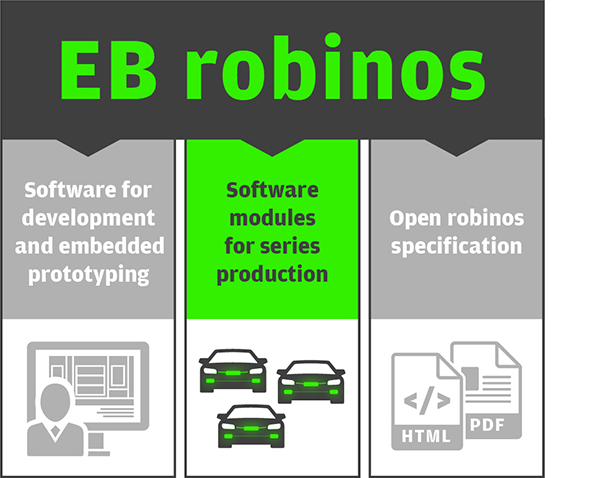 Key features
Map-based ADAS functions (commercial maps or community maps) SAE Level 1-2
Supports ADASIS
ASIL B for the reconstructor
Based on NDS 2.3x
Digital map information and GPS data that can be used across car lines and model configurations, without needing an active navigation system
Complete range of development tools and target software modules
Based on EB robinos framework
High level of accuracy due to use of multiple sources
Sensor information for bootstrapping maps based on machine learning technologies
Pre-processed ego-sensor information from the car is sent to EB's backend using a SENSORIS interface
EB robinos Predictor demo video
This short video demonstrates how EB robinos Predictor enables ADAS functions.
EB robinos Predictor related products
A comprehensive, hardware-agnostic framework for highly automated driving systems.
Written version of the applied architecture and interfaces that describes the definitions of software modules, interfaces, and control mechanisms.
Provides optimized positioning information for automated driving applications.
Provides a flexible environment for the development of grid-based sensor data fusion.
Offers a flexible short-term and mid-term planning for highly automated driving.
Provides supervision of automated driving system parameters.
Integration with other EB products and services