A comprehensive, hardware agnostic software solution for highly automated driving systems. Control and manage the increasing complexity of HAD systems and bring them to market quickly.

Highly automated driving (HAD) means many pieces of software and hardware need to work together seamlessly, efficiently, and safely. HAD requires creating, coordinating and combining sensors, actuators and components—with all the different parties involved (carmakers, suppliers etc.). The complexity of HAD systems is a huge challenge to the industry.
EB robinos is a software framework for automated driving that helps for overcome this challenge by controlling and managing the complexity professionally. EB robinos is an application-layer functional software architecture with open interfaces and software modules. Its holistic approach provides control and management of complex HAD systems to accelerate, enhance and optimize automated driving system development.
The functional architecture and the open interfaces enable cooperation among different parties and pave the way for future mobility. EB robinos is available for development, embedded prototyping, and for series use. With EB robinos, carmakers and Tier 1 suppliers can shift their focus from architecture effort to differentiation: bringing cars to market quickly and delighting consumers with distinctive, highly automated driving features that provide competitive advantages and strong market positions.
EB robinos is inspired by the open robinos specification which describes its architecture and interfaces. The specification is freely available. EB encourages industry companies and professionals to join this open effort to build the future of mobility.
Benefits
Software framework accelerates, enhances, and optimizes highly automated driving (HAD) system development
EB robinos, the software framework for HAD, its modular approach and its open interfaces make it easy to integrate customer or third-party software. With a set of various software modules for different functionalities (e.g. grid fusion, path planning), you can optimize software re-use and develop brand-specific systems.
Upgrades and cross-grades are easy: carmakers may pick and choose the components that map to their needs, integrate their own modules, or exchange a third-party module with an EB module or with Tier1 supplier modules. This all ensures that EB robinos users benefit from freedom of choice.
Scales with customer applications and improves software quality
EB robinos is built on the concept of modularity. That means components can be added or removed based on customer need. Software component re-use minimizes HAD development time and the application and testing effort. Plus, re-using software components improves software quality.
Shortens time-to-market and ensures differentiation
With its standardized architecture and the open interfaces, EB robinos optimizes the interface specification effort. Carmakers and Tier 1 suppliers can shift their focus from architecture to differentiation by getting vehicles to market faster and delighting consumers with distinctive features that create competitive advantages.
Ready for embedded systems
EB robinos is 100% ready for embedded and safety-relevant applications. New components can be rapidly prototyped on a PC and run in an environment of AUTOSAR-tested partner components.
Provides a forward-looking end-to-end solution
EB robinos is an end-to-end solution that offers new cooperation models for the many parties involved in highly automated driving development (car makers, suppliers, third parties). It simplifies cooperation making it seamless and enables combining of automotive software and hardware.
Flexible and easy access for customers
Carmakers or Tier 1 supplier already have systems like an ACC, a Lane-Keeping Assistant, or an Emergency Brake Assistant. EB robinos can easily be integrated into any autonomous driving program, regardless of whether it already exists or is a greenfield venture. Elektrobit supports customers with the integration of their legacy subsystems into EB robinos.
Stays up-to-date by talking to the cloud
EB robinos is ready to connect to rich cloud services like EB's sensor cloud, so cars can get the latest data, such as traffic, road hazards, or road signs—and it's extendable! The cloud runs on a highly redundant, scalable backend cluster. This combination of EB robinos and the cloud is certified according to functional safety principles. Likewise, data protection and privacy are guaranteed.
EB robinos is DNA for automated driving
To ensure safety and efficiency, highly automated and autonomous driving requires comprehensive and complex functionality. By inheriting a basic structure—the DNA for automated driving—carmakers and suppliers can master the challenge of that complexity. It's much easier to enable the re-use of software if you have an existing and established architecture–the DNA!
Use EB robinos as your vehicle DNA to save time and cost on HAD development.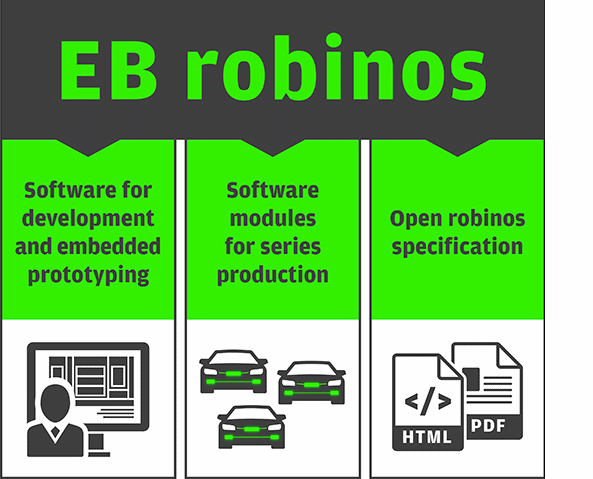 EB robinos details
EB robinos, the comprehensive, hardware agnostic software framework for highly automated driving consists of:
A functional software architecture with open interfaces
EB robinos for development: EB robinos for EB Assist ADTF (free trial version available)
EB robinos for embedded prototyping and volume production
EB robinos software components
Open robinos specification: Freely available platform specification that defines modules, interfaces, and control mechanisms (free download)
EB robinos architecture

Key features
EB robinos:
Is a software framework for automated driving
Defines an application-layer architecture for ADAS up to SAE level 5 of automated driving
Is hardware agnostic
Runs on Embedded Linux systems or integrates into AUTOSAR ECUs
Provides Linux software modules for state-of-the-art HAD development and use
Can be integrated into central ADAS ECU as well as into distributed systems of several ADAS ECU
Incorporates existing or new, customer or third party subsystems
Is available for development and prototyping in your environment or within EB Assist ADTF
Is an integrated approach – available from development and embedded prototyping through series production
EB robinos products
Try our comprehensive, hardware agnostic framework for highly automated driving systems.
Written version of the applied architecture and interfaces that describes the definitions of software modules, interfaces, and control mechanisms.
Provides highly accurate and up-to-date information about the road ahead for predictive driver assistance functions.
Provides optimized positioning information for automated driving applications.
Offers a flexible short-term and mid-term planning for highly automated driving.
Provides supervision of automated driving system parameters.
Provides a flexible environment for the development of grid-based sensor data fusion.
Provides a consistent environmental view through sensor data fusion.
Provides an accurate perception of the road through sensor data fusion.
EB robinos related products
EB tresos solution for NVIDIA DRIVE™ PX
Seamless cooperation with the AUTOSAR based EB tresos solution for NVIDIA DRIVE™ PX paves the way for developing close-to-production prototypes of highly automated driving. Get your free EB tresos evaluation license.
Driver assistance engineering services
EB robinos and driver assistance expert teams consult and support In choosing the right solution for new or existing automated driving system. EB works with you on migration strategies.
One platform for working with EB robinos components in the development and testing stages.
High-performant and reliable automotive PC system to suit your testing and validation needs.