AUTOSAR (AUTomotive Open System ARchitecture) is an open and standardized automotive software architecture, jointly developed by automobile manufacturers, suppliers, and tool developers. Its main goal is to introduce a standardized layer between application software and the hardware of an electronic control unit (ECU). Thus, the software is largely independent from any chosen microcontroller and carmaker, making it reusable for several individual ECU systems.
Benefits*
Paves the way for innovative electronic systems that further improve performance, safety and environmental friendliness
Is a strong global partnership that creates one common standard: "Cooperate on standards, compete on implementation"
Is a key enabling technology to manage growing electrical/electronic complexity. It aims to be prepared for the upcoming technologies and to improve cost-efficiency without making any compromise with respect to quality
Facilitates the exchange and update of software and hardware over the service life of the vehicle
* Source: www.autosar.org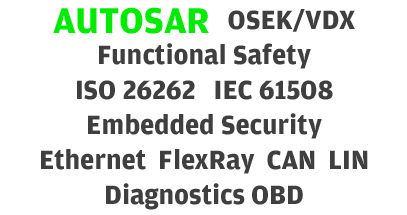 Elektrobit and AUTOSAR
EB is AUTOSAR premium member right from the start. We have been involved in the development of basic software and tools for the automotive industry for more than 15 years. From the very beginning we focused on the consistent partitioning of software into hardware-dependent and hardware-independent components, so we can truly say that AUTOSAR is in our blood, and we are convinced it is the answer to the challenges that the automotive sector faces.
EB's electronic control unit (ECU) software and solutions completely conform to the latest AUTOSAR standard. With our EB tresos  software we provide AUTOSAR 4.x-compliant basic software solutions that help our customers develop the next generation of ECUs. With EB tresos and AUTOSAR we deliver new, powerful, innovative technologies to the automotive industry, in a familiar and reliable development environment.
Our goal is to help the automotive industry be successful in developing the next generation of smart, scalable, reusable, and reliable ECUs. Our solution enables you to start AUTOSAR mass production projects for major carmakers such as BMW, Daimler, Audi, Volkswagen, GM—and many more.
Integration with other EB tresos products & technologies
Our Basic Software Stack based on the AUTOSAR standard.
Our tool for basic software configuration and integration in one single tool environment with full AUTOSAR support.
For a safe AUTOSAR environment according to ISO26262 up to ASIL D.
Our Functional Safety Products  build a safe software base for AUTOSAR ECUs.