A software platform for developing advanced driver assistance systems (ADAS)
ADAS is one of the fastest growing fields in automotive electronics and it's driving an increased demand for performance and safety. That's why semiconductor manufacturers are building new hardware platforms dedicated to ADAS development—platforms like NVIDIA DRIVE™ PX.
The joint solution integrates technologies from EB, Infineon and NVIDIA. It combines powerful computing processors with hardware and software to enable safety-critical ADAS functions for self-driving vehicles. The EB tresos software provides seamless integration capability of Linux and AUTOSAR applications.
ADAS with a focus on safety
This software package is based on EB´s AUTOSAR and Functional Safety products. That makes it easy for automakers and their suppliers to create powerful advanced driver assistance systems while integrating the highest level of safety.
A state-of-the-art ADAS development platform
Our integrated hardware-software solution provides the easiest, safest and most cost-effective way for automakers to build sophisticated ADAS features and test complex applications and infrastructure software software.
An innovative software architecture
Elektrobit, NVIDIA and Infineon deliver a first-of-its-kind solution that is based on high performance processors as well as industry-leading AUTOSAR solutions running on all microcontrollers. Elektrobit distributed AUTOSAR software across different multi-core processors of one system.
The latest technology
The EB tresos solution for NVIDIA DRIVE™ PX incorporates the newest advances and makes them available to you. Whether it´s AUTOSAR 4.x, certified Functional Safety products, or Ethernet communication: you get the latest automotive technology implemented by experts in it, courtesy of EB.
Profit from more than 30 years' experience in automotive software development
EB offers a full range of engineering services for the DRIVE PX platform. We adapt software to dedicated OEM environments, add vehicle-specific communication, design sophisticated applications based on customers' requirements, and much more.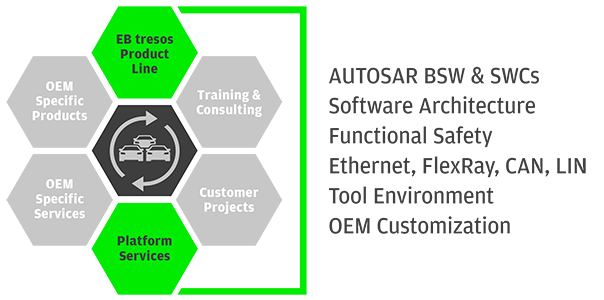 This solution consists of the NVIDIA DRIVE™ PX self-driving car computer integrated with EB's AUTOSAR 4.x-compliant EB tresos software suite, which runs on the NVIDIA Tegra and AURIX™ 32-bit TriCore™ microcontroller from Infineon.
AURIX features real-time processing performance and enhanced embedded safety and security features, making it well-suited for use in ADAS applications.
The NVIDIA DRIVE™ PX platform enables the development of systems that capture and process multiple HD camera and sensor inputs, and provides a rich environment for advanced graphics, computer vision, and machine learning.
EB tresos software provides seamless integration capability of Linux and AUTOSAR applications as well as NVIDIA DRIVE™ PX -specific basic functionality for monitoring and redundancy management. The software enables cross-CPU-communication in a safe and reliable execution environment, supporting the highest automotive safety integrity level (ASIL).
EB products included:
Additionally, you'll get our fully configured, DRIVE PX-specific demo application. It controls the board via UART, sends and receives CAN messages, executes updated programming of the AURIX™, and enables message-passing from AURIX™ to Tegra and vice-versa.
EB related products
EB tresos for NVIDIA DRIVE™ PX is a package of EB tresos products, our industry leading AUTOSAR basic software for electronic control units.
Functional software architecture with open interfaces and software components (SWCs) for automated driving works seamlessly with EB tresos Solution for NVIDIA DRIVE™ PX.